Appreciations
View(s):

I hope one day we will be a family once again

BERTIE & ROSHANTHA KULATILAKE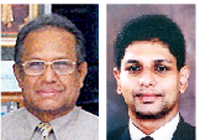 Happier times, happier days until life was snuffed out of both of you like candles in the wind.
My days have been dark and lonely since June 25, 2017 and July 31, 2018.
When Bertie passed away so peacefully I still had my two sons. But when Roshantha came for his father's first year Almsgiving, he also died tragically, drowned in the bay next to Induruwa Beach Hotel.
Roshantha came to stay with me as he landed in Sri Lanka leaving his wife Samantha and daughter Maia at Samantha's parents' home.  I remember those three days of such happiness– my sons Shanil, Roshantha and I planning our future with Bertie having left us so suddenly. After the Almsgiving, Roshantha visited all Bertie's relatives though he had just seen them only the day before. It was unbelievable that on July 31, 2018 he passed away so suddenly.
I could not come to grips with losing my husband and elder son within a short span of two years. I continued to mourn and found solace only in the Dhamma and the work I did for cancer patients.  I worked like a zombie.  Thinking of others was the only way I could survive. Many months passed and in January this year, I was contacted by a relative in Induruwa. A fisherman had contacted him and said he was the person who saved little Maia and brought Roshantha ashore. I wanted to reward him though there could be no reward large enough for saving my grand-daughter and having brought my son ashore when he was still alive.
Yet I dreaded going to Induruwa. Then I realized that unless I faced this hurdle I would never be able to overcome my grief having never known the truth of what took place that fateful morning; I decided to go to Induruwa with Shanil on April 12. I could not keep running away from it all.
Ruwan was a fisherman whose house on the beach was destroyed by the 2004 tsunami. He went out to sea at night and returned only 12 hours later with the catch around 8 a.m. He said he was so tired by the time he put his nets away that his wife came to fetch him on a scooter to take him home. He had come in and was in a hut by the bay, when he heard Samantha's screams. He had gone back to the beach and saw little Maia bobbing far away in the sea. He had swum up to her, grabbed her and swum back when Samantha said there was another out there. Though gripped with tiredness he had swum back again and reached Roshantha who was very heavy but still alive. Ruwan had swum back dragging him ashore and a German Doctor who was on the beach tried hard to resuscitate Roshantha together with Ruwan and other fishermen who had rushed in to help. But he could not be revived and the ambulance from the Balapitiya base hospital came over one hour late- he passed away while being rushed to hospital. Little Maia was okay though she too had swallowed a lot of water. Luckily Sam did not join them in the sea.
Listening to Ruwan's story, I was finally able to come to terms with what had happened. My healing process started from then onwards. The irony of it all was both Bertie and Roshantha were victims of the Government doctors' go slow actions.
Bertie you were a wonderful husband. Your belief in me made me what I am today. You were a gentleman, never angry,  always calm, dependable and  kind. You contributed so much but did it silently. The Emperor of Japan conferred on you, the most prestigious honour  "The Order of the Rising Sun, Gold and Silver Rays" in 2016 in recognition of your dedicated contribution to enhancing the relationship between the people of Sri Lanka and Japan. You were a founder member of the Sasakawa Trust. Only you would have stepped down from that Committee to enable a person whom you thought could contribute more to the Trust to take your place. You were reinstated when a vacancy arose and would have been Chairman of the Sasakawa Trust if not for your untimely death.
You were selfless and wanted what was best for all the organisations you represented.  You were Treasurer on the Committee of the Ministry of Health at the Cancer Institute Maharagama. You motivated me to work for cancer patients by your own example.
You were Chairman /MD of Uni-Tag Industries Ltd (1980), Universal Labels Labels (Pvt) Ltd (1995)and Director EFI Travels & Tours (Pvt) Ltd (1992), companies established by both of us, Vice-Patron of JASTECA, Trustee of the JASTECA Trust, Chairman of the Police Advisory  Board and Civil Societies of the Maharagama Division and a Friend of the Accident Service, National Hospital Colombo. You passed away as quietly as you lived with a smile on your face and I did not know you were gone even though I was standing beside you, telling you the ambulance would arrive soon.
Roshantha, you were a good son, as dependable as your father from whom you inherited your sartorial elegance and silent steadfastness. You inherited your humour and the zest for life and adventure from me, your good looks from your father and maternal grandfather, Chandra Senanayake.
You adored your family. Maia was the apple of your eye. You were the leader among your eight childhood friends. They join me in mourning your loss.
We believe that you both are now closer to us in death than in life. You guard our family and we transfer all the merit we can give to ease your journey through Sansara.  I take solace in Lord Buddha who in his profound wisdom said,
These sons are mine, this wealth I hold
The fool raves thus and comes to ruin:
When self itself owns not a "self"
Who are thy sons, what is thy wealth!
I love you both very much and can only hope that we come together as a family again in our after life.
Ammi
Indira Senanayake Kulatilake
---
An exceptional civil enginer
D.V. A. Senaratne
D.V.A. (Victor) Senaratne passed away on July 10. He was nearly 97 years old. He was born at Dehiwala, lived in Panapitiya, Kalutara during his young days and was educated initially at Holy Cross College, Kalutara, and later at Ananda College, Colombo, which gave him a balanced outlook.
He joined the Department of Irrigation as a trainee and then was a Technical Assistant in the early '40s. The best in the batch were sent to the College of Engineering, Guindy,  Madras on a four-year scholarship as such facilities did not exist in Ceylon.  Mr. Senaratne returned with an Engineering degree in the late '40s and was appointed an Irrigation Engineer. In the early '50s he was awarded a further scholarship for practical training in Australia at the Snowy Mountains Electrical Authority and in Canberra.
In late 1958, he was appointed Irrigation Engineer in charge of construction leading to the restoration of Mahakanadarawa Reservoir to provide irrigation facilities to 4000 acres of abandoned land. He lived with the Technical Officers in housing, constructed in the midst of thick jungle, three miles interior of Mihintale.  He had the tasks of planning, design, production of drawings and executing major construction work. There was no electricity except from 6 p.m to 10 p.m, when the site power generator worked. During the day there was no lighting or ceiling fans, not even refrigerators.
It was at Mahakanadarawa that Mr Senaratne began to excel. There were seven young Technical Assistants and five others relatively experienced under him and they performed their duties with minimum facilities, adhering to the strict discipline he enforced.  They had to go to work sites sharing a field vehicle and ride motorbikes or cycles on dirt roads. He set an example for every one to follow, commanding much respect. He showed them the value of education and pushed every one to qualify and aspire to reach the heights he set and privileges one can get by performing well. Six of the seven Technical Assistants qualified to become British Chartered Engineers, the qualification recognized in Sri Lanka then (the writer was one of them), securing assignments later in all corners of the world.
He went on to overlook the operations of the Laboratory of the Irrigation Department and was appointed Director of Works of the North Western Province in the Territorial Civil Engineering Organisation (TCEO), formed by the Unity Government that came to power in 1970, which took over the work of the Highways and Irrigation Departments.
In 1974, he was appointed Director and General Manager of the State Development and Construction Corporation (SD&CC) ( later appointed Chairman) with the main task of expediting the Bowatenne Diversion Dam in the Mahaweli system. With the support of a team of young engineers who lived on site, the work was completed in time, to harness and issue Mahaweli waters to part of the dry zone.
Around 1976 he moved to the Ministry of Irrigation & Highways and later to the newly formed Ministry of Mahaweli Development. A while later he was appointed Additional Secretary of the Ministry, an assignment only a handful of engineers had secured. It was the period when an ambitious programme was launched by the Government to construct five major reservoirs within five years under the Mahaweli scheme.  Throughout his public career, he demonstrated a high sense of integrity. The most striking factor about him was his all-round knowledge, which other engineers envied. He was a gifted writer who could do an A-4 size draft in a few minutes. The young engineers who watched him were reminded of Oliver Goldsmith's poem 'The Village Schoolmaster'- "And still they gaz'd and still the wonder grew, that one small head could carry all he knew".
On his retirement from Government service he established his own firm "Samitar Ltd", which specialized in drilling works and foundation engineering.
He worked up to the age of around 90 and thereafter was engaged almost full-time in meditation and listening to sermons. He studied Buddhism and wrote an abridged book on Buddhist Dhamma, for free distribution which  he presented about 11 months ago on his last birthday to Buddhist monks and selected laymen.
His wife Esme Senaratne was a devoted partner, even spending time with him in the jungles, when he served as a young engineer. He leaves behind a son Lalith and two daughters Thusitha and Chandrika who are all professionally qualified Accountants.
Denzil Aponso
---
Thank you dear friend for enriching my life
Dr R.K. (Rajpal) de Silva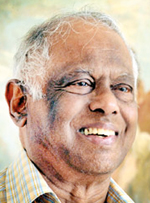 I write this as a personal appreciation of a dear friend Dr R.K. (Rajpal) de Silva.
I shall leave it to others more qualified than me to write about his contribution  to recording the history of paintings in Sri Lanka mainly during the Colonial period.  His life at Royal College, Colombo and his lifelong association with his schoolmates are aspects that I only know of in passing.  He has written about his life as a medical student and as a doctor which makes interesting reading.
When Mano rang to say that Rajpal had passed away that day, I was full of grief. I had had a telephone conversation with him a few days before. Though infirm, he was at that time full of good cheer.  It confirms the adage that "death comes like a thief in the night".
I tried to distil into a few words how I have been enriched by my close association with Rajpal over the last 20 years.
Before meeting him, my appreciation of a painting was of a pretty picture with some attention to form, light and dark, and technical aspects.  Rajpal's vision was that the painting should talk to you and convey a depth of meaning which comes from a deeper insight into the artist's mind.  A painting has its own story to relate and delving into its history allowed a greater appreciation of it.  I am forever grateful to Rajpal for this.
I first met him when he visited Melbourne to talk to the Ceylon Society of Australia.  Savitri and I invited him to stay at our place.  Over the years he would visit us often and stay for about a week.  He would without fail visit his many friends, during the day.  After dinner we would talk well into the night on various topics.  He had an encyclopaedia-like knowledge on Colonial Ceylonese art and introduced me to some of his special interests such as the Irish artist, Andrew Nicholl on whom he later published a booklet with support from the British Council, the British Museum and Jardine Fleming.  Other artists such as J. L. K. Van Dort, Hippolyte Silvaf, Constance Gordon-Cumming, Samuel Danielle, Edward Lear, Frances de la Poer, John Deschamps and Henry Salt were names that over time became familiar under his guidance.
He knew their life stories as well as who owned the paintings and sometimes the circumstances as to how they changed hands.  His part in the recovery of a painting stolen from the President's House in Colombo and sold in London is well known.
He also would talk of the various artists and personalities that I had only heard about, but never met. Ivan Peries, Geoffrey and Bevis Bawa, Christopher Ondaatje are names that come to mind.
It was not only art that he had an interest in. Not only Savitri and I, but our daughter with her interest in art and our son with an interest in history looked forward to his visits.
My mother who was living with us at the time was one to find some connection as most Sri Lankans do. When Rajpal found that my mother and her sister had both married men from Moratuwa, he recounted an incident when his father was the District Medical Officer, Moratuwa.  He said that his father would ride his horse every morning and one day the horse got spooked while on the Lunawa Bridge and his father had a fall.  They rented a house called 'Riviera'which had stables and a lawn in front with a circular driveway around which Rajpal would ride his bicycle.  'Riviera' was the house belonging to my aunt and uncle.  After returning to Sri Lanka, I introduced him to my cousin who now occupied  "Riviera"  and Rajpal spent a morning visiting a place where he had many pleasant memories.
By the time I met Rajpal, he had published 'Early Prints of Ceylon' (1985) and 'Illustrated views of Dutch Ceylon' with Mieke Beumer in 1988. These two books remain classics for their attention to detail, painstaking research and wonderful illustrations.
Other books followed: '19th Century Newspaper Engravings of Ceylon – Sri Lanka' in 1998, and 'Maps and Plans of Dutch Ceylon' 2002; Revision of W.A. Nelson's book 'The Dutch Forts of Sri Lanka' 2004; 'Poetical Sketches of the Interior of the island of Ceylon', Benjamin Bailey in 2011. He produced a booklet about his mother, an accomplished artist, Maisie de Silva.
He edited a number of books for the National Trust to some of which I was honoured to contribute in a small way.
He also wrote to a number of magazines and periodicals and his last publication was about his experiences in the medical field as a doctor in Sri Lanka and London.
A few years ago we stayed a few days with Rajpal and Mano in London.  In addition to enjoying his collection of books and paintings, we were treated to his culinary skills, Peking duck wrapped in pancake with  Hoisin sauce was his speciality. He enjoyed his caramel pudding almost daily.
Over the years we met many times in Colombo where he was an entertaining and generous host.  He had no deep religious affiliations and he had no beliefs of the afterlife and hence I have no idea of how to make a wish for him.  I have to draw on my Christian belief that he will find eternal peace.
In his dedication of his book, he wrote "to a fellow traveller".  I thank him for the part of the journey that has enriched me so much.
Srilal Fernando
---
To those fun-filled days with 'Pappa'
ZAROOK JUMAR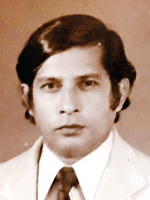 Growing up, for approximately 18 years of my life, I would see my father only when he was on vacation or between jobs as he was mostly based in West Asia.
However, we didn't miss out on a father figure at home, thanks to our uncle, fondly referred to as Pappa. Pappa was many things; a household handyman, a fantastic cook and great entertainer– just to single out some of his incredible talents.
I remember waking up on weekends or during school holidays to a kitchen smelling like a bakery, and finding international delicacies we had never experienced before. One day, my brother, sister and I would be sitting around the table in the pantry at Elvitigala Flats, Borella, inquiring about some concoction he was putting together with bread, and he said that it was 'Bombay Toasts'. Delicious undoubtedly, but it was only when I was a teenager that I found out that they were actually called 'French Toasts'.
Among many facets of his bubbly personality, he was quite a prankster as well. This extended to answering all wrong number calls saying; "Me Borella Kanatte, Kata da kathakarannaowne?" (This is Borella cemetery, who do you wish to speak to) which left us in fits of laughter.
His Koththu Roti was phenomenal. Our friends used to hover around the house hoping they could get a share. He did say that it was he who introduced the concept of Koththu Roti to Sri Lanka but there was no proof of this claim and knowing him, it could have been another prank.
In addition to everything else, Pappa was also quite the 'Chandiya'. I once recall him taking me to Borella to buy a pair of shoes and being pick-pocketed on the bus. As we got off the bus, a girl standing by the window of the bus told us that it was the bearded fellow who did it and he was going around the bus to cross the road. I watched (in shock) as Pappa went around the bus and kicked the guy, all the way across the four-lane road to the other side. As I followed him to the other side, I remember a bystander asking Pappa if he knew Karate. He responded, "I know karate, Marate and Gujurate!"
As an uncle and a father figure, he did great. We owe part of what we are today to him and will be ever thankful for the wonderful human being he was over the years. It's been a year since he left us. We miss him terribly and hope he's in a better place.
Rest in peace Dear Pappa!
Feroz Deen
---