Yoga for peace and harmony
View(s):

The Indian High Commission celebrated International Day of Yoga at Independence Square, Colombo, yesterday (15).

Politicians, yoga experts and yoga enthusiasts gathered at the event. Addressing the gathering, Indian High Commissioner Taranjit Singh Sandhu spoke of the common heritage between India and Sri Lanka, and the connection between yoga and Buddhist philosophy that unifies forces, and brings peace and harmony to bodies, minds and societies.

He said the discipline cleanses the mind of divisive ideologies in people across cultures. He said that this year Yoga Day had got the blessings of the Mahanayake and Anunayake Theras of the Kelaniya temple, and that the message of peace and harmony would be spread across Sri Lanka.

Referring to the Easter Sunday bomb attack, he said that India has a special relationship with Sri Lanka, and it should be remembered that the first foreign leader to visit Sri Lanka after the attacks was Prime Minister Narendra Modi. "This is a reflection of our belief in the resilience of Sri Lanka, that Sri Lanka will rise, and rise again in all its glory," he said.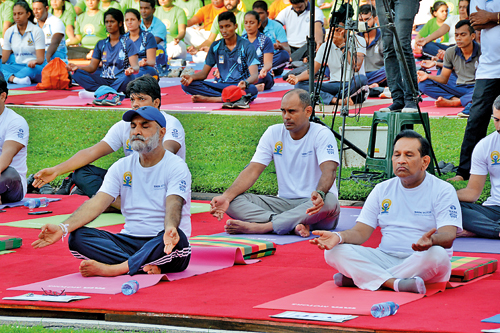 He emphasised the importance of the two countries being cautious of the forces that try to divide. In this context, he said that he believes in yoga, which can play a significant role in bringing peace in difficult times. "United we stand, divided we fall," he reiterated.
International Day of Yoga falls on June 21. The Swami Vivekananda Cultural Centre will hold a series of Yoga events this month in co-ordination with the WHO for World Health Day. Among these are a yoga and dance programme, and a Yoga Asana Championship.
A Yoga for Peace programme will be held at the Kelaniya Raja Maha Viharaya; Yoga for Unity will be held at Sarvodaya. Yoga programmes will also be conducted at the Apeksha Cancer Hospital as therapy.