Unlicensed, unregistered – rogue lenders exploit the dark
By Sandran Rubatheesan
Debt relief scheme 'deeply flawed'
View(s):
The government's intervention last August to write off microfinance loans to women in drought-affected areas is of no help to thousands of families struggling with debt as many lenders are unregistered with the Central Bank and Treasury and ineligible to receive Treasury grants to settle outstanding loans.
Moreover, no microfinance institution currently has a licence to operate as a lender.
Following a cabinet decision last August, 45,139 women beneficiaries from 12 districts were selected through microfinance companies – not from a grassroots-level process – to have their loans written off.
Treasury allocated Rs. 1.2 billion in write-off capital for some 37 microfinance companies to whom the nominated women were indebted, with the institutions agreeing to bear Rs. 1.4 million in interest write-offs.
Treasury stated in a circular it would reimburse the microfinance companies for the loss incurred due to writing off capital. The circular also introduced an interest cap of 35 per cent per year on all microfinance loans.
While many microfinance lenders – those who are members of the Lanka Micro Finance Practitioners Association (LMFPA) – are registered with Treasury, many others are not.
Even after the Microfinance Act was passed in 2016, making it mandatory for microfinance institutions to register with the Central Bank, none of the unregistered companies have registered to date. An LMFPA official said many applications for registration are "in the pipeline".
Further, not a single microfinance lender is licensed by the Central Bank to operate. A Right to Information petition filed against the Central Bank in February by anti-corruption agency Transparency International revealed that currently no microfinance banks are licensed to operate.
There are no regulations or legal statues currently in place to regulate lending practices by individuals or private companies. All that exists is a code of conduct for members of the LMFPA.
The Central Bank, the apex institution in the financial sector, admitted it did not carry out any regulatory or supervisory action against unregistered microfinance companies operating in the country.
With thousands of unregistered microfinance companies, community organisations and non-governmental organisations engaged in lending, senior officials at the Central Bank and the Finance Ministry have noted that the Microfinance Act needs to be amended in order to regulate the different varieties of microfinance lenders.
"We have had many discussions on amending the current Act but no definite decisions have been taken as the government is focusing on repairing the economy, in particular the tourism industry, following the Easter Sunday attacks," the Director-General of Treasury's Department of Development Finance, Mrs. Noor Rizna Anees, said.
She said the government had introduced new loan schemes such as Enterprise Sri Lanka, not only targeting Small-Medium Enterprises but also those who are self-employed and women entrepreneurs.
Criticism has also arisen about the way in which beneficiaries of the government's loan writeoff scheme were selected.
The Treasury circular issued last August spelled out how beneficiaries were to be selected. Finance companies registered with the Central Bank and microfinance institutions registered with the LMFPA were asked to provide an audited and certified list of clients who had borrowed up to Rs. 100,000 and had failed to make loan repayments for three consecutive months by June 2018.
"This process, in which the companies were asked to select the beneficiaries and claim capital, is deeply flawed since it failed to identify those who are genuinely affected due to drought and the unethical practices of some microfinance companies that charge exorbitant interest rates," Malathy Manoharan, a field researcher in Akkarapattu, Ampara with the community-based organisation, Social Architects, told the Sunday Times.
She said beneficiaries should have been identified at grassroots level.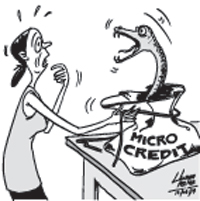 In some instances, Ms. Malathy said, some microfinance companies in the east had failed to inform the beneficiaries that their loans had been written off by the government, and the women had continued making debt repayments. It was only after borrowers had written in protest to the respective companies that those repayments were refunded.
Nuskiya*, a mother of two children from Sammanthurai, Ampara, obtained several loans – two of Rs. 20,000 each from one company and another of Rs. 50,000 from another microfinance institution – but was unable to repay them due to medical and family expenses.
Two of those institutions enjoy good reputations nationally but are, in Nuskiya's village, known for the worst practices used by debt recovery agents.
Last week, one company threatened Nuskiya with legal action if she failed to pay all the outstanding instalments on schedule.
"When I inquired about my eligibility for debt relief and moratorium the microfinance companies told me I was not selected for this scheme for various reasons," Nuskiya said. One of her friends, however, had been selected as a beneficiary of the loan writeoff scheme.
In Rangothgama, Hingurakgoda, a group of farmers last month wrote to local government officials complaining of hardship caused by unethical practices of microfinance companies in their village. These practices include soliciting sexual bribes, intimidating women when there are no male members in the house, shaming in public, and so on.
The farmers said some families had been forced to leave the village and that some women faced continual intimidation by debt recovery agents who visit them frequently.
In the former war-torn regions in the north, where loan sharks exploited an untouched market, causing immense social problems, the recent government loan writeoff intervention and other actions brought some relief to communities.
Relief measures to struggling debtors in the north included at least 17,000 short-term loans of up to Rs. 20,000 each, funded by the government and issued through rural banks and cooperative societies.
Central Bank Regional Manager in Kilinochchi, Balakrishnan Sivatheepan, said there had been a subtle change in the practices of microfinance companies in the province since the middle of last year following government intervention.
His office has been actively engaged in awareness campaigns in remote villages and schools about financial literacy and debt management, targeting youth. People have been warned not to fall prey to loan shark companies.
"We rarely hear complaints of debt recovery agent visiting residences after dark," Mr. Sivatheepan said. After-dark visits are one of the ways in which debt recovery agents harass debtors.
Recently a grama sevaka in the Jaffna district acted to exclude an individual from the Samurdhi programme, which helps low-income families, after it came to light that this person had been lending money at exorbitant rates to villagers.
LMFPA President Anil Atapattu said unregistered finance institutions and profit-driven private companies who engage in unethical lending practices create negative publicity for the entire industry.
"The current Act has limitations," he said. "Our organisation is pushing government officials to amend the current Act in order to bring all the lending practitioners under one umbrella for effective regulation."
Importantly, Mr. Atapattu also pointed out that microfinance companies are not given access to Credit Information Bureau of Sri Lanka (CRIB), a state regulatory mechanism that provides information to lending institutions on prospective borrowers about their financial capability and other loans they obtained from other entities.
"This has to be done urgently as one of the immediate steps to ensure that microfinance beneficiaries are not caught in a debt cycle," Mr. Atapattu said.