Authorities were warned of Zahran's ISIS terrorism, claim witnesses
By Sandun Jayawardana
Two former provincial governors among those who appeared before PSC; testimonies reveal the beginning of NTJ leader's terror ideology
View(s):
Two former provincial governors, who resigned from their posts following accusations of links to terrorists behind the Easter Sunday terror attacks, were among the key witnesses who gave evidence this week before the Parliamentary Select Committee (PSC) looking into the attacks.
Former Western Province Governor Azath Salley and former Eastern Province Governor M L A M Hizbullah, in their testimonies, strongly denied ties to the terrorists.
Meanwhile, the All Ceylon Jamiyyathul Ulama (ACJU) President and a Kattankudy Mosque Federation representative also outlined how they had repeatedly warned the authorities for years about the extremist activities of Zahran and his group, but to no avail. The Committee also questioned J J Ratnasiri, Secretary to the Ministry of Public Administration, over issues created by the dress code circular he had issued for Government employees.
Following are highlights of the witness testimonies:
Former Western Province Governor Azath Salley:
Since 2014, the Muslims had been warning five defence secretaries, from Gotabaya Rajapaksa onwards, about these terrorists. I personally have warned. Sometimes, I have taken along the ACJU and Muslim Civil Society groups. There was a March 15, 2017 television news report, where I publicly asked why Zahran was not being arrested. This was two years before the attacks. We also brought to the notice of the authorities photographs which showed them holding processions in the East, carrying ISIS banners. In 2017, the Kattaukudy people held protests on the roads, demanding that Zahran should be arrested after he instigated violence against traditional Muslims. But measures were not taken to arrest him.
"The Thowheed Jamath was working closely with the Kattankudy Police. There are 11 complaints against Zahran and his associates at the Kattankudy Police station, but no action was taken. Traditional Muslims could not even lodge complaints against them.
There is no extremism in Islam. There are only five principles of Islam. These extremists have added a sixth principle — Jihad.
We were the ones who spoke out against these terrorists, not the Government or the police. We Muslims were the ones who gave information (about incidents) in Sainthamaruthu, Kalmunai and elsewhere. But, what happened in the end? We have all been labelled as terrorists.
ACJU President Moulavi Mohammed Rizwi Mufti:
It was after the anti-Muslim riots in Aluthgama in June, 2014 that ISIS thoughts started filtering into Sri Lanka. I was one of the first to speak out against ISIS. On July 6, 2014, I made a speech on the SLBC (Sri Lanka Broadcasting Corporation) denouncing ISIS. We are Islamic theologians. It is our duty to safeguard our motherland.
After I made my speech, a person named Aadhil declared me to be an infidel on social media, as I was anti-ISIS. He is now under arrest (in connection with the Easter Sunday attacks).
At least from 2015 onwards, we warned defence authorities about these kinds of extremist activities seen on social media and that some might have ties to ISIS.
Our last meeting was with the then Defence Secretary Hemasiri Fernando on January 3, 2019. The then Western Province Governor Azath Salley and other ACJU representatives also attended the meeting. We handed over a CD containing extremist speeches made in Tamil by Zahran after the Digana attacks. In one of the speeches, he had urged that leading Muslim scholars should be killed. (Moulavi Rizwi produced a photo taken on the occasion of the meeting and also handed over a copy of the CD given to the then Defence Secretary to the PSC).
We were not informed of any followup action taken after our meeting with the Defence Secretary.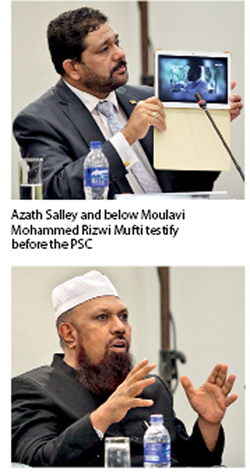 Zahran's ideology has nothing to do with Islam. It was initiated from an international group and he was taken into that. He followed that ideology and he promoted it. We never dreamt that this kind of incident would happen. We had differences of opinion. But we never thought he and his group would go to this extent.
This disaster happened because a few people were not willing to tolerate different opinions, but all Muslims are suffering as a result.
The ACJU has 130 branches and 7,000 scholars. We are ready to give the fullest support to the Government in its efforts to curtail the threats from these radicals. We are prepared to support the deradicalization efforts.
Aboo Salih Uwais, representative of Kattankudy Federation of Mosques and Muslim Institutions:
Zahran hailed from a poor background and only studied up to Grade 5. He was subsequently enrolled as a student at an Arabic College in Kattankudy to get his Moulavi certificate. But he was expelled from there, owing to his bad character and clashes with the administration. He then went to Kurunegala and enrolled at a Madrassa, but was expelled from there, too.
He then returned to Kattankudy in 2006 and established an organisation named Dharul Athar. He Initially posed as a moderate and became involved in activities such as blood donation campaigns and anti-drug efforts. However, he gradually started making incendiary speeches. Zahran was a good orator in Tamil and he was able to entice youths. The Federation called him for a discussion to correct his path, but he refused to come.
The Federation issued a notice asking people not to contribute to Zahran's activities, when he started collecting funds for his organisation and also took steps to prevent his organization from being registered with the local council.
His propaganda also targeted students. He insisted that students should not stand up as a mark of respect for teachers or even for the national anthem. There were complaints that students who followed his classes were refusing to stand up for teachers or the national anthem. This was around 2010/2011.
He visited Japan for three months in 2015 as an Islamic preacher. However, there was a dispute between him and other members of Dharul Athar. As a result, Zahran was expelled from the very group he founded. He then set up the National Thowheed Jamath (NTJ).
On November 14, 2015, there was a concert held at Meera Balika Vidyalaya where Grade 4 and 5 students took part in a singing event. Zahran and his followers vehemently criticised this event, describing it as anti-Islam. They threatened the school principal and even members of his family. We tried to come to a settlement over the matter, but Zahran did not want to cooperate. As the threats continued, the principal lodged a complaint with the Kattankudy Police in December, 2015. We came to know later that the police called both parties and advised them to settle the issue.
At a meeting held at the Kattankudy Urban Council Hall in 2016, he denounced democracy, saying Islam did not approve it. He questioned the sovereignty of the country and declared himself to be a supporter of ISIS. We understand that intelligence officers were monitoring the meeting and that his speech was recorded.
The ACJU then arranged a meeting and educated the people that Zahran's speech had nothing to do with Islam. Two NTJ members barged into this meeting and disrupted it. We learned later that both these members became suicide bombers. One blew himself up at the Sainthamarathu (safe house), while the other blew himself up at the Zion Church in Batticaloa.
In March, 2017, Zahran held a meeting close to a Sufi place of worship in Kattankudy and insulted them. This led to a clash. Zahran's followers used knives, clubs and swords in the attack and many were injured. Police arrived and arrested two of Zahran's supporters at the scene. Subsequently, more arrests were made. A case was filed against Zahran's supporters under the Dangerous Weapons Act. Arrest warrants were issued against Zahran and his brother, but they went underground. Zahran wasn't seen in public in the area. We only heard of him again after the Easter Sunday attacks.
Former Eastern Province Governor M L A M Hizbullah:
"My recent statement that although Muslims are a minority in this country, but a majority globally has been distorted by the media. I made the comments at a mosque. I made the statement to alleviate the fears of the Muslim community after the attacks. Since the terror attacks, they had not gone to their shops or to the market. They had not engaged in businesses. I told them not to worry and urged them to go about their businesses because, saying that while Muslims are a minority in this country, we are a majority globally. But the media had taken the speech out of context and only highlighted that part.
I met Zahran while campaigning for the 2015 parliamentary elections. He called all the candidates contesting from Kattankudy for a meeting. We knew him to hold extremist views, but at the time, he was not a terrorist. He was a leader of a religious group that could muster 2000-3000 votes. Candidates, from the UNP, the UPFA and the Sri Lanka Muslim Congress were all there.
All the candidates signed an agreement with Zahran. It included a list of conditions, including a prohibition on playing music and lighting firecrackers during campaign meetings, as well as having separate seating arrangements for men and women. We all signed it as we needed the votes.
Zahran later broke off the agreement with me and I lost the election by 121 votes. I couldn't get about 2000 votes because of him. Later, when President Maithripala Sirisena appointed me as a National List MP, Zahran and his group held protests in the East. I am the happiest to know that he has died, as I can win the next election without any trouble from his group.
Zahran supported common candidate Maithripala Sirisena at the 2015 presidential election. I supported the then President Mahinda Rajapaksa.
I did not hear anything more about Zahran after he went underground in 2017. If I had known he had connections to terrorism, I would have definitely complained it to the authorities."
The PSC comprises Deputy Speaker Ananda Kumarasiri (Chairperson), Ravi Karunanayake, Dr Rajitha Senaratne, Dr Jayampathy Wickramaratne, Rauff Hakeem, Prof. Ashu Marasinghe, Dr Nalinda Jayathissa, M A Sumanthiran and Field Marshal Sarath Fonseka.
The committee's next sitting will be on Tuesday at 2 pm.
Female state employees' dress  code: Circular being re-tailored

The Ministry of Public Administration and Disaster Management will take steps to amend the controversial government employees' dress code circular issued in the wake of the Easter Sunday attacks, Ministry Secretary J.J. Ratnasiri told the PSC.

The Secretary gave this assurance during Thursday's PSC session, following lengthy questioning by PSC members

PSC members said that the circular had inconvenienced many female government employees, especially Muslim women, as it had made saree or osari mandatory for all female employees at ministries and departments. Mr Ratnasiri, however, said he had so far not received any complaints from Muslim women over being inconvenienced by the issue.

The Secretary said there were previous circulars regarding dress codes for Government employees that had been issued. The two gazettes on national security issued by the Presidential Secretariat in the aftermath of the Easter Sunday attacks were also incorporated into the reissued circular, he explained. The circular was issued to ensure security in government offices and discipline among government employees, he claimed.

Mr Ratnasiri took responsibility for issuing the circular, but stated it had been issued following an agreement reached during discussions with the subject minister and a committee of officials. "There was no intention to discriminate against any religion. We are currently in discussions to amend it," he told the committee.