Post-traumatic growth and fostering change
View(s):

He who learns must suffer. And even in our sleep pain that cannot forget falls drop by drop upon the heart, and in our own despair, against our will, comes wisdom-Aeschylus

Last month I wrote on a not so well-known after-effect of trauma; post-traumatic growth (PTG). This month let us see in detail how we can foster such growth both in ourselves as well as in others.

PTG is not a sequel of post-traumatic stress (PTS). They occur together and some degree of PTS is necessary for positive change. The relationship between PTG and PTS is not linear but an inverted U shape. If the stress is too little there is no growth. If the stress is excessive the person is overwhelmed. But if the stress is moderate, there is growth and flourishing.

In his book What doesn't kill us: the new psychology of posttraumatic growth, Professor Stephen Joseph, a pioneer in PTG research uses the metaphor of the broken vase to illustrate growth after trauma. If a vase you treasure is shattered into many pieces would you try to stick them together and restore the vase to its original form? Or would you put together the pieces in a new way to make a different object but which will still be as beautiful as your old vase? Kintsugi is the 400-year-old Japanese art of putting back together broken pieces of pottery with gold. The cracks are highlighted instead of being hidden. It is a metaphor for healing. In the process of repairing our lives after adversity, we can create something unique, beautiful and resilient.

After a trauma, a person has to learn to view the world in a different way. We have to let go of previous assumptions and incorporate new trauma-related information. We can do this in two ways. Child psychologist Jean Piaget named these two types as assimilation and accommodation. Imagine a child playing with building blocks. If he finds a magnet among the building blocks, he will place it on top of the building blocks. The child is using the magnet as a building block. That is assimilation. If later he finds that this magnet building block attracts metal, he will start using the magnet in a new way. This is accommodation.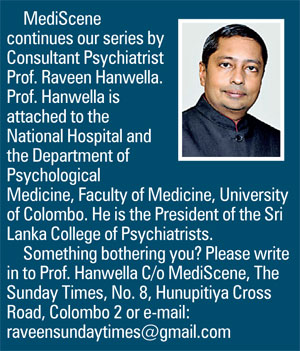 Learning is a balance between assimilation and accommodation. After trauma too, the same processes happen. If the trauma is minor it will only cause a small crack in our world view and after some time we may carry on as before. But if the trauma is great our world view is shattered and we can no longer put it back together in the same shape as it was before. To recover and grow we have to assimilate our new findings and radically alter our perceptions. To let go of old beliefs and habits is painful but is necessary for growth. Unfortunately, we humans are biased towards assimilation rather than accommodation. Whatever information that fits our current thinking we select and ignore or distort information that does not. This is known as cognitive conservation.
How can we clear the path towards growth through such obstacles?When something bad happens to us we think about it, over and over again. This is rumination. There are two types, reflective and brooding. Brooding rumination is characterised by maladaptive thinking patterns whereas reflective rumination leads to active engagement, adaptive problem solving and emotion-focused coping.
How do you face a difficult situation? Do you run away, seek advice from a friend, go on a holiday, look for more information to help you solve the problem, take a walk or decide to watch a television programme? All these behaviours are examples of coping methods broadly defined as the ways in which people attempt to manage stressful situations. Though wide-ranging there are two main ways of coping: approach oriented and avoidance oriented.
When faced with adversity our first response is to run away either physically or mentally. This is more likely if the event is highly distressing and seen as both unchangeable and uncontrollable. Initially, avoidance can be beneficial allowing us to gradually face up to the reality of our loss and protecting us from being psychologically overwhelmed. For example, if you are suddenly told that you have a potentially fatal illness, avoiding thoughts of dying help you to keep calm and obtain medical care. However, if you continue to behave as if you did not have such an illness it will prevent you from continuing treatment.
Therefore, it is important to move on to approach oriented ways of coping. Persons using such strategies face up to what has happened, deal with how they feel and manage difficult situations effectively. There are two types of approach-oriented coping: Task-focused coping and emotion-focused coping. The former deals with practical problems that need to be solved following a trauma whereas the latter refers to ways in which we can face and manage our emotions. Examples of emotion-focused coping strategies include relaxation, talking with others, physical exercise and actively focusing on the positive.
The way people cope depends on how they look at a problem. Those who think that the situation is unchangeable are likely to avoid as a coping strategy. Those who believe that they have some control over the situation will take active measures to improve or change the situation.
Religion too can be helpful. Religion helps people enlist support from their community and provides them with a sense of meaning. It also gives rituals, community or individual such as remembrance days that help persons overcome trauma. The most important emotion-focused strategy uses our emotional intelligence which refers to our ability to perceive, access, understand and regulate emotions. People who score high on emotional intelligence show the highest level of growth.
In the end, though professional help is available for those affected by trauma,what course their life takes afterwards is their responsibility. In the words of Victor Frankl, "We who lived in concentration camps can remember the men who walked through the huts comforting others, giving away their last piece of bread. They may have been few in number, but they offer sufficient proof that everything can be taken from a man but one thing: the last of the human freedoms – to choose one's attitude in any given set of circumstances, to choose one's own way."