Nauchalee Rajapakse: National netballer and sporting champion
View(s):

In our continuing series, following the National Netball Team throughout their preparations for the World Cup, this week  we features Nauchalee Rajapakse who in a team full of champion athletes, is one of the best all-round sportspeople Sri Lanka has produced.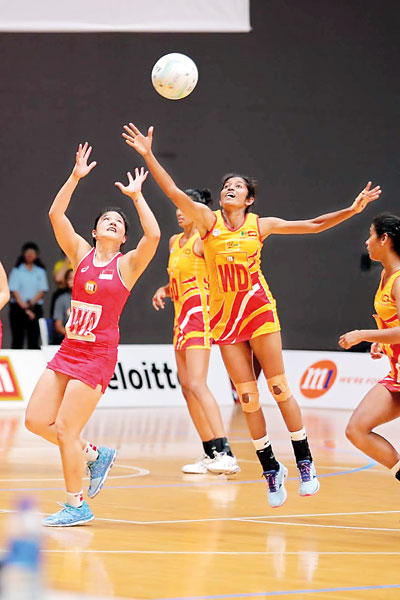 Nauchalee started playing netball in Grade 4 at her school in Galle. Her talent for sports was evident from an early age and participated in many sports growing up, however, she continued to excel at netball, and by the age of 15 she was in the team representing the Galle District. During her O/Ls she was selected for the National Netball Senior Pool, however, shortly after this, she paused her National level netball career to focus on finishing her schooling (she continued to compete at the District level). She was also a very talented athlete and she competed in the 100m, 200m, long jump, high jump, and triple jump throughout her schooling, as well as participating in the All Island U18 and U19 competitions in high jump.
Given her sporty background, Nauchalee, or Nau, enrolled in a Physical Education Bachelor of Science at Sabaragamuwa University where she balanced studies and netball. During this period, she was also a contracted player with the Sri Lankan Army team and was a key player in 2013 when their team won the National title, and Nau won the Best Defensive Player Award. In that same year, she was also drafted back into the National Netball Pool. In addition, and in interviewing Nau you find out there are many additions – she goes from strength to strength – she also represented the University at volleyball, basketball, athletics, and elle. She won Sri Lanka University's Sports Association colours in netball, basketball, and volleyball, and was awarded four times the Best Sportswoman at Sabaragamuwa University.  Since 2013, Nau has represented the National Netball Team at the Nations Cup, Tri Nations, and at two Asian Championships, including the 2018 Asian Championship which was comprehensively won by the Sri Lankan team.
She has become the dominant Wing Defence (WD)  for the team. Wing Defence is a notoriously difficult position to master but any captain will tell you a strong WD is invaluable as she has the ability to not only shut down the opposition attack, but also to switch and become a key attacking player for her own team. Nau is superb at this – she puts pressure on opponents, makes interceptions look easy, and then offers lead after lead down the court to ensure the ball reaches the Sri Lankan shooters.
Somewhat not surprisingly, when asked what her strength on court is, Nau responds "my intercepts". During training she enjoys the drills that involve the whole team with ball-work across the court. Her routine before a match involves speaking with her parents and friends who help to provide her with support, confidence, and self-belief that she will perform (and will pull off some spectacular intercepts!). She manages pressure and says it is important "to have a routine that works for you." In terms of her own career she has had many challenges, however, she has overcome these, and she has used them "as motivation, to set targets, to get over obstacles, but to remain focused to achieve what I set out to achieve." Indeed, she is mentally strong, very thoughtful, and also extremely focused. She is also ready with a smile and quiet  chuckle to make you feel at ease.
Nau currently works at the National Institute for Sports Science where she lectures for the Sports Science Diploma and is an Instructor for netball. She transfers these skills easily onto the netball court where she can be heard motivating and encouraging her teammates,
then inspiring them with her skills.
She likes to "think positively" and is the epitome of this catchphrase. She understands the importance of a network of support and is grateful to  her parents and brother, her teachers and friends (especially from her uni days), her coaches from school,  from the Southern Province, and all the national coaches including her current coach Thilaka Jinadasa who has worked tirelessly to sharpen her skills.
With the Netball World Cup less than two months away, Nau is entering the last phase of preparations – she is focused, has set her targets, and is looking forward to displaying her Wing Defence skills on the World Stage.