Appreciations
View(s):

Every Ramazan is going to be empty since you are no more

Sulaiman Jiffrey Mohideen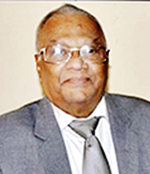 Innah Lilahi WaInnah Illaihi Rajyoon – Surely we belong to Allah and to him we shall return.
It is almost a year since my dearest friend and mentor Sulaiman Jiffrey Mohideen, Advocate, whom his friends and I fondly called 'Moiya' since Law College days, departed from this world. I still can't believe that he has gone away from us all – only when we see that empty chair in the Lawyers lounge does reality strike. Only a few of us namely Max Bastiansz, Raja Mudannayaka, Nimal Ranamukarachchi, and Rohan Gunapala remain and we miss his anecdotes, his battles in court and party jokes.
I am now beginning to wonder whether His Almighty took him away from us so that he would not have had to witness all what is happening today in this beautiful land. He was broadminded in his outlook and moved with everybody as a true friend – this is reiterated when I hear from his friends with whom he associated professionally how much they are missing him. He entertained everyone without any hesitation even if he had met them for the first time. So much so that he was considered as a lavish entertainer among his friends.
He worked tirelessly for his party ever since he joined the ruling party from his Law College days. He was instrumental in influencing me to get involved in party activities and its social gatherings by telephoning me with prior warning to attend the meetings and functions either at Sirikotha or at any selected venue. Maybe his commitment to the party was rewarded with his appointment as Ambassador to the UAE.
Moiya, it looks as if every Ramazan is going to be empty since you are no more.  I cannot forget that I was by your side just a few days before your death and broke fast with you and you forced me to have a meal with you which still lingers in my mind. I hope with all the happenings today you are finding peace and solace with the blessings of Almighty Allah who will shower his blessings on Nelufa who will be missing you the most, and your children and grandchildren.
Last but not the least I say that as a friend, the vacuum you have left cannot be filled. I say goodbye sweet prince, till we meet again.
Ganeshayogan
---
 Wonderful memories of my  favourite Loku Bappa
TILNEY  LLEWLLYN PEIRIS
Ten years have passed since my Loku Bappa (my father Terence's younger brother) passed away on June 7, 2009 at the age of 74. He always had a special love for me and I write this appreciation as a tribute on his 10th death anniversary
He lived a happy and contented life until his end and was a great strength and support to his family.
He married Sudu Nanda (Ninette) in 1961 and they lived an exemplary, happy wedded life for 48 years. They both enjoyed their life with the family with the blessings received from God.  Sudu Nanda looked after him well until his end and was a loving and caring wife.
He was a loving  father not only to his son Ninesh and daughter Nilendrini, but also to Eromi and Kumar whom he never considered as in-laws. He loved his four grandchildren, Trevine his eldest grandchild who also received his initials T. L , but  it is sad that he could not see Trevine's wife Sachini and Eroshan, the second was born on his 57th birthday (April 27). Nangi's two children Kushan and Nashali kept both of them constantly occupied as they lived with him until his end.
Loku Bappa had great faith in God. After my father's death he visited me and my mother very often and used to narrate old stories how God saved his life on many occasions. He played an active role in church activities. When he was young he offered his services to the Koralawella Methodist Church and later to the Rawathawatte Methodist Church where he served as a Circuit steward for some time. He was a local preacher too. It was a great day for him when the church celebrated its 150th anniversary on the same day as his 74th birthday. We never thought this would be his last birthday with the family. Along with Sudu Nanda, he was also a member of the church choir.
He encouraged me to write sermons and was very happy to hear me delivering the word of God.
As a youth he joined the Department of Motor Traffic in 1956 and at the time of his retirement he was holding the high post of Assistant Commissioner (Technical).
He had a love for vintage cars and took an active part in organising many old crock rallies and also took part along with Sudu Nanda in these rallies and won many prizes. I remember both of them taking part in a rally dressed as a Hindu Bride and Groom just after their wedding.
It's ten years since you left this world to be with Jesus in his divine home in heaven. You loved me so much and you considered me as your Loku Duwa. You are still in my Heart and I miss you dear Loku Bappa.
May you rest in peace until we meet again on that beautiful shore.
Trishanthi Peiris Fernando
---
I will miss you as I have missed none other
 RITA PERERA
Eulogy to my forever friend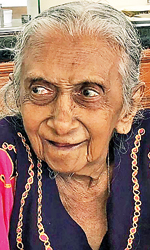 My dearest Amma,
The candles have burnt out a long time ago,
The flowers have faded and dried
Only the tombstone on your grave stands as a silent witness to your beautiful life on earth.
Three months have passed since you left so suddenly before I could say goodbye. I have loved you deeply more deeply than the spoken word can say. You are and will always be my forever friend, the love of my life, my Queen, the rock on which I built my throne on earth.
It is said, 'a mother's love is something that no one can explain, it is made up of deep devotion and of sacrifice and pain, it defies all explanation and loves beyond all reason'. You were all that and more, my dearest Amma.
Our lives were so inexplicably linked together that on the very day, you gave me birth, on my birthday, God received you into his company in heaven. I was your premature baby and in later life you became my child whom I never had.
Your beautiful and radiant smile, your loving embrace, your love which knew no limit is no more.
I will thank my God, whenever I think of you and when I pray for you, I will pray with joy.
I will miss you as I have missed none other. In my heart you hold a place no one can ever fill. It broke my heart to lose you and a part of me went with you for the cord that linked our lives together can never be broken. In heaven we will meet again, my darling, never to part.
Shammil J. Perera
---
 He had a solution to any conceivable problem
Felix Norton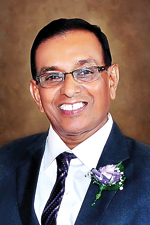 My brother, Felix Norton was a man in a million because he never lost his temper, never used harsh words and smiled through physical pain, sadness and disappointments. He was small in stature but was a colossus that strode the arena of the hydraulic metal working industry.
He built up a formidable reputation among industrial magnates engaged in metal cutting, shaping, rolling and bending operations, as the only man who could be relied upon to repair any machine in any form of disorder because he was an expert in the mechanical, electrical and electronic aspects of any machine. As his reputation spread, he had to travel the length and breadth of the country in response to frantic calls from establishments where large orders were held up due to breakdowns.  Many a time he had to re-programme control panels that had been jammed by incompetent technicians. He was able to solve such problems by contacting the manufacturers and re-programming the keyboards.
He had a solution to any conceivable problem. God blessed him with an enormous talent that gave him the uncanny ability to see the solution instantly which none of us could ever imagine. Many a time I was stuck on the roads with a disabled engine or with a locked up key. One call and he would come to the rescue and get the vehicle moving within minutes. When we were nonplussed with a domestic electrical breakdown, TV defect or plumbing problem he became the 'ghost buster' with an instant solution.
In 2013 he diverted his capabilities to design and fabricate a hydraulically-operated octopus with 5 arms carrying suspended swinging seats revolving round an axis, when he was offered the challenge by New Saniro of Marapola, Veyangoda. This machine was in great demand as it could be dismantled and transported to various funfairs and carnival sites. The Saniro Management was so impressed with this product that they wanted him to build a train to run along the perimeter of New Saniro Dream Paradise. He accepted the challenge and designed and built a hydraulically-driven train with three 8-foot carriages which became very popular and is running even to this day.
The Saniro Management began setting up a second dream paradise on the Veyangoda –Katunayake Road and wanted Felix to build a larger train for this park. This time he decided to build a diesel-electric powered train. It was a unique design with three ten foot carriages and the engine and all three carriages and engine powered by motors through gear boxes driven by a 110 V generator housed in the engine. However it was so sad that he was struck down by cancer halfway through this project and even in his partly disabled state he would come to the workshop with a smiling face through intense pain and was able to complete 95% of the work until he was called to Glory on the 9th of May. It is only after he was gone that everybody realized the impact he had on the lives of those he touched – his family, those who worked for him and his clients around the country.
Throughout the process of manufacture there were myriad solutions that had to be found at every turn of a bolt, every bit of welding or bending or fitting and all of these came only from his head simply because he never depended on the computer or scribbling on paper. With him not there to guide us and give us those tips we had a herculean task to complete just the final 5% of the work to have the train fit and ready to run on the tracks. At last we were able to deliver the train to its final destination on 17/05/2019 after its creator had already reached his final destination. We all shed tears as our minds pictured him in the driving seat with a huge smile proudly putting his baby through its first paces on the rail track to the applause of all around. It was all we could do in these circumstances and console ourselves with the words perhaps on his epitaph "To live in the hearts of those you have left behind is not to die."
Rufus Norton
---
You taught us the true meaning of a happy family
Bertram Coorey
It has been four years since you left us, leaving a big vacuum in our family. Even though you were old in age you were healthy and strong enough to attend to your daily work.
You were a role model for all my brothers– always to live a happy life within one's means. You taught us not to spend unnecessarily and to take care of our children from their tender age and to become highly educated.
You were born to a Christian Anglican family in Moratuwa and studied at Prince of  Wales College. You were a good cricketer in your schooldays, later playing at club level with your job in CTB as a Stores Supervisor at Werahera.
You and Amma brought up all six of us without any complaint. We all are truly grateful for your dedication and committment. You were so loving to our children showing them how to live a happy life. Though you are no more with us, you will live in our memory for many more years.
Thank you Thatha for all what you did for us, even giving all your wealth equally among us your children. You would have lived longer if not for the fall – that was too much for your old age and you didn't recover well. Now you are in safe hands with our Saviour and Amma by your side.Until we meet again on that beautiful shore.May you rest in peace and rise in glory .
God bless you.
Bryan Coorey
---