One-man show collapsing amid contradiction after contradiction
By Our Political Editor
View(s):
Sirisena paying heavy price for giving top posts to wrong people and not listening to advice; nation paying heavier price
Retd. DIG Sisira Mendis removed from post of Chief of National Intelligence (CNI)
Controversy over Sirisena's statement to back 'winning candidate' from UNP; but UNP group also working with Sirisena to make Sajith the candidate
It took only two Buddhist monks, one to stage a fast-unto-death and another to strongly voice that cause, to bring the Presidency to its knees.
The Venerable Athuraliya Rathana Thera, MP, was on the third day of his death fast outside Kandy's sacred Sri Dalada Maligawa from May 31. He was surrounded by other Buddhist clergy and agitated laymen. Joining in on June 2 (Sunday) again was the Venerable Galagoda-aththe Gnanasara Thera, leader of the Bodu Bala Sena (BBS). He had garnered considerable support among sections of the Buddhist clergy and laity.
The controversial monk was released from prison only 16 days ago, on a pardon from President Maithripala Sirisena, after serving nine and half months. It was from a 19 year sentence to be served in six years for contempt of court. It was handed down by the Court of Appeal and later endorsed by the Supreme Court. In a fiery speech standing next to the Ven. Rathana's bed under a white canopy, he issued an ultimatum: We give the government time till 12 noon tomorrow (Wednesday). Otherwise there will be Sanakeli or "carnival or fireworks" around the country.
The main demand of the Ven. Rathana Thera, among five were, the immediate removal of Governors Azath Sally (Western Province), M.L.A.M. Hizbullah (Eastern Province) and Commerce and Trade Minister Rishad Bathiudeen.
The warning sent shivers through the Presidential Secretariat in Colombo. Concerns began to grow when reports arrived, including those from intelligence channels. They spoke of closure of shops in Pettah, Kandy and other principal towns. Black flags were to be hoisted – all in support of the fast. Fears of a new wave of violence against Muslims, just a day ahead of Eid-ul-Fitr — or the Ramazan festival after the culmination of a month long fast — caused worry.
In a hurry, President Sirisena handed down the task of persuading the two Governors to resign to one of his high-ranking officials. He spoke to many politicians, including a senior former SLFP minister. The latter declared politely that if he were to do so, such a request would have to come from President Sirisena. There was defiance from the two Governors, too.
The President then placed the urgent task in the hands of an SLFP trio – General Secretary Dayasiri Jayasekera, Lasantha Alagiyawanna MP and Malith Jayatilleke MP. They had a problem initially. Both Sally and Hizbullah were not contactable. They had switched off their mobile phones. They succeeded and the duo met President Sirisena separately. There was still some hemming and hawing. They argued that they would have to consult their supporters but more pressure prompted them to place their signature on letters of resignation that Wednesday afternoon. Sally entered 12.30 p.m. and the date after signing his letter.
March called off
It was 1 p.m., an hour after Ven. Gnanasara's deadline when Central Province Governor Maithri Gunaratne turned up outside the Dalada Maligawa. He conveyed the news that the two Governors had resigned. The Ven. Rathana Thera drank a glass of water and was hurriedly taken to the Kandy National Hospital.  The Ven. Gnanasara said he would now march towards Colombo together with other members of the Buddhist clergy and laymen. This was because there was no official document to confirm the resignation. They were interrupted at Kadugannawa by Governor Gunaratne, who produced a written document from the Presidential Secretariat to say that the resignations had been accepted. The march was then called off.
Interesting enough, during a meeting of Sri Lanka Freedom Party (SLFP), parliamentarians at the Presidential Secretariat on Tuesday evening, Sirisena named the trio and praised them for ensuring the resignations. The meeting came just an hour before Sirisena hosted at the President's House select invitees to an Iftar (or the ceremony where the fast in the Holy month of Ramazan is broken). Taking part were Sally, Hizbullah and Bathiuddin, among others
Speaking about the two Governors to SLFP MPs, President Sirisena noted that former Western Province Governor Azath Sally was not an extremist. "His problem is that he often shoots his mouth off," he noted. The move was to draw a sharp retort from Wijeyadasa Rajapakshe MP, who alleged Sally was a supporter of the Thowheed Jamaath. Sirisena said, however, there were allegations against former Eastern Province Governor Hizbullah and investigations were under way. Those remarks about the two Governors made clear that the President did entertain reservations about them. The fact, however, is that he did not consult supporters of Sally or Hizbullah when he appointed them as Governors. Yet, Sally is now being considered for a diplomatic appointment abroad.
The Governors took the moral high ground and played hide and seek before quitting. The fault lay in President Sirisena, who is known for picking persons to high positions, while ignoring some key realities — most importantly suitability, whether they could retain the dignity of the office they hold, and even their loyalty or integrity during a national crisis. This has been the case in the appointment of Defence Secretaries, a Chief of National Intelligence (CNI), a Police Chief, Foreign Secretaries and Sri Lanka envoys abroad – among others who have been shown in very poor light since the Easter Sunday massacre.  That he continues to make such appointments, with or without the help of advisors, has been a major drawback and has brought him great unpopularity.
Just last week, retired DIG Sisira Mendis, a criminal investigator with no experience in intelligence gathering, was removed from the post of Chief of National Intelligence (CNI) – the top most position in the intelligence community. He was on a contract renewed every year by the Cabinet of Ministers. It came on a directive from President Sirisena. His official vehicle and driver were withdrawn.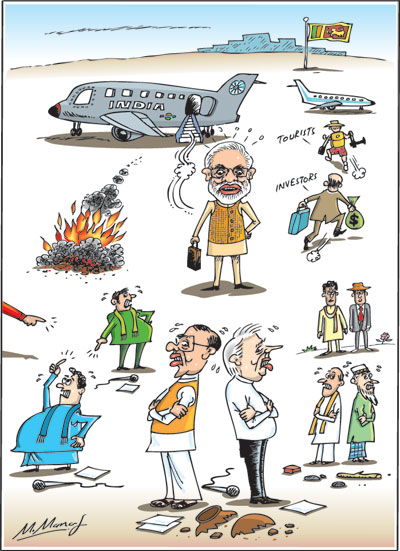 Whilst the resignation of the two Governors was being sought, another drama involving Muslim ministers, state ministers and deputies was playing out. In the backdrop of the Ven. Rathana's fast-unto-death, which also included a call for the removal of Minister Rishad Bathiudeen, they met at the residence of former Minister A.H.M. Fowzie in the morning of Monday June 3. The discussion centred on the Ven Gnanasara's ultimatum and threats of a "sanakeli" or fireworks. Fears grew of possible attacks on Muslims, their mosques and business establishments in different parts of the country.
Exacerbating the fears was the inaction of the Presidency and the non-visibility of government leaders in action. The latter's contention was that the law and order machinery was not in their hands and there was little they could do, a position that was not altogether justifiable. They could have mobilised the clergy of all faiths, helped troops and Police launch a proactive campaign through the media. Ironically, this was at a time when the vast majority of the Sinhala community including the clergy abhorred violence. Commendably, part of this task was being undertaken by the Sri Lanka Army on its own initiative. The Presidency and the government were stoically silent on these areas or did very little. Instead, the government is now readying to introduce new laws to curb the media.
Sri Lanka Muslim Congress (SLMC) leader Rauff Hakeem announced at a news conference on Monday afternoon that all Muslim Ministers, State Ministers and Deputy Ministers would tender their resignations. He said the decision had been taken after consultation with Prime Minister Ranil Wickremesinghe since "Muslims were worried and scared about developments during the last several days." He urged the Criminal Investigation Department (CID) to conduct investigations within one month but assured that they would sit as backbenchers and protect the government. That meant they were firmly rooted with the United National Front (UNF) and were issuing only a time bound ultimatum.
Their stance was greeted with much euphoria among the Muslim community. Even intellectual groups in the Sinhala community hailed it as a display of rare unity and solidarity among the Muslim parliamentarians. In the eyes of the Colombo-based diplomatic community, the message was that the "national government" was sans the Muslim community. So much so, the prelates of the country's three leading Buddhist sects – the Most Venerable Thibbotuwawe Sri Siddharatha Sumangala Thera, head of the Malwatte Chapter, the Most Venerable Warakagoda Sri Gnanarathana Thera, head of the Asgiriya Chapter and the Most Venerable Napane Pemasiri, Maha Nayake Thera of the Ramanna Nikaya – urged the Muslim Ministers to return and take back their ministerial positions.
However, the glamour and glory of the action somewhat peeled away when it transpired on Thursday that they had not sent in their letters of resignation. Thus, for all legal purposes, they remained ministers, state ministers and deputy ministers. They continued to retain government bungalows, enhanced security and all the other perks. Even heads of departments and corporations appointed by them remained in office. Rauff Hakeem later explained that the reasons were "technical" and they would hand in their letters that very day. That turned out to be a costly "technical" mistake and made them a laughing stock.
Some Muslim politicians allege that the idea behind the en masse resignation exercise is to protect Minister Bathiudeen. Through a declaration that they do not hold portfolios, firstly, they have warded off a Vote of No Confidence against him. This was to be debated in Parliament on June 18 and 19. On the other hand, they have also succeeded in securing a three-member Police Committee to entertain and inquire complaints against Bathiudeen or the others. That by itself is a departure from the normal investigative process by state agencies. All investigative agencies of the state follow the Criminal Procedure Code (CPC) as the guide. In terms of that statute, there is no provision for committees to conduct probes, criminal or otherwise. Who put the cart before the horse and what was the necessity?
These Muslim ministers have also come under heavy criticism from their community mainly over two reasons. One is for not interacting with them regularly in the past. The other is their failure to reach out to the Buddhist and the Catholic Clergy in their temples and churches after the Easter Sunday carnage. On Wednesday, when Eid ul Fitr was celebrated, several Muslim groups visited churches with baskets of fruits to show their solidarity and share their grief over the Easter Sunday carnage. A move by a group supporting the Muslim ministers to prevent A.J.M. Muzammil, a former Mayor of Colombo, from taking his oaths as the Governor of the Western Province misfired. They brought pressure on him not to violate the decision taken by the Muslim ministers. He rejected their call.
Last Tuesday, President Maithripala Sirisena also triggered a political avalanche which snowballed into both the government and the opposition sides. These were remarks he made at the weekly cabinet meeting. He declared that he would not go with the Pohottuwa (the budding lotus leaf, symbol of the Sri Lanka Podujana Peramuna). He would back the United National Party (UNP) if it would pick a "winning candidate." He also said that within a month, all UNP ministers, state ministers and deputies who had resigned would be given their positions back. The period of one month, he appeared to suggest, was to conclude investigations if indeed there were allegations against them.
UNP's winning candidae and
Gota's hospitalisation
Ministers I spoke with made clear President Sirisena had in fact delivered a strong multi-faceted message. First, they said, it was a subtle suggestion to change the UNP leader and replace him with a "winning candidate." Second was what seemed a categoric assertion that he would not tie up with the SLPP in a "common joint alliance" but back a "winning candidate" from the UNP. For good measure, Sirisena also told ministers that he was even willing to appoint a Cabinet rank Media Minister as well as a State Minister for Defence. "He threw the ball into our court," declared one senior UNP Cabinet Minister who did not wish to be named. He added "It is now up to us." However, that mood was short lived.
Talking of presidential elections, there was some bad news for the prospective candidate of the opposition, former Defence Secretary Gotabaya Rajapaksa. After admission to the Mount Elizabeth Hospital in Singapore, cardiac surgeons had to perform open heart surgery on him. He spent time at the Intensive Care Unit (ICU) and later in an Emergency Room before moving into a room. Doctors have said that he would need at least four weeks of rest but added that he would thereafter be fit for the presidential election campaign. However, Rajapaksa who has relinquished his United States citizenship is now awaiting the official certification from the US government. This certificate will confirm that he is no longer a citizen of the US. When he left Sri Lanka for Singapore, Rajapaksa was unaware of the need for open heart surgery — a condition which doctors had diagnosed after he entered hospital.
What prompted President Sirisena to make those remarks at the weekly cabinet meeting? It was UNP leader and Premier Wickremesinghe who sought a meeting with Sirisena. On Monday night, among the ministers who accompanied him for talks were Malik Samarawickrema, Rajitha Senaratne, Ranjith Madduma Bandara, Akila Viraj Kariyawasam. Ravi Karunanayake and Kabir Hashim. The source said the talks between the country's number one and two were frank and heated on occasions. President Sirisena had lamented that there was no visible government or a Prime Minister in the country. The people were complaining. Chandeyta yanna lesthi venna or be ready to go for an election, he said. It was high time that Wickremesinghe put things right. Sirisena also noted that the Minister of State for Defence and Minister for Media was not aggressive enough. Lost on him was the fact that the minister in question, Ruwan Wijewardene, was not of cabinet rank and as State Minister for Defence had no direct authority over the armed forces or the Police. Hence, he was forced to play a restricted role.
It is little known that a group in the UNP itself has been in dialogue with Sirisena to bring about a change in the party leadership. They want to foist Deputy Leader Sajith Premadasa as UNP leader and presidential candidate. The exercise is receiving the backing of a group of ministers. Former UNP Chairman Malik Samarawickrema declined comment on the matter except to say "people want a change. We would naturally take that into consideration." On the other hand, there is also a formidable group backing Wickremesinghe.
The first to raise issue with President Sirisena was Mahinda Rajapaksa, Leader of the Opposition and de facto head of the SLPP. He met Sirisena at the BMICH at a ceremony to welcome the Venerable Thunbowila Dharmaratna Thera, the new Sangha Nayake of the Nawa Thotagamuna Nawa Koralaya.
Rajapaksa asked Sirisena whether reports attributed to him in that day's newspapers of not seeking the joint backing of the SLPP for this year's presidential election were true. Kiyapuwa saha no kiyapuwa pattarey daala thiyanawa or what I said and not said have been published in the newspapers, replied Sirisena. That ended the conversation on the subject. Yet, Rajapaksa's woes were not over. At his official Wijerama Road residence, callers had a volley of queries. One opposition party leader told Rajapaksa that Presidential staff had in fact persuaded some Sinhala newspapers not to publish his remarks at the Cabinet meeting. Another SLPP member declared he had confirmed that Sirisena did make those remarks though he later retracted them. "How can we trust him?" asked another partner leader of the joint opposition.
This resonated when the SLFP-SLPP talks were held on Friday morning at the Opposition Leader's office at Sir Marcus Fernando Mawatha. The SLPP delegation head, Prof. G.L. Peiris, took exception to SLFP parliamentarians handing in a letter to President Sirisena on Thursday. In that, they had declared that Sirisena would be their candidate for this year's presidential election. How could such a decision be made when there were talks under way to form a joint alliance, he asked.
Dullas Alahapperuma, who was a member of the SLPP delegation, said even that position was contradictory. Earlier, the SLFP delegation leader and General Secretary Dayasiri Jayasekera had said that the SLPP could name a Presidential candidate and they would field a Prime Ministerial candidate. Now, he said, they were talking in the reverse. He said that SLFP members should not make any public comments until talks were concluded. Prof. Peiris said that under normal circumstances, the SLPP would have pulled out of the talks. However, taking into consideration the situation in the country, the SLPP had decided to continue.
SLFP senior Deputy Leader Nimal Siripala de Silva presented a draft constitution for adoption when a joint alliance is formed. Jayasekera assured that it would be studied in detail and amendments, if necessary, proposed. It was decided to hold the next round of talks on June 17, in eight days' time.
Disturbed SLFP members
Members of President Sirisena's own Sri Lanka Freedom Party (SLFP) were incensed at his reported remarks made to the Cabinet. When he met the party MPs on Tuesday evening, these MPs complained, Sirisena had not made any reference either to his meeting with Premier Wickremesinghe nor the remarks at the Cabinet. The matter came at a hurried meeting they convened. "If the President now wants to go back to the UNP, he should have told that to us. We could then take our own decisions," thundered one senior SLFPer, a former Minister.
They hurriedly sought a meeting with President Sirisena. He denied he had told the Cabinet that he would not seek the backing of the SLPP and back a "winning candidate" of the UNP. There was a point-blank denial by President Sirisena. A discussion ensued with members, one after another, raising questions on what their own political future would be. President Sirisena then declared he was still hoping to be the SLFP presidential candidate. This settled the issue for the MPs.
They met on Thursday morning to formulate a one paragraph letter expressing support for Sirisena as the SLFP presidential candidature. At first, S.B. Dissanayake and Dilan Perera refused to sign it. After intense discussion, at their behest, the words to say they would fight the UNP was included. It also contained provision to enable Sirisena to be a joint candidate with other progressive parties. The letter signed by 22 members was handed over at 2 p.m. on Thursday to President Sirisena at the Presidential Secretariat.
This was just before the President was to board an Air Force helicopter to travel to Kandy. He said upon his return, he would make a formal statement. However, after his return, he summoned an emergency Cabinet meeting.
The rationale behind the SLFP move, one member argued, was to strengthen Sirisena's hand at negotiations with the SLPP. "They (the SLPP) will not be able to win a presidential election without us," argued a member. However, the contention appears shallow with the SLPP having garnered the backing of a large number of SLFPers countrywide to back it. SLFP branch organisations have virtually collapsed over a period of time.
Tuesday evening's meeting by President Sirisena with SLFP MPs also saw heated exchanges between him and Wijeyadasa Rajapakshe. When Sirisena declared that there was the need for a political plan, Rajapakshe replied "what's the point? You have no consultation with us." Sirisena replied "you have made a valid point. We must discuss it further." Dayasiri Jayasekera raised the issue of the appointment of a Governor for the Western Province. He said former Minister Mahinda Samarasinghe should have been named for that post since he was a member of the first Western Provincial Council. "I did not know he is interested. I decided to appoint A.J.M. Muzammil," he said. Sirisena also said that he was willing to table a cabinet memorandum incorporating proposals for reconciliation and national unity. Since he was head of the Cabinet, that was a better approach than a minister presenting it, he noted.
After the meeting of SLFP parliamentarians ended at the Presidential Secretariat, President Sirisena moved to the President's House. There he hosted his Iftar party. Envoys representing the Organisation of Islamic Cooperation (OIC) Countries (OIC) had sought a meeting with him. When the party was over, Faiszer Musthapha walked back and forth between them and President Sirisena who was in a hurry for another engagement. He, however, met them during a brief meeting. The next day, the OIC issued a statement. It said "…… the OIC countries, urge the friendly government of Sri Lanka to take every measure necessary to prevent communal violence and to take swift, stern judicial action against the perpetrators, regardless of their religious and political influence in the Sri Lankan society."
These developments notwithstanding, revelations before the Parliamentary Select Committee (PSC) are heaping heavy embarrassment on President Sirisena. Despite his strong appeals, the UNP is in no mood to call a halt to it. The "finger pointing" will continue triggering in its wake serious political issues. None other than his own choice for the fourth Defence Secretary, Hemasiri Fernando, made some shocking revelations of his encounters with his boss this week. This is in addition to revelations by his former Police Chief Pujith Jayasundera.
The disclosures before the PSC so far are coming as lessons for President Sirisena in statecraft though they are an acute embarrassment. He is paying a very heavy price for two different things – one is picking persons to key slots with little or no depth or experience and the other, not listening to advisors. The one-man show is collapsing amidst one contradiction after another. On the other hand, the UNP appears oblivious to the damage it is doing to the defence and security establishment through the publicised proceedings of the PSC. The war of revenge will go on. After all, it would be the people of Sri Lanka who would have to pay, pay very heavily. That is the sad plight of a nation and its people.
ACSA backer Kariyawasam now a paid employee of US government

A former Sri Lanka diplomat and Foreign Secretary who allegedly pressurised the Defence Ministry to rush through the Acquisition and Cross Servicing Agreement (ACSA) between Sri Lanka and the United States is now a US federal government employee.

Prasad Kariyawasam is employed by the US federal government backed Agency for International Development (USAID), a federal entity. The agency's Colombo office has placed him as an Advisor to Parliament of Sri Lanka. Erroneously, sometimes Mr Kariyawasam's appointment has been referred to as Advisor to the Speaker. The USAID has been periodically helping providing experts to help Parliamentary Oversight Committees.

As reported in the Sunday Times last week, Sri Lanka's Ambassador in Germany, Engineer Karunasena Hettiaratchchi, former Defence Secretary, told President Maithripala Sirisena on the telephone that Mr Kariyawasam pressurised him to expedite the ACSA by obtaining Cabinet approval. The ACSA was signed on August 4, 2017. This was when he was awaiting observations from the armed forces commanders at that time expressing strong reservations. Another who mounted pressure on him, Mr Hettiaratchchi told President Sirisena, was then Foreign Minister Mangala Samaraweera.

By virtue of his new USAID appointment, Mr Kariyawasam has found his name in the guest lists of most western diplomatic missions in Colombo. Last month, he attended a dinner at Jefferson House, the official residence of the US Ambassador in Sri Lanka, for former envoy Robert O'Blake.

In terms of the ACSA, a large number of US defence and military establishments have been granted access to Sri Lanka, as exclusively revealed in the Sunday Times (Political Commentary) of May 19.

President wants PSC hearings stopped; new crisis looms

It was noon Friday when the telephone rang. Speaker Karu Jayasuriya was in his room at the Kotte-Sri Jayawardenapura Parliamentary complex. Dropping by then for a meeting was Prime Minister Ranil Wickremesinghe.

The caller, President Maithripala Sirisena was in a somewhat sombre mood. This was after Friday's media had reported the proceedings of the Parliamentary Select Committee (PSC) probing the Easter Sunday attacks. The reportage was the testimony of former Police Chief Pujith Jayasundera and former Defence Secretary Hemasiri Fernando. Both gave lengthy testimonies.

Jayasundera said President Sirisena had asked him to accept responsibility over intelligence failures saying a board would clear him. The President had reportedly promised him a diplomatic posting thereafter. Fernando, who served only three and half months as Defence Secretary, confessed he did not brief President Sirisena on intelligence matters. This was after he was told by Sirisena that he was receiving them from DIG Nilantha Jayawardena, Director of the State Intelligence Service.

President Sirisena told Speaker Jayasuriya, during a polite but argumentative conversation, that the sole purpose of the PSC was to embarrass him. He said that was evident from the line of "loaded questions" that were directed at making him the culprit behind in not perverting attacks on April 21 by not taking action. This was at a time when investigations into the attacks were still under way and some of the findings were pending. In addition, he complained, sensitive matters relating to national security were being made public with the inclusion, for the first time, of the media to cover proceedings.

Speaker Jayasuriya strongly defended his position. He said that as Speaker he had only facilitated the setting up of a PSC. This was upon a request by the UNF. The matter had earlier come up at Parliament Oversight Committees. Even the opposition had given two names though it had later decided not to take part. He pointed out that even in the US Congress, the Attorney General and the Director of the Central Intelligence Agency (CIA) were summoned to testify before committees. He also defended his role to ask the media to cover the PSC proceedings saying it was a matter for the PSC to decide.

The conversation then turned to the copy of a letter President Sirisena had forwarded to Speaker Jayasuriya. It had been written by Attorney General Dappula de Livera and urged that references to ongoing investigations and related matters be avoided at the PSC hearigs. This was because they were sub judice. The President was disappointed it had not been tabled in the House. Speaker Jayasuriya had explained that was not the procedure. There was no requirement to table it in the House since he had informed PSC members to whom the matter was relevant. Yesterday, Jayasuriya was due to send a formal letter to the Attorney General.

President Sirisena cautioned that he would have to take strong measures if the PSC hearings were not stopped. He said he would not preside at Cabinet meetings and spelt out the other steps which appear in our front-page news report today.

By late Friday afternoon, a livid President summoned an emergency cabinet meeting for 7.30 p.m. that night. There he warned that he would not chair any Cabinet meetings – a move which will bring the functioning of the government to a virtual halt. He said he would also ask both senior military and Police officials not to testify before the PSC. Such non-attendance would make those invited to testify to face contempt charges. "I will look after them," declared Sirisena.

He also spoke early Friday to Attorney General Livera. The Attorney General's Department has announced that it will file indictments in the Central Bank bond scandal case involving former Governor Arjuna Mahendran. Such action would enable Sri Lanka to seek Mahendran's extradition on the grounds that action has been filed and he should face charges in courts.

There was a thawing of the heated atmosphere with Minister Rajitha Senaratne playing the role of a peace broker. As a result, President Sirisena had agreed to meet ministers at another meeting tomorrow (Monday) to review the situation.

Although the mood in the UNP-led UNF appears conciliatory, its proxies the Tamil National Alliance (TNA) and the Janatha Vimukthi Peramuna (JVP) are adamant. They said the PSC should continue and absentee witnesses should be charged with contempt. Who will arrest them? The Police Department is under President Sirisena. A new political crisis of huge proportions is in the offing.