A film for those who value marriage and relationships
By Susitha Fernando
'Dekala Purudu Kenek'- 'Strange Familiar'- Was it she, he or them?
View(s):
In a marriage could there be friendships and relationships other than between husband and wife? Why do such relationships take place? How far can those relationships go? Where would the redline be? When such damages and disturbances take place, how should a marriage be repaired and restored? What is the role of the spouses, parents, relatives and friends? Emotional intricacies of a relationship between a young man and awoman and the silent suffering and feelings of suffocation by them, captured in  detail, 'Dekala Purudu Kenek' or 'Strange Familiar' is a film that needs to be watched by anyone who values a marriage or any relationship.
Presented as a debut, Malith Hagoda and his childhood friend script and screenplay writer, Boopathy Nalin have displayed much hopes and maturity in the subject of filmmaking. Speaking to the TV Times, young Malith Hagoda, the son of the well-known teacher of photography and poet Lal Hagoda, described how he got the idea of making a film on such a complicated and complex theme and under what circumstances it was created.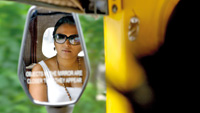 "Boopathi and I have been friends for over 20 years. We were school friends at Ashoka Vidyalaya and Ananda College and we have been watching films, going for film festivals and discussing them for a long time. Every time we met we used to talk about films in all the senses," Malith said.
"When it came to doing a film we had a previous project but we didn't have sufficient commercial backing to do it. We had to struggle for nearly three years. Then it came to a point where we wanted to do a film with a little amount of money," said Malith describing how he finally executed his filmmaking dream. Their plan was to do a film with a minimum number of characters and set it in one location.
"But we decided that whatever we did we would not compromise on our vision in cinema. We might compromise on the number of actors and the quality of the camera but we would not compromise on our vision," And the finally the duo embarked on making Dekala Purudu Kenek.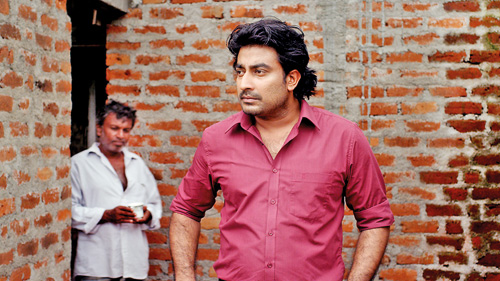 "This is a story we regularly discussed with our families and friends. We have spoken about it but not with the hope of doing a film. We had spoken about this issue of relationships and the violations that sprout from them.
The point of trigger or inspiration was the society around us, and the stories we heard. How we saw that it is being repeated over and over again and how people are not sensitive to that situation and why they fail to go that extra mile.
When I heard this story from Boopathy, the first thing that came to my mind was that this could be seen in all our relationships. May be in dealing with our parents, friends, girl friends, the lover or any of that kind of relationship dynamics of this could be identified. That was the starting point," says Malith. Started in 2012, the film was shot in 2013.
Interested in cinema from his young age, Malith went to Britain to study cinema but he could not complete due to financial constraints and from there onwards his main cinema education was through watching films and discussing them. "This is the formal and informal study I had about cinema," he states.
"Secondly I worked as a publicist for several stage plays and this was a new opening for learning theatre and art," says Malith.
Looking back at his earliest inspiration for cinema, Malith said it was 'Jurassic Park' that was watched in a theatre in Colombo and how he waited in a long queue for a long time to get into the theatre.  The other inspiration was Iranian filmmaker Samira Makhmalbaf's  'The Apple'  which he watched at an Iranian Film Festival at the Russian Centre.
"If I want to express myself, the film would be the medium because it is extremely powerful," he said.
"Even though there are a lot disadvantages, specially in terms of technology, cinema is not technology itself. It is about how interpret the human relationship that you want to show and what you can do technically-not technologically,"
We are considerably behind the updated technology of cinema; but still, creatively, there is a huge potential that we can achieve without the really latest technology.
"The interesting thing about what I call film is that space of doubt in the way you work on it and think of it. That is when you are engaged in the film. That is the magic of cinema for me,"
To whom does the title "Dekala Purudu Kenek' or 'Strange Familiar' refer? Was it Samadhi, her husband Sachithra, the child who is between them, or the parents and in-laws or somebody else? It has this effect "We know that person, you don't know that person. The feelings of in betweenness. That depends on how we see this situation".
Presented by
Vinode productions, the film is now being screened at Regal Colombo, Liberty Lite, MC Colombo, Lido Borella, Amity Lite Maharagama, Skylite Malabe and number of other theatres around the country.