'Crystalline' wonder of 40,000 plastic bottles
By Yomal Senerath-Yapa
View(s):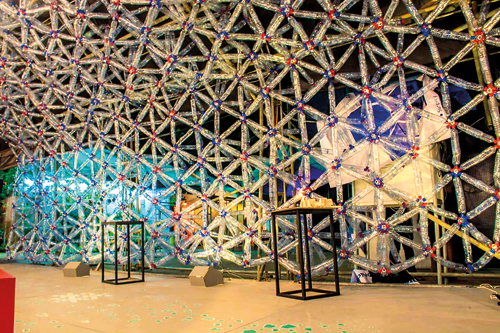 Giant walls formed by magical Christmas frost patterns seem to rise magnificently around the City School of Architecture (CAS) stall at Architect 2019, the work and trade fair held at the BMICH from February 20 to 24. The walls fall just short of forming a canopy above the stall. At night this arctic creation glowed, its starburst motifs scintillating in blue and red and a faint icy emerald.
This 'crystalline' wonder is actually made up of 40,000 plastic bottles. They tell a story about recycling- how even this most environmentally lethal of materials could be made into things of beauty and use.
The students of the City School of Architecture put up the installation using the water bottles discarded by a number of Colombo's plush hotels over a period of a month and a half. They gathered as much as 1000 or 1500 bottles each night.
The installation gives out a practical message of recycling- for each bottle will have an after-life. Every one of them will be handed over to the Coca-Cola recycling plant, who will make a yarn out of it, which will be exported to make products coming under such brands as Nike and Adidas.
The CSA stall included a mural that symbolically depicted the world as an ice cube that is fast melting due to plastic- the only solution being to recycle instead of discarding. The message was not only about the polar ice caps melting- it was also an overarching architectural one: that out of the waste we dispose, we can always create something innovative.