Appreciations
View(s):

Dedicated doctor, true Royalist and sincere friend

Dr. R Kulanayagam

The death of Dr. Kulanayagam, affectionately called 'Kule' by his friends meant the hand of death had taken away another old Royalist from the 1947 batch which had many doctors, many of whom went abroad having been medical men in Sri Lanka for a short time.

When Kule and all of us entered Royal, the 'Bradby era' had ended and the 'J.C.A Corea era' had begun. Kule was outstanding in his studies and entered Medical College without much effort. He was not very involved in sports but enjoyed the Royal- Thomian cricket encounter and the annual visit to Kandy to witness the Royal- Trinity rugby match. He like all the others took part in the fun and frolic that took place in College during that time. He led a full life at College  and was active in the Royal College Over 70 Group. Unfortunately being ill he missed the last get-together.

After entering Medical College he chose the subject of psychiatry for his specialised studies. He was a much sought-after psychiatrist  with 'alcohol' being one of his favourite areas of medical care. He worked at the Angoda Hospital and tried hard to uplift the hospital to a higher status. His theme was that many had mental problems that had to be identified and cured by treatment and therapy. He practised his profession right upto a short period before his demise.

My first encounter with him as a doctor was when I took a close friend who had alcohol related problems to him for treatment. He was tough with the patient and said 'You have a good friend named alcohol and I'm going to separate him from you." He treated him and his wife thanked me for the favour I had done the family. Unfortunately once when a curfew was declared my friend had forgotten to purchase his tablets and went back to his alcohol again, never to return.

My next encounter with him was when I took an OCD ( Obsessive Compulsive Disorder ) patient to him. He was able to help him and give relief after treatment and therapy. He told me "OCD is very common, many people have it but it can be cured by proper treatment and therapy."

Having worked in many alcoholic clinics in many parts of the world he was of the view that alcoholism is a serious illness and one must avoid it totally. He did enjoy a Brandy but he said 'Better be without it." While working abroad he became friends  with the late Padmal de Silva who was one-time Registrar of the Institute  of Psychiatry of King's College London. Padmal who had authored a book on OCD helped many in Sri Lanka, without payment,  and  did trauma counselling for many tsunami victims.

Some say that medical men are medical mudalalis who only make money.  Kule was not such a person. When another doctor who had helped him during the '83 riots, suffered an untimely death, he greatly helped the family  and was like a guardian to the children. He treated his own staff like his children, monitored their progress and helped them monetarily.

He had an abiding interest in music and was a good pianist, a familiar figure at parties, playing the piano. A dedicated doctor, good Hindu, true Royalist and  sincere friend, his death is a great loss to all of us and his family.

S. S. Sahabandu
---
The construction industry  has lost a towering figure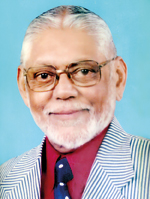 Dr. Eddie de Zylva
Dr. Eddie de Zylva was known by all the sectors of the construction industry as 'Godfather of the Construction Industry'.
In 1981, with the assistance of the World Bank alongside the establishment of the Institute of Construction Training and Development under the initiative of then Prime Minister Ranasinghe Premadasa, Dr. de Zylva pioneered the formation of the National Contractors' Association of Sri Lanka (NCASL), now known as the Construction Association of Sri Lanka. This is the only organisation of construction contractors covering the entire country.
His distinguished stature elevated the NCASL which was then named as Contractors' Association for membership of the Asia and Western Pacific Contractors' Associations (IFAWPCA) which is recognised by the World Bank, the ADB, Middle East banks and also linked with COICA, the Confederation of International Contractors' Associations.
The Construction Industry Guarantee Fund was his brainchild which helped small and medium contractors receive bank guarantees and further their business.
Dr. de Zylva was also instrumental in getting several government regulations enacted in elevating the able entrepreneurship of national constructors. He also advocated the necessity of formulating  a Parliamentary  Act for the construction industry, which ultimately came into being as the Construction Industry Development Act of 2014.
His  special expertise was in the arena of conditions of contract in the legal framework. Personally, I owe him much gratitude for enhancing my knowledge. With his grace and introduction at the (IFAWPCA) Convention held in Tokyo in 1993,  I had the opportunity of  serving as a Standing Member  in the Conditions of Contracts Steering Committee of the (IFAWPCA) representing the interests of the construction industry of Sri Lanka.
Although he had to depart from the Contractors Association due to a certain coterie, he was better elevated simultaneously with the formation of Construction Industry Guarantee Fund as its Chairman and Executive Director.   He was good enough to accept my personal invitation and participate in the Conditions of Contract Committee Session at the (IFAWPCA) Convention held in Sri Lanka where a remarkable resolution was formulated based on his advice and was adopted successfully.
Even major contractors used to consult him in their dispute resolutions in construction contracts and he was a reputed arbitrator. He was elected as the Chairman of the Sri Lanka National Arbitration Centre.
Over and above all the accolades  and expertise he possessed, I appreciate Dr. De Zilva for not  being a conventional thinker  and always having innovative and progressive thinking on different paradigms.
 Jayasiri Samaratunga
---
A wonderful human being all round
Leon Ismail
It is with a heavy  heart that I record the passing of a great friend and peer at the ripe old age of 92, at two minutes to midnight on February 23.  He was Mohamed Ghazzali Ismail – Leon, as he was called by all.
The pain of losing a wonderful friend is going to remain in my heart forever. I first met this admirable personality when I joined the Hayleys Group in 1979 when he was an Engineer, already serving for over a decade –  an institution by himself, well loved, respected and admired.
He never missed a single day of his working life, dedicated, committed and devoted to his profession – a brilliant man who was totally familiar with every nut and bolt of every type of machinery in every type of factory at Hayleys Group, both literally and figuratively – whether it be Fibre baling machinery, tea plantation machinery, rubber gloves manufacturing machinery, brush manufacturing machinery, activated carbon manufacturing machinery – the list is endless.  You could say that he was a person of considerable prominence who was sought after even after his retirement and this reminds me of a verse in the Bible – Psalms 92:14 :
"Even in old age they will still produce fruit; they will remain vital and green."
And he was exactly that.
He lived up to the maxim : "Hard work never killed a man. Men die of boredom, psychological conflict, and disease. They do not die of hard work"- David Ogilvy
Leon Ismail's behavioural, temperamental, emotional and mental attitude was something that characterised a unique individual.  He never let another man down. He fulfilled every obligation he ever undertook.
I could without hesitation describe him as sanguine – optimistic, active and social, analytical,wise and quiet; as well as relaxed and peaceful.  His last stages proved this point without any shadow of doubt.
His word was his bond, and everyone knew it. I never heard him utter a lie even for fun.  He was self-made and self-reliant –from his education to his career, from his skill with every kind of tool that could fashion wood or metal, brick or cement.
Leon never made an enemy. Not one. While he most surely came across a few people he couldn't countenance, he solved the problem by simply avoiding them. He always insisted that violence never solved any problem.
He was also a jovial, pleasant and friendly individual. He loved a good joke, yet his humour was never mean spirited, nor designed to hurt or humiliate. I never once heard him utter a racial slur, nor did he ever treat anyone of any station with anything other than dignity, respect and kindness.
I also take this opportunity to express my heartfelt condolences and deepest sympathies to the bereaved family.
May Allah in His Mercy grant the family and all his loved ones, tranquility of heart and peace of mind.
May my very best friend and brother Ghazzali Ismail, attain Jannathul Firdaus.
Zulkifli Nazim
---
A great son of Ananda College  who did so much for Buddhism
Col.  Sudath Madugalle
It was with profound sadness that we, the Executive Committee of the All Ceylon Buddhist Congress (ACBC) learnt of the sudden demise of Colonel Sudath Madugalle, one of the greatest sons of Ananda College. Col. Madugalle departed from this world, leaving a permanent void in the hearts of not only his family but in everyone associated with the ACBC. He had close links with Buddhist monks not only in Sri Lanka but in other Buddhist countries as well. He was a Vice President of the ACBC and the Deputy Secretary General of the World Buddhist Forum.
My association with him commenced when he was the President of the Old Anandians' Buddhist Society, but I had the opportunity to move closely with him during the past decade in the Executive Committee of the ACBC, after his retirement from the Sri Lanka Army. During the past decade he devoted most of his time for social work mainly to protect the rights of the Sinhalese Buddhists. He was heavily involved in developing Buddhist temples and in helping people in border villages affected by the cruel LTTE activities for nearly 30 years. His effort and contacts with government organisations helped to make the tree planting campaign recently initiated by the ACBC to protect the environment a great success.
He had a family connection to both Weera Keppetipola and Madugalle Disava and took an initiative to erect a monument for them in his home town. He  also jointly with Ven. Induragare Dhammarathana Thera embraced the task of taking the ideology of Srimath Anagarika Dharmapala to the younger generation all over the country.
He was well known for his kind and humane traits. He was a silent worker. I came to know some of the valuable contributions he had  made through the funeral orations by various speakers including the Buddhist clergy. His death is an irreplaceable loss to the Buddhists in this country and to all Sri Lankans in general.
May he attain the Supreme Bliss of Nirvana.
Dr. L. M.K. Tillekeratne
---