Art to make a change
By Minnath Azeez
View(s):
"Where your thoughts cannot flow to have concrete ideas, but you are stuck in the same state of thought like a merry go round," is how artist Gayan Suranga introduces 'Psychic Entrophy 2019' his exhibition on March 9 and 10 from 9 a.m to 7.30 p.m. at the Lionel Wendt Art Gallery.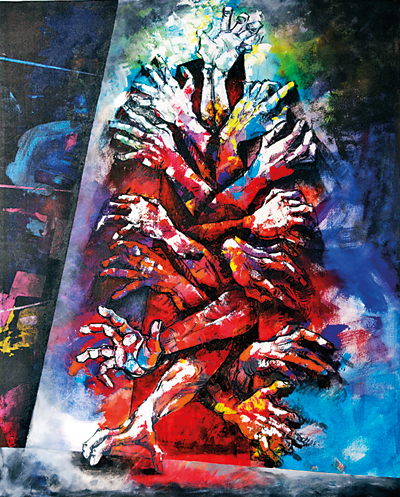 Combining abstracts with realistic human figures, Gayan's work addresses themes like drug addiction, harassment and humanity.
"As an artist I think it is my duty to give inspiration to society, and if someone can learn a lesson or if they can change their lifestyle using my art, that is what I would want at the end," says Gayan.
A self-taught artist, with the completion of his Bachelor's degree in design at the Moratuwa University in 2010, Gayan currently works as a Senior Designer at MAS Intimates while using art as his mode of expression that he follows purely for his own satisfaction.
"In Sri Lanka an artist cannot earn much," says Gayan thankful that the job he does now with much passion, has allowed him to live his dream.
He also owns a studio in Borella for those interested in exploring more of his work.