Expolanka Group retain title with 4-0 win over Amana Bank
By Lakshman Ranasinghe
Mercantile Football Association 7S
View(s):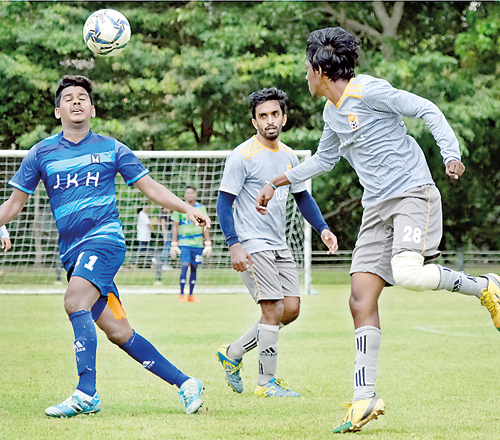 Expolanka Group (Expolanka) retained the Mercantile Football Association (MFA) '7s' 2018 title with a comprehensive 4-0 win over Amana Bank (Amana) in the 'Cup' Championship Final, at the Race Course, last Saturday.
The 39th edition conducted in the MFA' s centenary year was sponsored by Moose Clothing Co.
LB Finance won the 'Plate' Championship, while Smart Shirts won the 'Bowl' Championship.
The maiden tournament conducted for Non-MFA members, for the 'Shield', was won by United Tobacco Processing (UTP)
The awards presentation was under the patronage of the Mayor of Colombo, Rosy Senanayake. The Guests of Honour were FFSL Gen.Secretary UL Jaswar, Head of Marketing- Moose Clothing Co.,Steffan Schumacar, Moose Clothing Co. MD-CEO Hashib Omar, MFA President, Saif Yusuf and his Executive Committee.
'Shield' Championship (Non members)
Quarterfinals:
CW Mackie (CWM) beat PickMe Taxi 2-1, AIA Insurance (AIA) beat Eskimo Fashions 1-0, NoLimit Clothing (NoLimit) beat ITX 360 1-0, UTP beat MAS Holdings, on a toss of a coin (Full time 1-1, Penalties 2-2)
Semifinals:
AIA beat CWM 2-1, UTP beat NoLimit 1-0
Final: UTP beat AIA 4-0.
'Bowl' Championship:
Quarterfinals:
Smart Shirts beat Sampath Bank 3-0, SL Telecom (SLT) beat Nations Trust Bank 3-0, Seylan Bank (Seylan) beat Commercial Credit on penalties (Full time 1-1), Commercial Leasing (ComLease) beat Softlogic 1-0.
Semifinals:
Smart Shirts beat SLT 1-0; Seylan beat ComLease on penalties 6-5 (Full time 0-0)
Final:
Smart Shirts beat Seylan 2-0.
'Cup' Championship:
Quarterfinals:
Commercial Bank (ComBank) beat HSBC 1-0, Expolanka beat LB Finance 2-1, John Keells beat Virtusa 1-0, Amana beat Ceylinco Insurance (Ceylinco) 2-0.
Semifinals: Expolanka beat ComBank 3-0, Amana beat John Keells on penalties 3-2 (full time 1-1)
Final:
Expolanka beat Amana 4-0, after leading 2-0 at Half-Time. Goal Scorers: M.C.M Rishnas (2), A.D.K de Silva (1) and M.A.S. Jain
'Plate' Championship:
Semifinals:
LB Finance beat ComBank 3-0, John Keells beat Ceylinco 2-0
Final:
LB Finance beat John Keells-3/1
'Cup' Championship:
Special Awards-
'Cup' Championship:
Best Goalkeeper- M. Imran (Expolanka), Best Player- M. Rishnas (Expolanka)
'Plate' Championship:
Best Goalkeeper- Usman Hameen (LB Finance), Best Player- S.Niresh (LB Finance)
'Bowl' Championship:
Best Goalkeeper- Chamika de Soysa (Seylan), Best Player- Srinath Soysa (Smart Shirts)
'Shield' Championship:
Best Goalkeeper- D.M.S. Lakshitha (UTP), Best Player- Supun Lahiru (UTP)
Most Senior Player: B.H. Nishantha (Ceylinco)