Controversial match coaching
Effectively, is it an agitation about nothing?
View(s):
Any player not able to read an opponent and decide on the tactics, during a match, is not a 'smart player'. Only such players need Match-Coaching from outside.
If one remembers the last 10 years, Roger Federer lived without a coach and thrived for a long time. Even now, his coach is only to give him practice and act as tour manager, organising his requirements in the professional tour. He is smart.
During the matches, players sense the opponent a great deal better than anybody watching the match. 'Opponent's challenge' has an effect on the comfort zone of any player's shot selection and movement. Spectators and coaches cannot sense this internal restriction of a player. In such situations, Match-Coaching can disturb and bring down the chances of a player winning greatly. More to say, such coaching confuses the players. I always wondered, how come, a coach could think that Match-Coaching is an effective tool? No player has such a large range of variations to accommodate external suggestions.
I think, WTA, ATP and even ITF does know this age old fact of Tennis. Then, what is this excitement about Match-Coaching?  
Effects of Match-Coaching
Match-Coaching disturbs the opponent more than helping the favoured player to play a better game. This is the issue. This could lead to favoured player winning. If the opponent is not affected, in my opinion, Match-Coaching would have caused more losses to the favoured player, than wins.
Necessity of Match-Coaching is a result of player development without any emphasis on the tactical side of the game. Match-Coaching, though not allowed, is very common in age group Tennis events. In such matches, opponents getting disturbed and losing is often, mistakenly, taken as effective Match-Coaching.
Sore point
Match officiating bodies have a duty to see 'fair play' prevails during a match. Good players, if they do not come into winning form, which could be for many reasons, their emotion surfaces. Shouting, racquet breaking, swearing and other forms of outbursts are the signs of it. It can disturb the opponent and create an unsporting atmosphere in the arena. There is a tolerant level umpires exhibit. Beyond that they will act. This year's US-Open Women's final was such a situation.
Any unbecoming behaviour of a player in the professional circuit is penalised, and later fined, using the term 'Code Violation'. Players' behaviour can violate opponents space to perform and this is not allowed. Fines used to be heavy, compared with what they earned. Not anymore. Prize money has shot through the roof, but the fines have not. There is also ranking point reduction for extreme violation, after the match, using a panel of officials. These are done without tarnishing the image of the game. After all, players' competitive and sporting lifespan will end, but not of the game of Tennis.
Wisdom of WTA approach
Recently, Camila Giorgi of Italy played US-Open winner Naomi Osaka of Japan, in Japan. After a Set, Osaka's coach walked up to her and instructed her, which was broadcast live worldwide. Giorgi was not disturbed, because WTA permits coaching. WTA uses it as another attraction. It is available to every player in the WTA circuit. Outside coaching is very difficult to control. Making it available to all, it neutralises itself. In the present context of a team accompanying players, this is a wise move.
I have heard many heated arguments between players and coaches, after the match, on the Match-Coaching given, especially after a loss. The one I recollect most was between Boris Becker and his coach Gunther Bosch in Los Angeles, California. Bosch signalled Becker to lob only to be smashed by the opponent. Becker did not wait till the match was over to blast Bosch in German. Bosch recollected this incident in his book on Becker. This happened because Bosch knew Becker, not his opponent.
Coaches' role in a match
Most of the Match-Coaching violations are by the coaches. It cannot be in the coaches' list of duties. Coaches' role is to create a complete player. What a coach should do during a match is to develop charts of their choice and record the performance and extract areas to work upon, to complete his player. Match-Coaching by a coach amounts to making the player a mere puppet and pulling strings from outside to perform. This way, that player will always be a puppet on a string.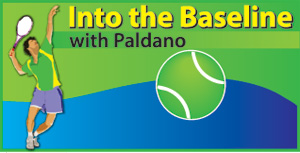 Player responsibility
On the other hand, it is the duty of the player to seek work and evolve to play a match without outside help. It is true, currently, popular squad training does not induce this ability. To be a good Tennis player, player's responsibility weighs more than the duties of a coach in many aspects.
2018 Tennis Tour
The WTA Tour will end with the Singapore showdown in October and the ATP Tour in November, with its final in London. Before the curtain falls, US$ 55 million would have disbursed as Prize money. The year end will see new names entering the Top 20. Teenage prospects of last year and this year will come up as matured players. The strain and pain of the Tour might ease with the recess. The 2019 season will begin in Brisbane, Australia, in January 1st week.  
 George Paldano, Former int. player; Accredited Coach of German Federation; National coach Sri Lanka & Brunei, Davis-Cup, Federation Cup
captain/coach- contact 94 77 544 8880
geodano2015@gmail.com –