Digital Space takes a national focus
View(s):
Last week was an important week for everything digital in Sri Lanka. The national event that deliberates all maters digital and IT – the National IT Conference (NITC) was held on October 2 to 4 at the Shangri La Hotel, with the head of the state President Maithripala Sirisena himself attending as the Chief Guest. This signifies the important place that digital has gained in the state of affairs in Sri Lanka.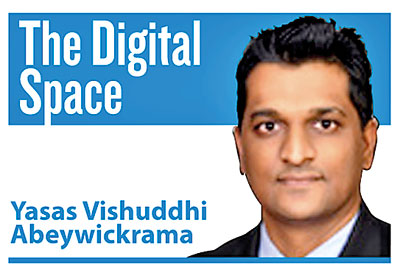 At the conference, we deliberated on how IT is changing everything that is related to human life. One important thing that got highlighted and discussed deeply was around how we find areas that are important from a change perspective that will improve the human life.
I wish to bring some of the learnings from the conference to you so that the broad society starts to realise the changes that are happening with digital transformations.
The world's biggest accommodation company is Airbnb. But they do not own a single hotel or a hotel room. They have a platform, on which hotels and hotel owners showcase their properties and people use the platform globally to book accommodation, from which the company earns billions of dollars. The world's biggest taxi company is Uber, but they do not own a single taxi. They have created a platform, vehicle and taxi owners use the platform to tell the users that they are available and where they are available through a map, which links them with the passengers. People globally use it giving a lot of user friendliness, making life easy for passengers while Uber earns a fortune. Pickme, which is a local version, has changed the taxi and tuk tuk business significantly in Sri Lanka too.
Due to online platforms, there is a large portion of tourists that come to Sri Lanka now purely through digital platforms. They find their way around, book accommodation and other services completely online.
At the conference, a thought leader educator from the Australian IT sector, Tom Worthington explained how the education space is changing with digital interventions – mobile learning, video-based content, streaming, digital content and smart class rooms. I was surprised to hear that one of the major universities in Australia has demolished a large building that had lecture rooms, and built a building that can be used for more flexible modes of education, including smaller smart class rooms, student discussion areas and convertible study rooms.
The banking space is also changing significantly. Banking was a sector that is very careful due to security aspects, but today it is opening up some of their platforms through APIs. What is an API – Application Program Interface? It's a way of technology with a set of routines, protocols, and tools for building software applications and allows to interact with internal systems from outside. Basically, an API specifies how software components should interact. This way people outside banks such as programmers, start-ups, community organisations, loan calculators, etc can work with banks' data and systems by using banks' APIs.
These are phenomenal changes happening in the digital landscape connecting people and industries, hopefully making things easier for people.
The conference also deliberated on social inclusion that is empowered through digital means. For instance SMART social circle is an initiative developed by the ICT Agency of Sri Lanka to empower citizens through the promotion of the effective use of digital technologies and ethical use of social media to improve their living standards by enhancing their incomes and improving living environment. See https://www.facebook.com/ssc4ce/
We saw a significant number of high quality academic research papers presented at the National IT Conference too. This is encouraging. The basis of developing an innovative nation is to have lots of research, which will lead to new innovations and patents and then those unique ideas becoming commercialised and connected to the industry practice. This latter part of commercialization and mixing research with industry is lacking in Sri Lanka. We can see this linkage well in countries such as Japan, South Korea, Israel and China which have seen phenomenal development in recent times. We hope with the start that we have taken at the National IT Conference, nationally important research can be taken to the next level in the future through a broad linkage initiative.
The National IT Conference has a long history of 36 years of unbroken record now, which showcases the gradual progress of the IT industry in this country. A national initiative that started small in 1982, today attracts over 1600 professionals who come together to discuss related issues and learns from the experts. It is supported by a broad set of stakeholders including academia, industry and government, and importantly celebrates the achievements if IT professionals. (The writer is the current President of CSSL – Computer Society of Sri Lanka and can be reached at yvabeywickrama@gmail.com).
(The writer is the current President of CSSL – Computer Society of Sri Lanka and can be reached at yvabeywickrama@gmail.com).