Safety rules sans penalties finally, after three-wheelers kill hundreds
By Shaadya Ismail
View(s):
Within the first 120 days of this year, irresponsible three-wheeler drivers have killed 117 people on the roads, and finally, transport officials say, revised safety regulations, including a 40-kilometres per hour speed limit, will be implemented soon.
Rules being gazetted on Wednesday restrict three-wheelers from transporting more than three passengers at a time. But, with children below 12 years, two adults can ride. A speedometer and fare meter is mandatory.
The distance between the driver's seat and the passenger's seat should be 21.5 centimetres, the rules also say.
But penalties have not been laid down for breaches of these rules.
Lalith Dharmasekera, who heads the All-island Three Wheeler Drivers Union, said the lack of penalties is an inadequacy.
"The gazette must mention specific penalties when a clause is breached. However, in an instance where the penalty is not mentioned, punishment will be decided under the common law,'' he said.
A three-wheeler driver and owner union are asking questions about unlicensed operators as well.
The National Council for Road Safety, chairman, Sisira Kodagoda told the Sunday Times that there will not be any more postponements.
Safety rules were to be implemented on April 20 this year, but postponed by two months due to the difficulties faced by three-wheeler drivers outside the Western Province to buy fare meters that are now mandatory. They had been given a grace period of two months.
The safety regulations were gazetted for implementation on January 9 last year. But three-wheeler operators objected and officials backed off.
Efforts to regulate three-wheeler operations stretch back to 2013, when the fare meters and receipts, the 40km/ph speed limit, rules on children, were gazetted in that year, along with 30 other rules. A gazette notice issued in July by the then transport minister Kumara Welgama said, that "the motor tricycle shall not be driven at a speed in excess of 40 kmph'', among other things.
Now, after lengthy delays, road safety officials say three-wheeler operators have agreed to amendments.
The Secretary to the Ministry of Transport and Civil Aviation, G S Withanage, said there are no obstacles to implement the gazetted regulations next week.
Mr Dharmasekara, said the rules should first be implemented in the Western Province.
According to him, the Western Province has the necessary resources and most of the three-wheelers and people are aware of the fare meters. "We want the authorities to implement the gazette next week. However, if they fail yet again, then it will be the inefficiency of the authorities,'' he said.
The All-island Three Wheeler Drivers' and Owners' Association chairman, Sudil Jayaruk told the Sunday Times, the group has no objections to fare meters, but that the gazette is not clear on how the regulations will be monitored.
"Authorities must focus on things related to monitoring three-wheeler drivers because many in the profession are inexperienced and some do not have licences,'' he said.
The rules debate continues in the backdrop of regular deadly accidents involving three-wheeler drivers.
In Galewela on Tuesday, two off-duty soldiers were killed when the three-wheeler that they were travelling in collided with an on-coming tipper truck. Police said the speeding three-wheeler had attempted to overtake a car. The tipper truck driver was arrested.
In Panadura on May 31, an elderly, female pedestrian was knocked down by a three-wheeler. The police said that the 60-year-old was admitted to the Panadura Hospital with serious injuries. The three wheel-driver was arrested for speeding and negligent driving.
Earlier, on May 18, opposite the Balangoda clock tower, a three-wheeler driver was arrested after crashing into a motorbike while trying to overtake.
National Council for Road Safety data show that from January 1 to April 30 this year, three-wheeler drivers caused 117 fatal accidents.
In comparison, from January 1 to April 30, 2017, there were 112 fatal accidents while there were 118 deaths in 2016.
All of last year there were 355 deaths and 321 people suffered serious injuries. In contrast, in 2016, there were 378 deaths, and 354 people suffered serious injuries.
According to the police media spokesman, Superintendent of Police Ruwan Gunasekara, there are two main reasons for the increasing number of three-wheeler accidents. First, three-wheeler drivers overtake heavy vehicles, which result in head on collisions, and second, three-wheelers overload.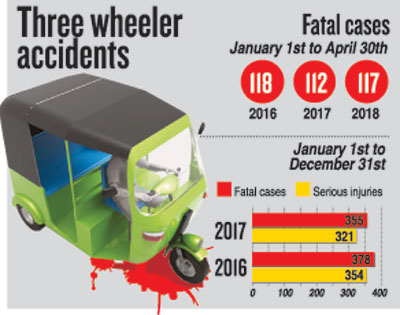 Senior Professor of the Department of Transport and Logistics at the University of Moratuwa, Amal Kumarage said poor road design also contributed to road traffic accidents.
Besides, cheap vehicles without essential safety features are being imported causing deaths.
Prof Kumarage suggests analysing road traffic accidents so that data can be used to help prevent further tragedies, rather than continuing with the blame game.