Monster project swallows Rs. 1.3bn in compensation
By Kasun Warakapitiya
Uma Oya damages increasing as cracks grow wider
View(s):
More than Rs. 1.3 billion has been spent on compensation related to the Uma Oya hydro-electric and irrigation project, the scheme's Deputy Director (Relief Operations), D.B Amarasekara said.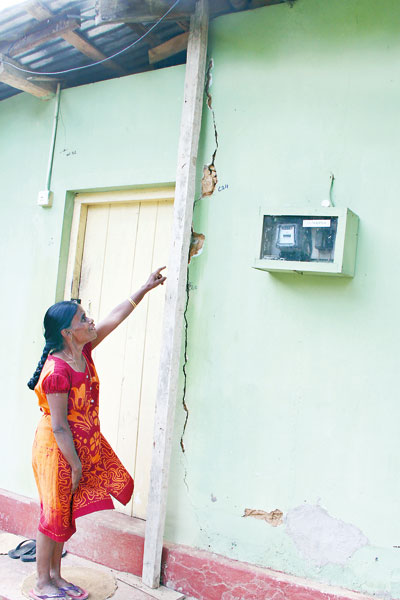 Rs. 800 million has been paid as compensation to people whose houses were damaged by the project while Rs. 370 million has been spent on compensation for crop damage.
Mr. Amarasekera said there were areas that had not yet received compensation and he warned that slight cracks still kept appearing in constructions as the controversial project proceeded.
He added that the planned purchase of estate land at Bandarawela to resettle families affected by site damage caused by the scheme had been postponed following advice from the National Building Research Organisation (NBRO) that the area was vulnerable to landslides. The NBRO suggested a delay of six months.
Begun in 2008 by the former Rajapaksa government without adequate environmental checks and safeguards, the Uma Oya Multi-Purpose Development Project, which involves a complex system of new dams, long water tunnels and spillways taking water from the Badulla District southwards to dry regions, became an environmental disaster with wells drying up, cracks opening up in the land, houses cracking and collapsing, and disruption of traditional farming livelihoods.
Five thousand of the 7000 families awaiting compensation have received payments, Mr. Amarasekara said.
Residents of Bandarawela continue to suffer from water shortages as the ground water in the area has drained into the Uma Oya tunnel. The earth that held the ground water has collapsed, causing damage to houses above and around.
A resident of Bandarawela Attalapitiya, Ratnayaka Mudiyanselage Chaminda Sujith Kumara, said his newly-built house had many cracks that were several inches wide, including a pronounced fissure separating the building into two parts.
"Cracks that appeared in the walls slowly widened during the course of a year," Mr. Kumara said. "At the time of last year's April New Year celebrations our house was intact but gradually cracks appeared." He was no longer confident that the building was stable.
Mr. Kumara. 37, said his family had only been in residence in the house for about two years and now lived in constant fear that the house might fall apart while they were sleeping within.
"I was offered Rs. 110,000 to repair my house but the damage that has occurred is so serious that the house will have to be rebuilt. Even when I asked the Grama Sevaka whether I should just patch up the house he said not to start repairs as the government would pay compensation," he said.
"Even if compensation is paid to rebuild my house I doubt if the site is a safe area as both my wells have dried up and the ground beneath my property has cracked," Mr. Kumara said.
He wants an assurance from the authorities that his house and property were safe because his wife and two daughters were constantly worried about their safety.
Mr. Kumara also said the 500-litre water tank provided by the Uma Oya project was inadequate. Water only came into the tank for three to four days a week and when this ran out he had to hire a trishaw to travel 7km to find more water.
Another resident from the same area, H.G. Seelawathie, 56, said she had not received any compensation even though the family home and farmlands had been assessed for compensation by officials. Her 86-year-old husband was bedridden and she and her six children were struggling to look after him and tend the farm.
A head cleric of the Kurukudegama Sri Sudarshnaramaya temple, Kurukudegama in Bandarawela, Jinanannda Thera, said damage caused to the temple by the project had been repaired through donations because no money had been given by the government.
He said families were in great difficulties: many people in Welimada and Bandarawela had not received any compensation while the compensation paid to others was insufficient to repair the damage done to their homes.
The thera said some people needed to be relocated as their homes were so badly damaged.
He added that local roads were being badly damaged by tractors and bowsers constantly travelliung over them to deliver water to residents whose wells had run dry.
The Sunday Times was told that people who had protested against the Uma Oya scheme and had been elected to seats on the two local councils had not been able to resolve the problems and that some had lost interest in the issue while others had joined parties with different agendas.
Janatha Vimukthi Peramuna member and head of a group set up to protest against the Uma Oya project, Samantha Vidyaratne, said it was difficult to muster protests as members of this group had joined other parties.
Badulla Additional Secretary W.M.R. Ranjith said compensation was being paid out but people were requesting more money as damage increased over time.
He said the government should make a second assessment of damage to all properties to review calls for additional compensation payments but added that the first assessment had yet to be completed.
He said the Bandarawela, Badulla and Ella Divisional Secretaries were tasked with managing compensation while a special unit focuses on providing funds for the repair of rural roads in affected areas.
A senior official working on the Uma Oya project said engineers had reduced the seepage of water into the 20km tunnel that is part of the Uma Oya project following a change in excavation methods and the inclusion of new tunnelling equipment.
"After the excavating tactics were changed we reduced the speed of water seepage from 1400 liters per second to 200-220 liters per second," he said.
Following advice from overseas experts, cement paste was being injected into the tunnel walls.
"We also excavate only an average of 3-4m a day and also inject liquid cement to create a water seal to the newly excavated areas," said the official, who preferred to remain anonymous.
The official said 90 per cent of the project had been completed and work was in progress on complete the remaining 3.65km of tunneling work.
He said 18 water bowsers were being used daily to supply water to local residents while the project was in progress.
He said that in the absence of hoped-for funding from Iran, the Sri Lankan government had to stretch its resources to complete the project and had to choose funding priorities.
The Iranian government had agreed to fund 85 per cent of the project, initially estimated to cost Rs. 80 billion. Costs have since increased by millions of dollars.