Voting to opt out
View(s):

My dear 'Gang of Sixteen',
I thought I must write to you when I heard that you have all quit the government and will sit with the opposition, after voting for the no confidence motion against the Green Man. I am not sure whether I should congratulate you or sympathise with you, because we don't know what will happen next.

Of course, I am quite certain it must have been very difficult for those among you who were holding ministerial jobs. After all, how could you say goodbye easily to all the perks, privileges, vehicles, free petrol, security detail, personal staff and free publicity that comes with being a minister in our land?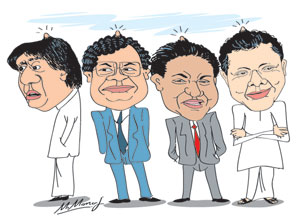 So, I was not surprised when I heard that some of you wanted to remain in the government even after voting against the Green Man. You claimed that although you didn't quite like the Green Man, the government was headed by Maithri and he hasn't asked you to quit. Ah, what an ingenious argument!
I heard Maithri had said something similar. He told the Blues that he beat Mahinda maama at the last big election because of who he was- and not because the Greens asked their voters to vote for him. Maithri was a simple unassuming man but then, power does strange things to people, doesn't it?
Susil, it must be easier for you now that you don't have to pretend that you are on Maithri's side while still working for Mahinda maama. You were the 'broker' between Maithri and Mahinda maama and you were desperate for the two to get together, but I suppose it is now a case of 'kapuwa kapothi'!
Susil, you were so sure of your numbers and thought the vote of no confidence will succeed. Clearly, something went wrong because the Greens who you thought would vote for you, didn't do so. Have you now figured out why that happened or is it that the Green Man has outwitted you yet again?
SB, I can only admire you. You were first with Satellite, singing her praises. Then you crossed over to the Green Man. When you realised it was Mahinda maama's turn, you switched to his team. After you sang his praises at election rallies to ridicule Maithri, you didn't think twice about joining Maithri.
Now, SB, you have switched sides again. You don't think that remaining with Maithri is a safe bet anymore given the hiding your Blues got at the recent elections, so you must be thinking of joining Mahinda maama again. You are a principled politician – with the principle of winning at any cost!
Rilaasiri, you seem to be following in SB's footsteps and why not, when you are also a former Minister of Sports. We remember the Rilaasiri of old, when you were with the Greens and lambasting Mahinda maama day in and day out. Why, you even wanted to be the Greens' national organiser.
Rilaasiri, you too humiliated Maithri at election rallies and sang Mahinda maama's praises but you saw nothing wrong in joining Maithri's Cabinet thereafter. I am happy that at least now, you have learnt your lesson and departed from the Cabinet, so you can practise saying 'Disc Aut Discede'!
Dilan, you were among those who wanted to stay in the government after voting against the Green Man. Some people are surprised, but I am not. After all, you are now best buddies with that small Nilame chap, who was once accused of murdering one of your best friends, Nalanda, at Kuruwita!
Thilanga, you must be worried. It is not asking much to let go of the Deputy Speaker's chair but it is quite different when the Sports Minister is no longer you buddy Rilaasiri who will look the other way no matter what you do at Sri Lanka Cricket. And those elections are only weeks away, aren't they?
Anyway, what I do not understand with all of you is what your plans are. You say you will sit on the opposition benches but that you will also "strengthen Maithri's hands". As far as I can see, his hands are tied now because both the Greens and Mahinda maama despise him, so how will you do that?
Or, will you bide your time because Mahinda maama is more popular than Maithri and hang on to his saatakaya at the next election? Or else, why were Rilaasiri and Dilan the first to greet Mahindaananda when he was released on bail? And with that goes Maithri's battle against corruption, doesn't it?
Yours truly,
Punchi Putha
PS: That chap Duminda has said that Maithri will be the Blue candidate at the next big election. That puts you in a rather difficult spot, doesn't it? After all, you have pledged to strengthen Maithri's hands but you will then have to campaign against Gota and no prizes for guessing who you will support!