The economy's performance in a turbulent political environment
View(s):

Recent months were a period of political confusion and chaos. What we may experience in the months ahead could be worse than political instability. It could be a continuation of the chaotic and confusing political environment.

Hopefully the two main parties of the coalition have learnt the lessons of their folly and will make an effort to govern the rest of their term of office single-mindedly with a consensus on economic policies and be collectively responsible.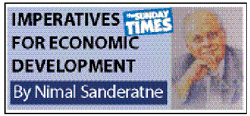 However the expectation of political stability and an agreed economic agenda this year and in the next, in the run up to the general and presidential elections of 2019-20, may be unrealistic. The economy would be compelled to function in a political environment of uncertainty, confusion and policy indecision.
Rates of growth
In the 1970s, a renowned Indian economist, Raj Krishna, described India's economic growth of around 3.5 percent per year at that time as "A Hindu rate of growth". What he meant by this catchy description was that the whole range of conditions impacting on India's economic performance was not conducive to a higher rate of economic growth. This included, inter alia, cultural values, social milieu, economic policies and politics.
India today
This has changed drastically after the economic reforms of 1991 when there was a spurt of growth. India is today one of the fastest growing economies in the world. It is expected to grow at 6.5 to 7 percent this year. In contrast, Sri Lanka's economy has been sliding in the years after the initial boost to the economy by the cessation of the war. Economic growth has been on a declining trend since 2015 and plunged to 3.1 percent last year.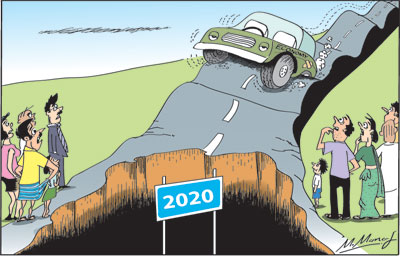 Asia
Other countries in Asia are also growing rapidly. Bangladesh has overtaken Pakistan's per capita income and is growing at 7 percent. Vietnam's economic development has been phenomenal. The Chinese, East Asian and South East Asian economies are experiencing robust growth.
Prerequisite
That political stability is a prerequisite for economic development is incontrovertible. The state has important roles to play in ensuring law and order, fostering economic growth through economic policies, development of economic and social infrastructure and economic reforms, among others. Consistency and certainty in economic policies are also vital to ensure investment. These preconditions are hardly possible in the country's current chaotic political environment.
'Autonomous' growth
Notwithstanding this, Sri Lanka's economy will grow at a modest rate of around 4 to 5 percent this year and in the next. This is because any economy has a certain momentum based on its past and current investments and growth factors that are not related to current state policies. One could even say that the economy would grow at this momentum in spite of the turbulent political conditions. This 'autonomous' growth is virtually what we could expect in 2018-19.
The sources of 'autonomous' growth this year are increased food crop production, higher tea and rubber production, enhanced tourist earnings, backward linkages of export growth in manufactures and fisheries and increased earnings from ICT services.
Enterprises
There are a host of economic enterprises that can expand moderately without state interventions. These enterprises, especially those with backward linkages of the growth sectors would contribute to the economy irrespective of the political conditions. However even these could be adversely affected by government neglect and ineffectiveness.
Agriculture
An increase in food and agricultural production is likely owing to expected good weather conditions. The current favourable weather and probability of normal weather conditions would be largely responsible for increased agricultural output. The revival of the rural economy would have beneficial impacts on other sectors as well.
Exports
The export growth in manufactures and sea food that commenced in March 2017 is likely to continue and its backward linkages would contribute to growth. Tourist earnings that had a temporary setback owing to the communal violence in some parts of the country have revived. With tourist earnings increasing significantly in the first quarter of the year, earnings from tourism are likely to grow and contribute to growth, baring a similar setback to tourist arrivals.
Growth
These sources of growth are likely to result in about a 5 percent growth partly assisted statistically by the low growth of only 3.1 percent in 2017. The average annual growth of only 4.2 percent in 2017-2018 discloses the poor performance of the economy. For the same statistical reason, it would be more difficult to achieve a growth of 5 percent in 2019 from around 5 percent this year.
The political environment too would be less conducive to substantial economic growth. There could be growth owing to politically motivated increased public expenditure on welfare measures and increased state employment. These unproductive expenditures would increase the national output, while straining the longer term economic stability and growth.
Other viewpoints
The Central Bank of Sri Lanka expects the economy to grow by 5 to 5.5 percent in 2018 while the IMF expects it to be 4.5 percent. The Asian Development Bank (ADB) in its annual Asian Development Outlook for 2018, says that Sri Lanka's "Growth over the next two years will depend on agriculture and the political climate as elections approach." Assuming normal weather in 2018 and 2019, it expects growth primarily in agriculture but also growth in industry, construction and services.
Longer view
Although the political disruption and uncertainty is unlikely to impact current growth by much, the longer run setback is serious. The political disunity and uncertainty disables the government from undertaking reforms that would strengthen the economy's capacity to achieve a much higher growth trajectory.
While the inherent capacity of the economy would ensure an autonomous growth of around 5 percent, the political convulsions would damage the economy's capacity to grow at a much higher rate in the future.
Vision or mirage
Vision 2025 of achieving a rich and prosperous country is fading away. The vision is turning into an unrealised dream, perhaps a mirage. The severest damage of the current political confusion is the adverse impact on investment, erosion of fundamental macroeconomic stability and deferment of economic and social reforms. Being a debt ridden country, we could drift into an economic crisis and stagnation that would in turn destabilise the polity.
Reflection
The prorogation of parliament till May 9th could be a time for reflection for the President and Prime Minister and to arrive at a common agreed agenda for the rest of its tenure of office. Consensus on economic policies, however limited in scope, could add confidence and certainty in the economy that would enable it to perform better than the "autonomous" rate, and even more importantly not erode the long term capacity for higher growth and economic development.