Huge ali dung fraud at Pinnawala
View(s):

Presidential probe may lead to charges against senior officials of National Zoological Gardens Dept.
A massive Rs. 74 million fraud involving elephant dung has been going on at the Pinnawala Elephant Orphanage for the past three years and the National Zoological Gardens Department's senior officials are likely to face charges.

The findings were made by the Presidential Investigation Unit (PIU) which conducted an extensive probe on the sale of elephant dung.
PIU Director Ruban Wickramaarachchi told the Sunday Times the awarding of tenders for the disposal of elephant dung had been manipulated. No proper records had been kept and registration numbers of motorcycles had allegedly been used to claim money for lorries.

The alleged racket had been going on from 2014 to 2016 and had been carried out with the connivance of several senior officials of the Department of National Zoological Gardens under which the Pinnawala Elephant Orphanage operates. The orphanage looks after about 100 elephants. The animal dung is collected at a place within its premises and is disposed of bi or tri annually by awarding contracts after calling tenders.

Mr Wickramaarachchi said the PIU had uncovered evidence that the system of awarding the tender was manipulated to give the contract to a man with political connections. H alleged the record books and vehicle log entries relating to the contracts were also deliberately tampered with. "The actual place where the elephant dung was dumped is only seven kilometres away but the contract gives the distance as 16 kilometres and hence double the rate was paid for transport," he said.

Similarly the requirement under the contract is for lorries with 3.5 cube capacity to be used for this purpose but investigations revealed that this was flouted and tree-wheelers, vans and smaller lorries had been used for the purpose while some of the payment vouchers contained false numbers of vehicles which were paid for transporting the animal dung," he said. The PIU investigators also found that the log books maintained at the security post at the orphanage were not properly maintained and no proper records were kept with regard to the vehicles used for the transport of dung.

PIU investigators W.G.A.Weerakkody and Lakshman Silva had checked the vehicle numbers included in the payment vouchers with the Registration of Motor Vehicles Department (RMV) and found that some numbers were of motorcycles and threewheelers in which no elephant dung could be transported.
The PIU investigation was conducted after the President's Office received information through an anonymous source at the National Zoological Department.
The PIU has recommended disciplinary action against several senior officials of the Department for their involvement in this racket while further investigations are on regarding several other instances where government financial regulations and administrative procedures have been violated.
---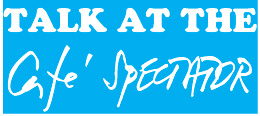 New York bash for anti-Ranil SLFP MP
For one of the 16 SLFP MPs who voted for the no-confidence motion against Prime Minister Ranil Wickremesinghe, the National New Year celebrations were in New York.
He boasted to his friends there that he told President Sirisena he was leaving for the US and he had replied "gihilla hondata avurudu kaala enna" or go and enjoy Avurudu and come back."
One of those who heard the man said that the MP was a lucky man. He is a Green Card holder in the US, perhaps the only one who could sit in Opposition benches or in a lovely mansion in New Jersey.
---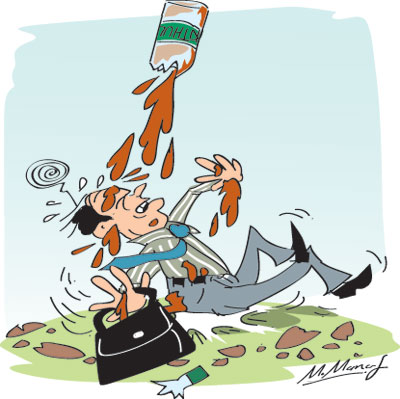 Retiring bureaucrat's 'honeymoon' plan fails
Some top bureaucrats, funny enough, can find a way to survive in service even if they reach their retirement age.
However, this one failed as his transparent ploy was discovered. On the eve of his retirement, he formulated a document for ministerial approval to establish a Kitul Board. Such a body was to nurture the treacle and jaggery industry.
The man's efforts were soon discovered. Another senior bureaucrat intervened to point out that a board or a corporation was not necessary. A subject clerk at the ministry could do the same task, he said. There ended the proposal.
---
No Queen's English in President's New Year message
Leave alone Sri Lankans, even top officials at the Presidential Secretariat were aghast at the English text of President Maithripala Sirisena's National New Year message.
They were worried that the incomprehensible language would cause embarrassment to Mr Sirisena.
An example: "The New Year binds with the traditional customs which blooms inter relations and family relationships and showers the human thoughts with refreshing fragrance which flows to the future with our deep understanding and respect we have for the traditions of NY."
---
Constitutional Assembly will continue
President Maithripala Sirisena's decision to prorogue Parliament from midnight April 12 till May 8 will see the lapse of all bills and motions in the Order Book of Parliament.
They would have to be re submitted again by those who have forwarded them if they are to be included in the Order Book.
However, the Constitutional Assembly will continue to function as before.
---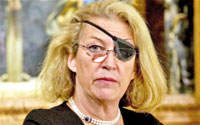 Top war journalist who covered Lanka's war was allegedly killed by Assad Govt.
Sri Lanka was one of her beats when Marie Colvin was a staffer at the Sunday Times in London. Once she travelled to the then trouble torn north via Mannar. On her return, before she could enter the Army's defended localities, a patrol fired at her. This was after they suspected movements ahead of them. She lost her sight on one eye and wore an eye patch thereafter.
She was in the news again last week. In a US court, new documents were unsealed and they included sworn statements by a former Syrian intelligence officer, who defected from the war ravaged nation. He alleges that she was murdered by the Government of Basher Al Assad.
The intelligence defector, codenamed Ulysses, provides a detailed account of how Assad's military and intelligence officials sought to capture or kill journalists and media activists in Homs, a centre of the pro-democratic revolution that erupted across Syria in the spring of 2011, according to US media reports.
He said that when Ms. Colvin's death was confirmed, Syrian Major General Rafiq Shahadah exclaimed: "Marie Colvin was a dog and now she's dead. Let the Americans help her now." At that time, Maj. Gen. Shahadah was a security official in Homs. He now runs the Syrian military intelligence directorate.
The Syrian Government has not responded to the lawsuit, but Assad has denied that his forces targeted and killed Ms. Colvin in 2012 to silence her reporting on the conflict.
The 56-year-old veteran war correspondent was reporting on the Syrian Government's bombing of residential areas when she was killed by a rocket attack on a media centre. In Sri Lanka, she survived a grenade that was lobbed at some suspected LTTE guerrillas who were escorting Ms. Colvin. She lost an eye in the explosion but was treated for her wounds at a government hospital by Sri Lankan doctors.