Why pangolin's armour is now its greatest weakness
By Malaka Rodrigo
View(s):
The world's most trafficked animal is the pangolin or scaly ant-eater, and global demand is making this animal rarer in Sri Lankan forests, with cruel revelations of its slaughter.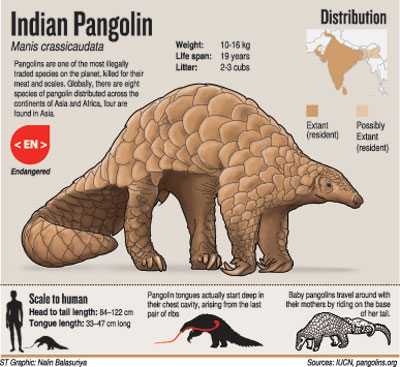 Police following a tip-off last week found a live pangolin inside a freezer of a Chinese restaurant in Kollupitiya. Pangolin flesh is considered a delicacy by the Chinese living in many East Asian countries so the pangolin in the freezer would have met a cruel end – just days before World Pangolin Day, yesterday (February 17) – if the police raid had not come in time.
The thick layer of overlapping scales that protects the pangolin from its natural predators is of no use against the worst predator of our time, the human hunter and, in fact, are a curse for the ant-eater as they are used in Chinese medicine.
Last November, 130kg of pangolin scales were found in Kalpitiya during a raid in the largest such haul. Experts estimate that at least 150 adult animals had been killed to obtain the scales.
On February 17 last year, which ironically was World Pangolin Day, Customs nabbed a woman carrying 11kg of pangolin scales. Customs records show four such incidents in the past few years.
The former head of the Customs Biodiversity Unit, Samantha Gunasekara, said although organised networks trafficking pangolin scales and other body parts were known to exist in other parts of the world, Sri Lanka was drawn into the racket about five years ago.
All such consignments nabbed by Sri Lanka Customs had been bound for Chennai, India, a wildlife trafficking hub. Mr. Gunasekara also fears that the increasing number of Chinese visiting Sri Lanka for work and recreation has contributed to the targeting of pangolins.
Although world attention is usually focused on curbing the trafficking of elephant and rhino ivory and the body parts of tigers, records indicate that pangolins are the most widely-trafficked animal in the world.
Research based on cross-border pangolin seizures shows that a combined minimum of 120 tons of whole pangolins, parts and scales were confiscated by international law enforcement agencies from 2010 to 2015. That figure indicates a high rate of slaughter given that an average pangolin weighs 5kg.
The International Union for the Conservation of Nature's (IUCN) Pangolin Special Group estimates that since 2000 up to one million pangolins have been taken from the wild globally for illegal trade.
A UN report released this week shows trade in pangolins is flourishing despite a global ban on trafficking in pangolin parts last year by the Convention of International Trade in Endangered Species (CITES).
"This report shows that while enforcement efforts are absolutely critical, we must give as much priority to tackling the demand that drives illegal trade," UN Environment Programme wildlife communication expert Lisa Rolls stated. This is the battle Sri Lanka faces as Chinese demand grows for pangolin flesh and other body parts.
There are eight species of pangolins in the world and the species found in Sri Lanka is the Indian pangolin, also called the thick-tailed pangolin (manis crassicaudata). Its main diet is ants and termites.
"The pangolin has a highly complex design that suits its lifestyle," states Asoka Yapa in his book Mammals of Sri Lanka. Its small head, well-protected eyes, and tiny ears are ideal for poking into ant nests or entering burrows and its strong, long claws help it to easily break open an ant hill.
The pangolin has a long, sticky tongue to extract ants from deep burrows. The tongue is about 25cm long, and in most species the tongues start deep in the chest cavity, arising from the last pair of ribs. The jaws are toothless, so the ants are just sucked in.
At the slightest hint of danger, a pangolin will curl up into a hard ball impregnable to tooth and claw, which gives the animal its name, derived from a Malay word.
'pengguling', meaning "one who rolls up". Sharp-edged scales on the side of the tail can easily cut a paw and, if that is an insufficient deterrent, the pangolin will shoot a jet of revolting-smelling yellowish liquid from an anal gland, Mr. Yapa said.
The elusive creature comes out at night and so evades the eyes of the public, mammalian expert Sampath Goonatilake said. Decades ago, they were widely distributed, even living in the suburbs of Colombo, he added.