Veggie glut at Dambulla plunges prices as low as they can go
By Kanchana Kumara Ariyadasa, Dambulla correspondent
Farmers lament no buyers; consumers say it's a crime as retail stores sell at high prices
View(s):
A vegetable glut in the market has led to a drastic price drop, with farmers who bring their produce to the Dambulla Economic Centre finding it difficult to obtain a fair price, but consumers say prices at retail shops are still high.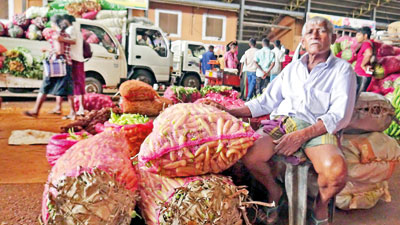 The current vegetable harvest has been excellent, with large stocks of vegetables being brought from all over the country to the Dambulla Economic Centre on a daily basis, especially from the Jaffna Peninsula.
According to the Economic centre traders' association, many vegetable stocks that cannot be sold are being discarded. The low prices of many vegetables at the economic centre reflect the current reality. A kilo of brinjal has fallen to just Rs.10. A kilo of carrot is selling at Rs.25-30. A kilo of green chili is between Rs.40-50 while a kilo of beetroot is selling between Rs.10-15.
However, consumers allege that in Dambulla town itself, where vegetables are selling at extremely low prices at the economic centre, they are being sold several times higher at retail outlets with retail traders and middlemen making massive profits.
A kilo of green chili is being sold at Rs.300 at retail outlets, a kilo of beetroot at Rs.100, and a kilo of carrots at Rs. 140. Long beans, that are being sold for Rs.20 a kilo at the Dambulla centre is going at Rs.120, a kilo of brinjal, Rs.100 and a kilo of potatoes that is fetching just Rs.35-50 at the economic centre is being sold for Rs.100.
A kilo of capsicum priced at Rs.50-60 at the Economic Centre, is going at a staggering Rs.240 a kilo, angry consumers say.
At a time when vegetable prices are so low, with many stocks even being thrown out due to the inability to find buyers, consumers point out that it is a crime that they are being exploited in this manner.