Hurry up and walk: Killer diabetes is just behind you
By Kumudini Hettiarachchi
View(s):
Anti-diabetes groups and Lions Clubs to launch 310km walk- and-run campaign from tomorrow until Feb 25
More Sri Lankans are becoming victims, 'Broiler Chicken' children among them
Walking is the 'medicine' that doctors liberally 'prescribe' along with a healthy diet to prevent or control diabetes which has reached epidemic proportions in Sri Lanka.
Following the same pathway, three active anti-diabetes groups — the Sri Lanka College of Endocrinologists (SLCE), the Sri Lanka Diabetes Federation (SLDF) and the Sri Lanka Diabetes and Cardiovascular Disease Initiative (SLDCI) — have joined hands with Lions Clubs International, District 306 C1, not only to walk and run from Trincomalee to Colombo but also to create public awareness and screen people for this disease. (See box)
Under the theme 'Let's Defeat Diabetes' from tomorrow till February 25, the 'Walk for Diabetes' & 'Run for a Healthy Life' programme will encompass not only walking and running but also awareness campaigns, screening and testing of people and dispensation of advice to prevent this disease or keep it at bay along with measures to avoid serious complications that arise with it.
Reiterating that diabetes is now an epidemic affecting both young and old, SLDF President Dr. Prasad Katulanda said that without restricting walks to Colombo on World Diabetes Day, they had decided to take the message about the gravity of this disease to towns and villages.
"Health education and screening for diabetes and its complications which affect the feet and the eyes among others will be conducted at several satellite locations along the 310-kilometre route of the walk," he told a media briefing on Friday in Colombo.
There will be testing for diabetes and high blood pressure and evaluation of obesity.
Dr. Katulanda waved a red flag when he said that in 2010, about 10 percent of Sri Lankans were affected by diabetes, but now they fear that the number has risen to 15 percent. There are indications that while about 20 percent of the people living in urban areas are affected, there are also signals that the rural people are falling into the clutches of this disease.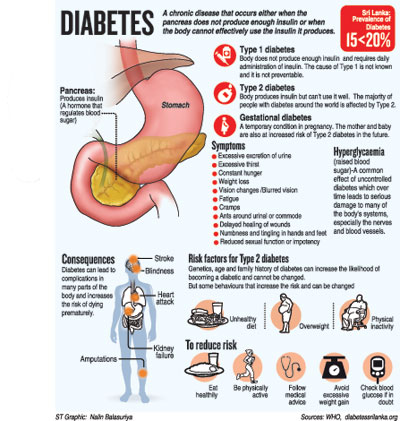 "We need to stem the massive tide of diabetes which is engulfing Sri Lanka and the region," he added.
Dubbing diabetes as probably the "biggest" problem in Sri Lanka, the SLDCI Project Lead Dr. Noel Somasundaram pointed out that under this initiative knowledge enhancement has been carried out for 7,500 health staff not only on diabetes but also hypertension (high blood pressure) and cholesterol. Eight hundred healthy lifestyle centres have been set up in the 1,000 state hospitals across the country to dispense advice on the prevention and control of non-communicable diseases, with free medication being provided to those affected by these diseases.
He creates the image of children, like "broiler chickens" being woken up in the morning, rushed to school, then for tuition, then sit before the television or computer and then to bed, only to start the daily grind next day.
"I don't know whether their brains are developing but their bodies are certainly getting rounded leading to fatty liver and cholesterol even in small children," said Dr. Somasundaram, adding that they are urging schools to take part in the Walk and Run.
SLCE President Dr. Manilka Sumanatilleke said that 50 percent of the effort to prevent and control diabetes lies in the hands of the people because it is linked to eating a healthy diet and exercising regularly.
Lions District 306 C1 District Governor Rupa Dheerasinghe said that with their theme of 'We serve', they have turned their attention to diabetes, seeing the dire necessity to curb this problem. They have also been engaged in many other programmes including eye-care, protecting the environment, youth issues and relieving hunger.
Come join the parade
The 'Walk for Diabetes' & 'Run for a Healthy Life' campaign will take off tomorrow from Trincomalee's Hindu Cultural Hall, wending its way through Dambulla, Kandy, Mawanella, Kotiyakumbura, Hanwella and concluding at Battaramulla's Diyatha Uyana."Come join us," says the Lions Project Chair Wasantha Gamage, adding that there will be colourful floats with a motorcade also being part of the Walk & Run. A digital screen will be giving out important health messages throughout.While the walkers and runners are on their way, the 'satellite locations' will hold free health screening sessions with Consultant Endocrinologists from those areas in attendance.The sites of the health screening will be: Trincomalee's Hindu Cultural Hall on February 19; Dambulla's Uyanwatte Temple on February 20; Kandy's Getambe Sudharmaramaya on February 21; Mawanella's Beligamana Temple on February 22; Kotiyakumbura's Ampe Sri Sobitharamaya on February 23; Hanwella's Community Centre on February 24; and Battaramulla's Diyatha Uyana in Colombo on February 25.

'Run for a Healthy Life' targeting young adults and schoolchildren is a regional initiative launched by the South Asian Federation of Endocrine Societies, with the first such run being held in Lahore, Pakistan last year.