Subramanium spells out vision for Sri Lanka's Olympic Committee
View(s):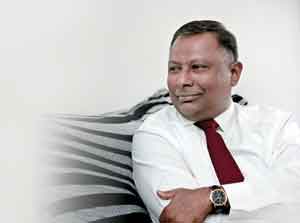 Have you ever seen a tree, physically growing – I mean, seen it actually happening or, a flower blooming? Yes, they are little secrets of nature. They may occur within a very short space of time, yet the process cannot be discerned through the naked eye.
In reality, this is exactly what I thought of former Tennis Ace Suresh Subramanium, who has now taken up the challenge of conquering the NOCSL citadel. Yet, a few moons ago, Subramanium was purely a baseline player who, on and off, indulged in delivering lightning-speed Serves that left the opponent standing agape. Yet, his exploits remained within the precincts of the 78′x27′ Service area.
Likewise, we began our conversation with him on which direction he would like the game of tennis to move, and his thoughts on the just concluded Davis Cup tie against Thailand.
Subramanium explained, "Right now, Sri Lanka is in Group II in the Davis Cup. We just lost our tie against Thailand and now we have to play a relegation tie against Indonesia shortly. The biggest drawback was that, our No.1 player Harshana Godamanne couldn't come over from the United States on time, but is expected to take part in the series against Indonesia. Unfortunately, even our No.2 player Shamal Dissanayake was involved with a professional exam and thus his training was also rather restrained by studies. He won his Singles and the Doubles but, could not take part in the Reverse Doubles. Thailand has always beaten us and this time, like previously, we lost in the 5th rubber, but we make no excuses."
The Sunday Musings then inquired about what the practical solution is. He said, "I think not only for tennis, but for all sports, we must encourage the education authorities to inculcate a system where sports training and studies could be mingled and done simultaneously, so that, training begins at a very young age. The youngster, from a very young age, is training to attain higher goals in a given sport but, even if the youngster is injured and unable to continue with his/her sports, there is a fall-back plan. I know, in India, they have adopted this system, and it is also done in many other countries successfully, including the US."
We then asked Subramanium, if he is given the opportunity, would he lend a helping hand to other sports within the NOCSL's jurisdiction. He said, "I believe in results and seek avenues on how to achieve them. In the last three months that I have been involved with the NOCSL, I have met something like 20 sports federations. I have spoken to them individually. I feel fortunate to have been involved with tennis. We have such an imposing organisation. But, some of the other National Sports Associations (NSAs) don't even have their own clubhouses to conduct their day-to-day activities. Irrespective of what we are engaged in, we are all volunteers. They do it free of charge because of the love of the sport. Sports such karate, judo and baseball deserve better facilities, but they do not have even an office to conduct their operations. That is my first task. These NSAs must be provided with facilities. If I am the NOCSL's choice, initially, I would get down to accomplishing that task."

At that point, we pointed out that, right now, there are huge issues, with various accusations on the inclusions of the audit reports and their contents. May be that you were not a part of it but, you are a part of a team that invited you to be a part of.
Subramanium said, "Though I may not be able to detail it, the original allegation was that the accounts were not sent to the Auditor General's (AG) Dept on time. But now, they have been sent and the audit reports are out. However, the only request I made before I consented to being a part of the NOCSL race was that the audit reports should be done and I come out for my battle with a clean slate. As far as I am concerned, what has happened has happened and nothing can reverse that situation. But, if the AG says monies have to be recovered, I will ensure those monies are recovered. But, anyway, they are not big money. I do not think any of those issues are serious.
"Initially, some tried to make the issues look big, though the biggest is something like Rs 2.5-3 million given for printing, but not done. May be someone will follow up on that too.
"Nevertheless, what I would like to do is to have a CEO who could follow up on such issues and be answerable. We will give the directions, it would be his business to carry them out."
We then asked the doyen of tennis about ground support. There are various allegations and the opposition is very vociferous, seeking the intervention of the Minister of Sports. He said, "The persons who make allegations must come out with their contents. When that happens, I could deal with them case by case. Like on the tennis court, we play, we win, we shake hands and go back our different ways. What has happened is done. My task is to see it won't happen again.
"It's like this, some people wanted to join my committee. But, when their records are checked, it is very difficult to include them in my team. Some of them are indicted in court, some of them are having other charges. Then it becomes difficult. They are my friends but, I like to start with a clean sheet."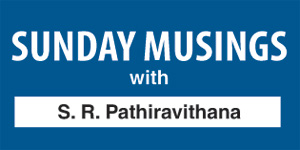 Subramanium said there are lots of accusations against NOCSL Secretary General Maxwell de Silva. Yet, he says, in reality, the Secretary general does not have access to anything. When he asked  Secretary General Maxwell de Silva whether he had anything to say about these accusations, Maxwell had replied, "At no stage have I signed even one voucher. There was a treasurer and a finance committee. I am here by what I do here. The treasurer is a qualified accountant. The chairman of the finance committee is a chartered accountant hence, without their approval no payment could be effected."
Subramanium says the NOCSL constitution must also be changed. The finances should be handled by accountants and they are responsible. We must also change the constitution to align ourselves with the Sports Laws – there is a provision for the constitutional committee. He said "NOC is ruled by the IOC directions; but that does not mean you can do the wrong thing. My contention is you must obey the law and not try to interpret the law. That is the point where most of the people go wrong".