Malinga still in our game plans says chief selector Labrooy
By the Sunday Times Sports Desk
View(s):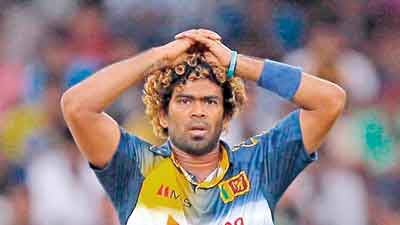 As seamer Lasith Malinga mulls retirement from international cricket after being consistently snubbed for national selection to build a career in mentoring, but chief cricket selector Graeme Laboory did not rule out a possible Malinga return depending on his form and fitness.
"He is very much in our game plan," told the Sunday Times. "We have not written him off completely. If he can prove his form and fitness in domestic cricket, we would consider him.
"We learn that he has stated that he does not mind being the bowling mentor for Sri Lanka for the 2019 World Cup, but, officially we have not heard any intimation of that nature and he remains in our radar".
Also in an interview with the Sunday Times two weeks ago Malinga said he's exploring opportunities to venture into mentoring as the prospect of a return seems a distant dream for the 34-year-old.
Malinga who was a permanent fixture with the Mumbai Indians since the inception of the Indian Premier League (IPL) will not play this year, instead he will be their bowling mentor this season.
With 492 international wickets across all three formats, Malinga last played for Sri Lanka in September 2017 against India, at home. Even though Sri Lanka played two more series later that year, with Pakistan and India, he did not find a place in the final squad. Yet, not only was he kept out of the final squad of 16 that left for Bangladesh in mid-January for the tri-series, he wasn't among the 23 players initially picked for the tour–a clear indication of what awaits who was once a most feared and successful limited-over bowler for Sri Lanka.
"If my services are not required any longer as a player, it's time to move on. I know there's still cricket left in me and if I cannot contribute as a player, I am ready to venture into mentoring leading up to the World Cup," Malinga told the Sunday Times two weeks ago.
"I believe in teaching by examples. I can get into the field and show how to bowl a yorker. This is important. I think if I cannot contribute as a player, I will definitely look at this option going into the World Cup," he said adding that he has been in discussions with few interested parties at present.
Malinga owns four limited-over hat-tricks for Sri Lanka, including a rear four wickets in four balls against South Africa at the 2007 World Cup. He was arguably Sri Lanka's most influential bowler during the country's excellent run in global tournaments from 2007 to 2014. Since returning to the side after a knee-surgery, however, his form has been patchy.
In 2017, Malinga took 12 wickets in six T20Is and 10 wickets in 13 ODIs. There were 12 missed catches off his ODI bowling that do not show up in his final tally.