Malinga hints at packing his bags
By Champika Fernando
Individuals with short lifespans make long-term plans -- they do not work
View(s):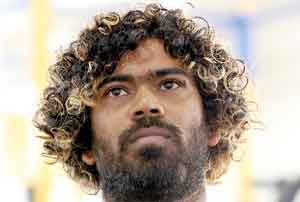 After being consistently snubbed for national selection, fast bowler Lasith Malinga this week hinted at retirement from international cricket to build a career in mentoring.
It is not that he wants to end his international playing career before the 2019 World Cup. It is just that the prospect of a return seems a distant dream.
"If my services are not required any longer as a player, it's time to move on," Malinga said. "I know there's still cricket left in me and if I cannot contribute as a player, I am ready to venture into mentoring leading up to the World Cup."
With 492 international wickets across all three formats, Malinga last played for Sri Lanka in September 2017 against India, at home. Even though Sri Lanka played two more series later that year, with Pakistan and India, he did not find a place in the final squad. And not only was he kept out of the final squad of 16 that left for Bangladesh in mid-January for the tri-series, he wasn't among the 23 players initially picked for the tour–a clear indication of what awaits who was once a most feared and successful limited-over bowler for Sri Lanka.
At 34, Malinga claims he has no long-term goals in cricket but that he is happy to provide his services up to the 2019 World Cup in England. But it does not seem like he will be part of Sri Lanka's World Cup campaign.
"If someone calls me today and says 'Look, we would like to have you within our coaching team for the World Cup', I am ready to accept it," he said. "Not because of anything but I want to share my knowledge with others when I can."
"I believe in teaching by examples. I can get into the field and show how to bowl a yorker. This is important. I think if I cannot contribute as a player, I will definitely look at this option going into the World Cup," he said adding that he has been in discussions with few interested parties at present.
A master of the killer inswinging yorker that terrified even the most technically sound batsmen in the world, Malinga owns four limited-over hat-tricks for Sri Lanka, including a rear four wickets in four balls against South Africa at the 2007 World Cup. He was arguably Sri Lanka's most influential bowler during the country's excellent run in global tournaments from 2007 to 2014. Since returning to the side after a knee-surgery, however, his form has been patchy.
In 2017, Malinga took 12 wickets in six T20Is and 10 wickets in 13 ODIs. There were 12 missed catches off his ODI bowling that do not show up in his final tally.
"I feel sorry for myself," he admitted. "My strength is my performance. I have 301 ODI wickets, 101 Tests wickets and 90 T20 international wickets. I took them all by playing for my country with passion and dedication. I have proved myself time and again and to be in this state is not something I expected. Yes, I had a bad series against Zimbabwe and India at home. Does it mean that I am a finished job now?"
Malinga said that, during a conversation with the selectors, he was made to understand only those playing in ODI cricket would be considered for T20 selections. This means his future in the shortest format also hangs in the balance. "How can anyone assess my performance without giving me an opportunity?" he asked. "I have not played a 50-over match since September last year."
He is currently the second highest wicket taker in T20 cricket with 331 wickets, second only to DJ Bravo who has 409 wickets under his belt. He was also one of the Mumbai Indians' most iconic players in the Indian Premier League (IPL) for ten years since 2007, before he was released for the auction this year.
"I have played under several selectors over the years," he pointed out. "But the problem I see is when individuals with a very short life-span in these positions make long-term plans. This is not going to work. If you look at who won the 2014 T20 World title, we had a very experienced team that could go out and win a match on any given day. There's absolutely no problem in introducing young blood into the system but they should be on a team's long-term strategy and not for the short run."
Although Dinesh Chandimal was the designated skipper of the national side for the 2014 T-20 World Cup, Malinga led the side during the knock-out stages when the team management decided to drop Chandimal over poor form.
And while he did not play international cricket since his last appearance for Sri Lanka in September 2017, Malinga has kept himself busy. He was in the Bangladesh Premier League (BPL) last year. He also played a three-day match for his domestic club NCC and has regularly practised in the hope of a call-up.
" Since the current selectors took over, I have not played a single game," he reflected. "So how can one say that I am not good or not in form if I have not been a given the stage to prove myself. If they say only those who play in ODIs will be selected for the T20s, why can't they give me a chance to prove myself in T20s first. If I fail, then they can justify their decision. But without giving me a chance to prove myself, how can they justify their decision to drop me?"
Malinga is by far the most successful bowler in IPL history–be it with his wicket-taking abilities or his death-overs bowling. But he was off-colour in the 2017 season. He picked up just 11 wickets from 12 matches, conceding at an expensive 8.84 runs per over. This may have prompted Mumbai Indians to release him to the player auction for the first time in 10 years.
Malinga also insisted that he never compromised on his Sri Lankan commitments owing to his franchise work, as it is alleged in some quarters.
"Lots of people say that I play for money," he said. "Yes, I do, and this is my job. But they don't realise the hard work I have put through all these years to be the bowler I am. I have spent hours of bowling to master the art of yorkers. No one talks about it. No one remembers the number of matches I have won for my country but they talk about my stint with the Mumbai Indians. For me, the greatest thing that happened was to play for my country and I did it with passion."