AGM of Sepaktakraw Assn. on February 17
By Rangi Akbar
View(s):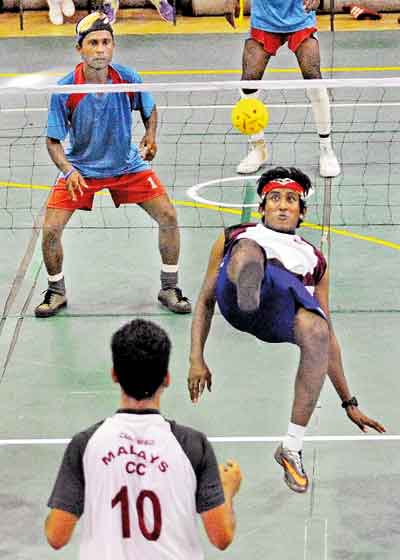 The Amateur Sepaktakraw Association of Sri Lanka will hold its Annual General Meeting on Feb. 17, 2018 at the Archery Pavilion of the CR & FC, Longdon Place, Colombo -07.
According to an Association source this years' AGM will see a few changes in the administration of office-bearers due to the long-standing doyen  T. Nizam Hajireen deciding to hand over the presidency to take a well deserved rest and break from the administration.
Hajireen is the driving force behind the emergence of Sepaktakraw in Sri Lanka from four clubs in the late 80s with sheer dedication and commitment developed to having over 27 clubs.
He has been spending his own resources for the betterment of the game and this is very evident with several schools billed to commence Sepaktakraw this year.
The Association source however said that the majority of members barring a few have thrown their weight behind the President and does not want him to totally leave them.  They want him to remain even as a Vice-President till they acquire adequate proficiency and stability of the game and its' administrative functions, especially from the schools' sector where the President single-handedly went far and wide to train the children and form teams of both boys and girls island-wide.
The source further added that most newcomers to the game does not know that the President's wife Shirleen Nizara is the pioneer of Women's' Sepaktakraw in Sri Lanka.
As a lady teacher she was able to persuade girls in her school at Pepiliyana to take upto the game in 1989, followed thereafter by other schools in the Nugegoda and Maharagama areas. Her efforts to promote Sepaktakraw has been recognised by the International Sepaktakraw Federations by nominating her to the Women's council of the Federations. She is an honourary invitee at many International Sepaktakraw Events. She has devotedly accompanied the President when conducting training programs for schools and clubs, etc, island -wide over a long period of time .
Nizam Hajireen will be remembered by all sportsmen and sportswomen for his great sacrifices, dedication and commitment for having spread the gospel of Sepaktakraw throughout Sri Lanka amongst all communities and races without communal or racial prejudice as sadly advocated by a few clubs playing Sepaktakraw.
It is hoped that Nizam Hajireen will heed to the clarion call of the majority of the grateful membership and not totally leave the domain he built with sheer courage and strength amidst obstacles and other third degree methods adopted by disgruntled elements posing as sportsmen who are past their prime and still want to play and deprive the emergence of youth and stifle the growth and development of the game in Sri Lanka .