Hathurusingha – messiah or scapegoat?
View(s):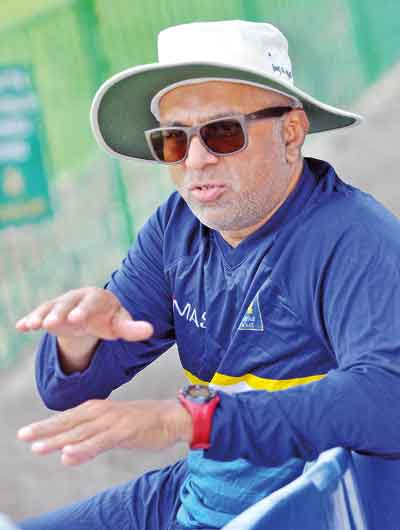 Talking of Sri Lanka's coaches, invariably, you talk about Australian Tom Moody as the coach who made the biggest impact in our short history of international cricket. It is argued that Moody, who took over the Lankan cricket reigns in 2005, made an impact so strong that, he managed to mould the Lankan ensemble into a foolproof professional outfit, and the argument they bring forth is the World Cup Runners-up memory and the English ODI blackwash they achieved in 2007.
Six-foot tall, lanky all-rounder Moody (he often lived up to that accolade) scored over 20,000 first class runs and was chosen more often as a limited-overs player, as he was blessed with only eight Test caps in a decade-long international career.
But, with all Moody's Lankan exploits, he has not made a startling impression in the international circuit. Though the Australian himself opted out of a re-sign in 2007, in preference to a closer-to-home appointment with Western Australia, where he now makes a living shuttling between the Big Bash and IPL in short stints, he has never had a full international season with a mouth-watering stint with outfits such as India, South Africa or England.
The truth is that, even the Lankan appointment he took up only after he ended up losing the battle to Greg Chappell, for the Indian chair, prior to moving across the Palk Strait.
Then, let's get to the platform Moody had when he took up the appointment.
Opening the batting, the Lankans had Marvan Atapattu and Sanath Jayasuriya, with Kumar Sangakkara, Mahela Jayawardena and T.M. Dilshan in the top five, with seamer Chaminda Vaas and spinner Muttiah Muralitharan along with emerging Lasith Malinga in the bowling department.
This means that, more than two-thirds of the composition was individual match winners. On any given day, any one of these names could hit a winning tagline.
I remember once, Marvan Atapattu who was, incidentally, captaining Sri Lanka at that juncture, mentioning to me, "The first time I met Tom Moody as our coach I told him, "Well, you have taken up the proposition of guiding the team that is number two in the ICC rankings, now it is up you to guide us to become the number one side in the world'.
Yet, in reality, Moody also added value to the effort. When I asked one of the names in that composition I mentioned before, said of Moody's contribution, "Tom Moody, I would say, out of all the coaches, is the one who tried to inculcate and infuse new ideas, and always tried to think outside box. As a result, we too began to think and approach the situations more confidently and, in reality, it worked for us".
Nevertheless, with a composition of that nature, Tom Moody possessed all the ingredients required to produce positive results and, at the same time, to think outside the box and set those notions into workable actions. I guess, that is the real contribution of today's international cricket coach.
Now take the case of Chandika Hathurusingha and Bangladesh. They have at least four cricketers in their midst who have been in the international cricket cauldron for the past decade or more. Starting with opener Thamim Iqbal, all-rounder Shakib Al-Hassan and Mashrafe Mortaza the two captains of the two disciplines, former captain Mushfiqur Rahim and Mohamadulla were in the starting lineup, long before Hathurusingha adorned the Bangali cricket system.
Then, once Hathurusingha took over the reins, who only had to keep moulding and let them mature with good supervision – which he did. For instance, Shakib Al-Hassan is the highest ranking ICC all-rounder. Rahim and Thamim Iqbal are individual match winners. So that made Hathurusingha's job less stressful but, when he added the extra vision and spicing, the rev counter began to pick. It was similar to what occurred in Sri Lanka with Tom Moody. Both cricketers ignited upon a good thing that was going.
I came with the argument and began to chat with a past national cricketer who know a thing or two about coaching an international cricket team.
While agreeing with my argument, the former coach began to build upon it. He asked me, "Guess who is the best international coach going right now?" The question was aimed at me. Yet, we both agreed it could be Australian coach Darren Lehmann who does the walk-the-talk act, down under.
At that point he asked me "Right, if Lehmann is asked to take over Zimbabwe cricket right now, with an unbelievable salary and perks, do you think he could make them win the 2019 ICC World Cup in London. The answer is — in all probability – a big "No!"
He explained, "Just imagine, during the last week, we had the saddest day in our international cricket. We lost our Under-19 World Cup game to Afghanistan, and a few hours later, lost to Bangladesh in our lowly placed international tri-series, which at times, does not even get proper TV coverage".
"There is no point in pointing fingers at Hathurusingha at this stage. What could he do? I suppose the Hathurusingha appointment is only an attempt to seal the lid, as the rest of the carcass is rotten inside".
"There is no point in fooling ourselves and making a bigger mess of the status quo", he says. Last year everyone was talking about trying out over 40 different players in our national team. He asked, "Doesn't it paint a very grave picture? We use 40 different players and still we cannot find 11 regulars to man the national side, and still keep losing to sides like Zimbabwe."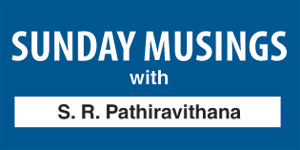 "There are a number of reputed national players who keep saying that Sri Lanka has enough talent and it is only a matter of time before we start performing at the highest level. But, the bitter truth is that, our problems do start right at the bottom of our cradle. Even at Under-19 level, our international game is not competitive enough even to challenge countries like Afghanistan, who took to that level of cricket, figuratively, only yesterday. So how could something that is brittle right at its core, turn out to be solid and internationally viable at the top, even with the coaching of Hathurusingha?"
"Initially, we must understand what Sri Lanka's problem in cricket is?" the former cricketer said. "Then ask how we are going to transform our junior cricket. Then we must delve into the age group cricket leveling up at 'A' team. When are we going to play our first 'A' tie against Afghanistan or Ireland? Do we have the answers to their ploys and their patterns of play? It is just not fair by the man who loves cricket; but who does not understand what is going wrong in the inside!"