2018 Under-19 World Cup: Top 10 players to watch out for
View(s):

The ICC Under-19 World Cup has served as a platform for a lot of legendary cricketers to prove themselves before they graduate to the senior international level. The likes of Virender Sehwag, Chris Gayle, Yuvraj Singh, Rohit Sharma, Steve Smith, Virat Kohli, Joe Root, Kane Williamson, Quinton de Kock, Trent Boult, Tim Southee, Dinesh Chandimal etc. have done well in the under-19 circuit before making a transition to the top level.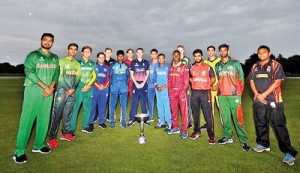 The 2018 Under-19 World Cup is set to get underway in New Zealand on January 13 for 22 days. A total of 16 teams will take part in the tournament with fours teams each in four different groups. Group 'A' consists of West Indies, South Africa, New Zealand and Kenya. Two-time champions India, Zimbabwe, PNG and Australia form Group 'B' while Bangladesh, England, Namibia and Canada feature in Group 'C'. Sri Lanka, Pakistan, Afghanistan and Ireland complete Group 'D'.
The tournament already set off and let us take a look at the talents we need to watch out for during the course of the tournament.
1 . Bahir Shah
Unbeaten 256 on debut followed by scores of 34, 11, 111, 116, 303*, 69, 9*, 57, 19, 104 and 7, a total of 1096 runs in 12 innings at a Bradmanesque average of 121.77- these are the numbers of Afghanistan batsman Bahir Shah after his first full season in first-class cricket.

For a batsman with a minimum of 1000 FC runs, Bahir averages the most with 121.77 followed by legendary Sir Don Bradman (95.14) and Vijay Merchant (71.64). Though his numbers might take a hit in the future, it is not an easy task to overtake Bradman's average in first-class cricket.

The 17-year-old kicked off his 2018 under-19 World Cup campaign by scoring a century and a 98 against a strong Central Districts XI. It is just a matter of time before he makes his international debut for Afghanistan. But, before that, Bahir will look to do well in the upcoming World Cup.
2 . Prithvi Shaw
This man needs no introduction. In 2013, he broke into the limelight by scoring 546 runs in an innings in a school tournament, the highest score by anyone at that level. He always had the potential but the question was whether he can make a successful transformation from school cricket to professional cricket as there were instances of few kids showing early promise and then leaving the scene.

But, Prithvi made that transformation successfully as he set the Indian domestic circuit on fire in his first full season. In just eight first-class matches for Mumbai and one of the three Duleep Trophy sides, Prithvi has amassed 945 runs at an average of 63 at an extraordinary strike-rate of 75.

As expected, Prithvi is set to lead the Indian side in the under-19 World Cup and he has a big role to play in the tournament. A successful tournament for the Mumbaikar at the top of the order will help him gain big strides and get him closer to a national call-up.
3 .  Jason Sangha
Jason Sangha is one name that has been grabbing a lot of attention among the Aussie fans of late. The 18-year-old has been a prolific run scorer for New South Wales in age group cricket and is looking to carry over his legacy to the under-19 level and then, the international cricket.

When England toured Australia to take part in the Ashes, Sangha was a part of the Cricket Australia XI side that took on the Poms in a couple of warm-up matches in the build-up to the Ashes.

After scoring just eight runs in two innings in the first game in Townsville, which was also his first-class debut, Sangha hit a brilliant century in the second match and helped his side draw the match.

Sangha will be leading Australia in the under-19 World Cup and the right-hander will look to do well as an individual and become the first Aussie captain since Mitchell Marsh in 2010 to win the under-19 World Cup.
4 .  Shaheen Afridi
Shaheen Afridi broke into the limelight when he took 8/39 on his debut against Rawalpindi in the Quaid-e-Azam Trophy, Pakistan's premier first-class tournament. He has been a consistent performer in the Pakistan domestic circuit for a while and is certainly to make his presence felt in international cricket in the near future.

As a result of his brilliant performances, Shaheen was given a two-year contract by Bangladesh Premier League franchise Dhaka Dynamites. Taking inspiration from legendary Wasim Akram, Shaheen conceded that he has frequently tried to copy Akram's bowling action and this has helped him enhance his in-swinging ability.

Standing at a towering 6'6", the 17-year-old has the ability to swing the ball both ways and is a capable batsman down the order. If he makes his performances count in the under-19 World Cup, one can see him join the likes of Wasim Akram, Mohammad Amir, Waqar Younis etc. in the long list of quality pace prodigies produced by Pakistan.
5 . Mujeeb Zadran
Unlike the other names in the list who are likely to represent their national teams in the near future, Afghanistan spinner Mujeeb Zadran has already represented the Afghan side in three ODIs against Ireland in 2017 in which he took seven wickets at an average of 16.57 and an economy of 3.86.

The 16-year-old made the news in the 2017 under-19 Asia Cup in which he took a six-wicket haul against Nepal and a fifer in the final against Pakistan that led his team to victory in the tournament.

The off-spinner is the only player at the 2018 under-19 World Cup who has prior international cricket experience and he will look to prove why he got the nod ahead of his counterparts in the tournament.
6 . Kaylum Boshier
New Zealand skipper Kaylum Boshier is yet another name to watch out for in the under-19 World Cup as the 18-year-old is a brilliant all-rounder and just like former Kiwi skipper Brendon McCullum, Boshier plays both Rugby and Cricket and is yet to decide between both the sports.

With the 2018 under-19 World Cup taking place in New Zealand, Bosher has concentrated solely on the Gentlemen's game over the last 12 months and has trained hard to marshall his troops in the tournament.

As of now, Boshier, who is a quick and bats at the top of the order, will lead the hosts in the tournament and he has got his under-19 World Cup off to a good start as he starred with both bat and ball (66 and 3/17) in his team's win over Zimbabwe in the first warm-up match.

The tournament will play a key role in Boshier choosing a career (Rugby or Cricket) for himself in the future.
7 .  Austin Waugh
Just like Thando Ntini, one other player in the 2018 under-19 World Cup who will be looking to carry forward his father's legacy is the son of former Australian skipper Steve Waugh, Austin.

Just like his father, Austin Waugh is an all-rounder, who bats right-handed and bowls right-arm medium pace. Waugh, whose favourite cricketer is late Australian batsman Phi Hughes for his free-flowing technique with the bat, likens his game to that of India all-rounder Hardik Pandya.

In 2016, Waugh had hit an unbeaten hundred in the final of the Under-17 National Championships against Queensland before representing Australia U-19s in early 2017.
A lot is expected from Austin in the upcoming World Cup as he is an exciting talent who we can see in the Aussie colours in the near future.
8 . Kamlesh Nagarkoti
Kamlesh Nagarkoti burst onto the scene by taking a hat-trick in just his second List A game. After that, there was no turning back for the 18-year-old as he was picked in the Indian under-23 squad for the AFC Emerging Players tournament that took place in Bangladesh.

He also had a very good tour of England where he picked five-wicket hauls in each innings of the first Youth Test at Chesterfield and made meaningful contributions with both bat and ball in the rest of the tour.

He has been the spearhead of the Indian under-19 team and with the World Cup fast approaching, a lot of eyes will be on him as he is likely to feature in the playing XI and take the new ball for the Boys in Blue.
9 Thando Ntini
For those who didn't know, Thando Ntini is the son of former South African pacer Makhaya Ntini. Just like his father, Thando is a right-arm fast pacer and the 17-year-old has already set his sights on emulating his father.

He grabbed the headlines when he picked 5-56 on his debut for South Africa under-19 against West Indies earlier this year and since then, he has been receiving praises from all quarters.

He started playing the sport after seeing his father and he compares his approach to that of Indian skipper Virat Kohli. Even though he bats left-handed and bowls right-arm fast, he wants to be as aggressive as Kohli and follow his footsteps in international cricket.

Thando is a crucial member of the Protea colts who are looking to take the cup back home and win their third ICC event.
10 Kamindu Mendis
One kid who caught everyone's eyes during the 2016 ICC under-19 World Cup match between Pakistan and Sri Lanka was Sri Lankan spinner Kamindu Mendis. Though Mendis did not seal the match for his team, the way he bowled was a major talking point from the match.

Bowlers changing ends while bowling is a common thing but changing hands in the middle of an over is something that has been unheard of. The fans have been witnessing the rise of ambidextrous bowlers of late and the Sri Lankan belongs to that category.

During that match, when a left-handed batsman was on strike, he opted to bowl with his right-arm off-spin so that he can turn the ball away from the batsman and when a right-hander was batting, he channelled his inner Rangana Herath and opted to bowl slow left-arm orthodox.

Mendis had an average tournament in 2016 and ahead of the 2018 edition, he was appointed as the captain of Sri Lanka and will look to lead from the front.