Let's wish ourselves a dengue-free 2018!
By Shaadya Ismail
View(s):
2017 epidemic largely due to proliferation of mosquito breeding places, people travelling to dengue-infested areas and intermittent rains, says dengue control unit
School-goers the worst affected 
New steps to be implemented in new year to avert a severe outbreak 
Never again a 2017– this could well be the wish for the new year of those affected by dengue that took more than 400 lives this year and afflicted more than 183,000 people. A senior official of the National Dengue Control Unit (NDCU) said the disease rose to epidemic level largely due to three main factors, the proliferation of mosquito breeding places, people travelling to dengue-infested areas and the intermittent rains.
In the eight high risk districts — Colombo, Gampaha, Kandy, Ratnapura, Kurunegala, Kalutara, Kegalle and Puttalam — the number of dengue patients exceeded 129,668. Colombo reported 33,895 dengue cases, Gampaha 31,342, Kandy 14,231, Ratnapura 11,165, Kurunegala 11,157, Kalutara 10,783, Kegalle 9,471 and Puttalam 7,624.
NDCU's Consultant Community Physician Dr. Nimalka Pannila Hetti told the Sunday Times that an upward trend occurred in the 27th to 30th weeks, with 10,000 cases being reported in July . "Currently only around 1000 cases or less are reported per week," she said.
An NDCU survey has identified that more than 30 per cent of dengue patients reported this year were from the school-going population.
Following this schools islandwide have been sent circulars to conduct clean-up programmes prior to the start of the new school term.
Dr. Hetti pointed out that certain schools had conducted clean up programmes prior to the Ordinary Level Examinations, and schools that were used as examination centres conducted clean up operations before the last weekend of the year.
"Community empowerment is very important, however it is difficult to maintain sustainability. Therefore people must incorporate these practices into their daily routine. This would help avert outbreaks in the future," she stressed.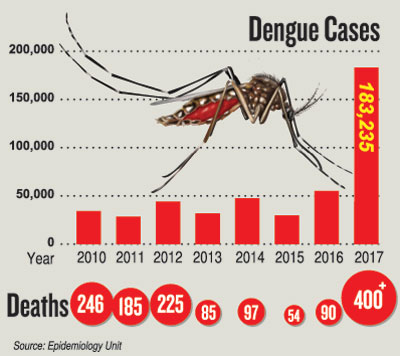 Further statistics pointed to an increase in the number of mosquito breeding grounds at construction sites. The Housing and Construction Ministry is conducting awareness programmes regarding the importance of abiding by regulations and routine inspections of construction sites.
In addition Dr. Hetti said a household inspection card would be handed over to each house in order to make weekly entries regarding cleaning up of possible breeding places.
"We were anticipating a higher outbreak during the end of the year with the north eastern monsoon, however we believe that the efforts of all sectors have been successful in preventing an outbreak so far,"she said.
She pointed out that hospitals have been fully equipped to detect and manage den
gue to reduce the caseloads and fatalities.