Bringing rhythms to life
By Tarini Pilapitiya
Veteran percussionist Pete Lockett who was in the island recently spoke to the Mirror Magazine on his career and harnessing the musical soul of one's culture
View(s):
For Pete Lockett a sign which read "Drum lessons" at a music shop in London was his first introduction into the music industry at 19 while working as a dock worker in Portsmouth. Now 35-years later he tells the Mirror Magazine about the journey it has taken him on as a celebrated international percussionist.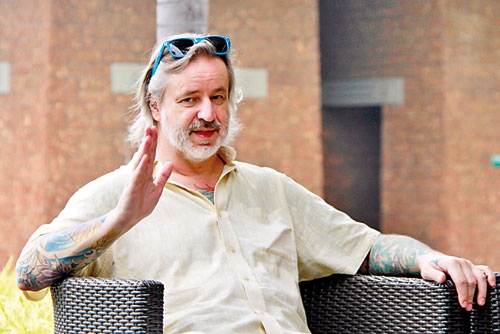 We meet Pete on a sunny morning near the poolside of Cinnamon Lakeside before he joined the drum ensemble "Naadro" for their 10th anniversary Drum festival "Bera Fest 2017" held recently at Viharamaha Devi Park. Having said his 'I do's' in Sri Lanka 20 odd years back, his visit marks his second time in the island.
A versatile multi –percussionist, over the years Pete has tapped out rhythms from every inch of the earth from Indian to Japanese to Latin.
His love for eastern music spans back to the 80's when young Pete, as a drummer in a punk rock band, accidently stumbled upon Indian artists Ustad Zakir Hussain and Ali Akbar Khan. Watching them coax beats and rhythms out of a range of eastern percussions sparked an inquisitive fire in Pete which burned in his veins for years to come.
Born into a "non-musical background" Pete shrugs off his struggles. "We didn't have any easy searches back then," he laughs, however his time spent going over music files in the record libraries until late evenings have paid off.
Although the opening of doors for his passion in percussion were happy accidents Pete firmly believes that we all play a part in the game of luck and opportunity.
"Everyone has their own natural thing," he philosophizes "But it's not only about finding it," adding "it's about nurturing it and driving it."
From a solo artist, to a honourary professor at the Shanghai Conservatory of Music in China, Pete has also had more than 20 album releases, and collaborated with big names like Björk, Peter Gabriel, Steve Smith, Ronan Keating, Dido, A. R Rahman, Amy Winehouse, DJ Judge Jules to name a few. This wide range of artists from the musical spectrum only emphasizes the versatility of his talents.
His first solo gig he recalls was when he received an unexpected phone call from the Royal festival hall in London which had a sudden cancellation. After an immediate yes to the organizers, Pete laughs that he hung up and panicked. However, the show went well and he recalls legendary drummer of bands "Yes" and "Genesis" Bill Bruford approaching him about his performance. From then on Pete's life became a blur –
Pete has also added his touch to films like the "Moulin Rouge", "The Bone Collector", "City of Angels" and for 007; "Quantum of solace', "Die Another Day", "The World is Not Enough", "Tomorrow Never Dies" and "Casino Royale"  to name a few.
The long journey for this former 80's post-punk rocker has been a road of many milestones. Pete's fascinating stories of his musical exploits are made more interesting from the musical connections with artists he has made along the way.
Similarly, Pete recalls meeting Naadro's front man Rakitha Wickramaratne in America. He remembers watching the DVD Rakitha gifted him of Naadro and thinking "This is very cool". Soon becoming "hooked" Pete says these "strong connections" with musicians lead him to plan projects with them in the future.
Having performed with a gamut of instruments from various countries over the years – Pete's eagerness to learn only intensifies as he absorbs the instruments and the backgrounds of the ethnicities and culture it is derived from. Their backstory always leaves Pete "fascinated" and "bewitched" by the outcome sounds.
An advocate for education and encouraging self-learning Pete also sheds light to the adverse effects of only theory. "Education is a danger because it restricts people from thinking creatively," a living example of this ideology as the majority of his work has been self-taught.
The distinction between his musical experiences are also diverse . For Pete his Western audiences seem to see music as entertainment whereas Easern communities see music as more a "community and culture". He recalls his visits to Rajastani villages where they all sat down "and made music together". He philosophically adds "I think in a way we are losing this feeling that comes with music" shedding light to the gradually westernized evolution of music. "It's hard to hold onto your culture through music nowadays and it's so easy to dismiss it," but he affirms "you need to hold onto your culture and the soul in your music."
Pete lets us in on his secret to mastering different instruments. Having an "open mindset" in learning the culture and language of the communities in which these instruments were conceived from is lesson number one for this legendary drummer.
"Music is like a conversation" he shares – the natural flow, genuine eagerness and effort and the appreciation you have for these instruments and cultures are what makes the rhythms come to life and brings out the "personality of its people". As our conversation draws to a close Pete shows us that Sri Lankan percussion may be his next "musical conversation" as he shares his thanks with a simple "Isthuthi".