Enterprising Lankan entrepreneur creates edible forks, spoons and cutlery
By Quintus Perera
View(s):
The need of the hour in today's world is the environmentally friendly, life sustaining replacements for plastics and fossil fuel. There are inventions and innovations to achieve this everywhere in the world and in Sri Lanka as well. However the biggest hurdle is the initial cost of production based on the economies of scale.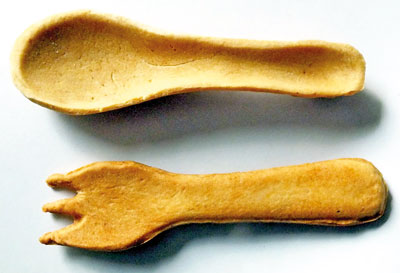 A versatile entrepreneur – Chaturanga Kariyawasam of Pelawatte Road, Nugegoda who made headlines with his 'instant rice 'product which was launched and went to the market in 2015 (refer Business Times article on "Revolutionary instant rice from Sri Lankan Entrepreneur" … http://www.sundaytimes.lk/150531/business-times/revolutionary-instant-rice-from-sri-lankan-entrepreneur-150964.html) has now ventured into a major area of innovation to replace plastic cutlery with edible ones that would become a stunning turn-around in replacing the plastic ones.
He has already started producing this edible cutlery and is now negotiating to collaborate with a Dubai based company to export them. The spoon and the fork is made out of wheat flour, sugar and with a little bit of rice is beige in colour and Mr. Kariyawasam hopes that it would hit the European market and all around the world. He said that there is only one competitor from India.
In Sri Lanka he is having discussions with hotels and all food suppliers who use plastic cutlery but here, he says, it would take more time to establish the market due to the high production cost.
The Business Times (BT) visited his factory at Mirihana that manufactures several types of innovative products that are now available in the market. He told the BT that he joined the Sri Jayawardenapura University in 2009 and completed his Masters in Entrepreneurship in 2015.
Reminiscing what he told BT in 2015, he said that he did not have any idea of any innovations, but only after joining the Entrepreneurship Faculty there was pressure to go for something new. While he was eating an ice-cream cone, he found the others who were eating the ice-cream threw the end of the cone and he realised this was because it was not tasty.
Then he started working on a waffle cone that is different from what is available which is tasty and produced one that tastes and has a 6-month shelf-life. He said that the university doesn't have a laboratory to do experiments and, thus along with his mother he started experimenting the product in their kitchen until they perfected the final formula which is now available throughout the country and also have an export market.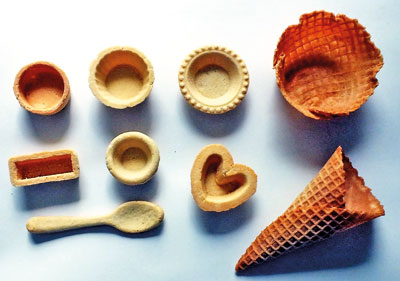 He said that he started experiments on edible spoons in 2014 and with the help of his team managed to invent a spoon and a fork which can replace plastic ones and could be consumed after the meal. He has also become the pioneer in introducing long shelf-life fruit salads using local fruits, instant fried rice using local rice, sea food and vegetables.
He pointed out that the environmental benefits vs cost should have to be explained to the people and that is the place where the government could come in, noting that when it comes to plastics no one speaks about the environmental cost and high energy used to manufacture plastic ones.
Only six per cent of all plastic waste in the US is recycled, a very low figure, he indicated. Most plastic cutlery is made from a type of plastic known as Polystyrene 1 which is commonly referred to as Styrofoam and which is difficult to recycle. He said that most municipalities simply do not offer them for recycling and thus plastic cutlery is put into a recycling bin which is again sorted out and sent to a landfill. So, Mr Kariyawasam pointed out that this environmental disaster could be avoided by using edible cutlery.
Taking stock of all the inventions and the flourishing business he told the BT he started his venture with Rs. 200,000 and today the manufacturing is in a new factory where already 16 are employed, his products are going all around the country and the machinery alone worth more than Rs. 20 million. Net value of his company is much more.
He first started in a rented house in 2011 and moved to a larger place when the location was too small to supply the demand. When the new place also became too small, he bought land and put up the factory in Mirihana. The new invention of the edible spoon and fork needs molds and other equipment and they are very costly, he said.
But his hopes are to develop his industry and business to greater heights to provide more employment, boost the country's economy, increase exports and win the entire world with his innovative products.
He now produces smaller coloured cones, varieties of tartlets and they are supplied to all hotels in the country and to name a few – Hilton, Jetwing Hotels, Water's Edge, Aitken Spence Hotels, Galle Face Hotel, etc. Yet, he told the BT that his dreams are not over yet. Now the plans to manufacture edible cups, saucers and plates are on the 'drawing board'.
His success, he says is due to his guru Rukmal Weerasinghe, Head, Department of Entrepreneurship Management,Sri Jayawardenapura University, who always pushed him to go for new things.
His father, Asoka Kariyawasam along with a friend, Rienzie Fernando in 1997 pioneered making fresh fruit juice with the establishment of 'Roots'. They made juice from fresh fruit rather than keeping the prepared juice in the refrigerator, a pioneer effort who became the market leader in that segment. He observed that he would have got an inclination towards innovation from his father too.