Asia Pacific Choir Games and Grand Prix of Nations
View(s):

Colombo's Choral Music lovers will be uniquely privileged to experience a week long festival of choral competitions, friendship concerts and gala celebration concerts when the Asia Pacific Choir Games and Grand Prix of Nations take over the city from Saturday, 21st October to Saturday, 28th October 2017. This celebration with the arrival of thousands of international participants, chaperons and spectators will be the harbinger of good tidings for the future of Cultural Tourism into Sri Lanka.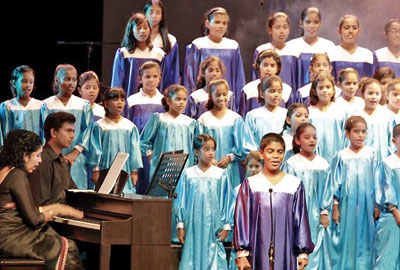 The spectacular festival is being hosted by The Colombo Cultural Hub Trust in collaboration with the Sri Lanka Tourism Promotion Bureau and INTERKULTUR of Germany, the world's leading body for international choral competitions and festivals.
The Colombo Cultural Hub Trust was established as a Public Private Partnership with the objective of developing a South Asian Cultural Hub in Colombo towards fostering visual and performing arts, both international and local. Set up as a Charitable Trust, the Colombo Cultural Hub Trust (CCHT) has the objectives such as 'fostering and developing indigenous art and culture', 'promoting international art and culture amongst the people of Sri Lanka' and nurturing artists pursuing both local and international art and culture.
Heading this Trust is Mano Chanmugam as Chairman and Managing Trustee, with Neomal De Alwis, and Soundarie David Rodrigo comprising the Executive Committee. Lionel Fernando, Prof. Chandragupta Thenuwara, Prof. Sarath Amunugama and Prof. Prishantha Gunawardena complete the illustrious team of Trustees.
The glittering highlight of the festival will take place on the evening of Tuesday, 24th October, when 70 choirs from 10 nations comprising 3,000 choristers, desiring Gold, Silver and Bronze medals will flood Colombo Seven in a colourful Festive Street Parade from the Nelum Pokuna Theatre going all around the Viharamahadevi Park, back to a fun filled carnival atmosphere to end the celebrations at Nelum Pokuna premises.
The three preceding Asia Pacific Choir Games were held twice in Indonesia and once in South Korea and witnessed popular Sri Lankan choirs such as the Revelations, VoicePrint, Soul Sounds Academy and Voices in Harmony compete and win awards.

This year's festival will feature three competitions, each of which will have 10 categories for participants to compete under. Choirs from all over the Asia Pacific region, regardless of their present level of achievement, will have the opportunity to participate in the Open Competition. Choirs with international competitive experience will participate in the Asia Pacific Champions Competition and choirs that have competitive experience in international choral competitions, will compete against each other at the Grand Prix of Nations. All competitions will be judged by a panel of international jurors who are experts in the field of music and choral singing.
In addition to competitive and non competitive participation, choirs will have the opportunity in their free time to tour our beautiful country and to perform in Friendship Concerts with other choirs in public venues within the city of Colombo. These free public concerts will provide opportunities for each choir to share the musical traditions of their native land with other choirs and the Sri Lankan public.