Waste and inaction: Govt. with begging bowl
By Our Political Editor
View(s):
Rajitha says he has documentary evidence of former VVIP's secret accounts in Dubai, but scepticism on what could or would be done
Presidential Task Force appointed more than two years ago to probe corruption, but little or nothing has happened
Donor conference called to seek funds for rehabilitation, but SriLankan gets billions more to stay in the air
Official business listed in the agenda for last Tuesday's Cabinet meeting was over when Health Minister Rajitha Senaratne made a revelation.
He declared that he was in possession of documentary evidence that a previous government VVIP remitted money to an account in a Dubai bank.
He said he would soon reveal details of the transaction and added they were alleged spin offs from funds meant for the Gin Ganga-Nilwala Ganga diversion project. The project seeks to divert excess water from the two southern rivers to meet requirements of the Greater Hambantota Development Area.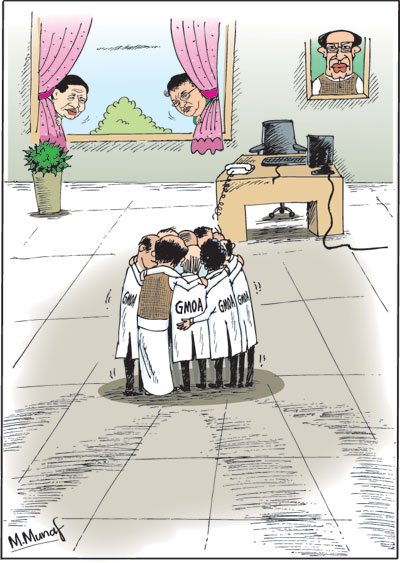 Already the Financial Crimes Investigation Division (FCID) is probing how an advance payment of more than US$ 29.9 million or 4.3 percent of the contract value had been paid to a contractor hired by China CAMCE Engineering Company. An agreement for the project costing US$ 690 million was signed on November 5, 2014 between the Irrigation and Water Resources Management Ministry and the Chinese firm. However, the probe is to determine why work had not begun for a long time. The cost then had been just over US$ 500 million. FCID detectives have questioned several government officials in this regard and the probe continues. They have learnt from the Chinese company that the contracts were not in order then.
Minister Senaratne's remarks over which no decision was taken have once again re-kindled the fate of several high profile investigations into bribery, corruption and other malpractices. Will they ever be concluded and those involved tried in courts? If the state investigative arms and the Attorney General's Department sniped at each other over the delays, the blame game has paled away. The issue, one of the main planks on which the political campaigns for Maithripala Sirisena at the presidential election and Prime Minister Ranil Wickremesinghe at the parliamentary elections, appears to have lost steam with little or no interest being shown by political leaders of the ruling coalition. The catalogue of allegations against key personalities in the previous administration is too lengthy to document here.
However, Minister Senaratne's revelations do rewind memories of how vigorously this coalition proceeded, two and a half years ago, before and soon after it was voted to power. Take the case of this former VVIP. Then Foreign Minister Mangala Samaraweera declared in a statement that the former VVIP and his family had stacked away US$ 17 million abroad. In another instance, a close associate of the VVIP, Minister Patali Champika Ranawaka declared, transported gunny sacks of money for use during the elections. He gave names, vehicle registration numbers and related details. Whether this was probed, to say the least, is not known.
On April 30, 2015, President Maithripala Sirisena appointed a "Special Presidential Task Force" for the recovery of "illegally acquired state assets." The website of the Presidential Secretariat reported that "President Sirisena handed over the appointment letters to the members of the Task Force at the Presidential Secretariat today (April 30, 2015). The Task Force comprised 13 members, and they were: Bimba Tillakaratne, H.M.L.T. Mudalige, H. Amarathunga, C.A.H.M. Wijerathna, A.K.D.D. Arandara, L.S. Pathinayake, Dilrukshi Dias Wickramasinghe, Kalyani Dahanayake, Jagath P Wijeweera, D.G.N. Jayawardena, C.A. Premashantha, President's Counsel Yasantha Kodagoda and senior lawyer J.C. Weliamuna." Presidential Secretary P. B. Abekoon was also present at the occasion.
It is no secret that substantial amounts of money have been spent on foreign travel by some members. In one instance, Task Force members and other officials sought to file legal action in Dubai seeking secret bank details of the VVIP and members of his family not having a clue of how the Emirati kingdom works. Their ham-handed approach naturally angered senior officials in the Emirate. Subsequent measures to persuade them failed miserably. The entire exercise was botched. According to one source familiar with the workings of the Special Presidential Task Force, there has not been one instance of "illegally acquired illegal assets" of any politician or official been found out, leave alone those in the previous regime.
This naturally raises questions of credibility for the Government. On the one hand, here is a Cabinet Minister who declares to his colleagues at a ministerial meeting chaired by President Sirisena that the VVIP held money in a Dubai Bank. He said he is in possession of documents. On the other, investigative agencies of the state including the Special Presidential Task Force have not been able to ferret out any evidence so far, more than two years after they were entrusted with the job.
Thus, not only Senaratne's own ministerial colleagues, but also most people would view the Health Minister's latest accusations as not only a witch-hunt but a distraction (or diversion) too. The Minister himself is required to present himself to the Bribery Commission locally on various allegations against him, but has not given statements on some of them. This is by no means to say his claim of being in possession of documents is a fairy tale. Even if it did contain credible information, why there is no investigation, and whether a probe could yield results when larger probes have not, remains the question.
More so, when a wide array of issues have collectively brought into question the government's effectiveness in dealing with crisis situations and badly lowered its credibility. Take for example the piling of garbage in Greater Colombo and principal cities. Whilst no emergency measures to clear the garbage are visible with concerned agencies buck passing responsibility to one another, a Police operation assisted by the Army is rounding up those dumping refuse in unauthorised areas.
True, the law has to be enforced. However, the use of soldiers to come down hard has many other connotations and raises the inevitable question – who is in control? If an effective garbage disposal system was in place the need to throw it on the streets would not have arisen. The same question arises when one looks at the spread of dengue to its highest proportions. By Health Minister Senaratne's own admission, more than 200 have died and tens of thousands are affected. One of the worst offenders have been some government departments which have become a breeding ground for dengue mosquitos. A western diplomat told a Cabinet minister jokingly this week "your newest tourist attraction is garbage dumps on streets. Yet, they will not come to see it for fear of dengue."
Here again, their measures have centred mostly on the Police and the Army visiting households and prosecuting them if dengue mosquitos or larvae breeding places are found. Sufficient attention has not been focused on an eradication campaign.
Another is the periodic blockade of roads in the City of Colombo, the nerve centre for commercial activity. Practically every week there are protests and demonstrations. Just last week, Police were forced to baton charge student protestors who invaded the Health Ministry. No thought has been given to the man hours lost, business opportunities missed and the degree to which the life of the community is disrupted. A postal strike was the latest of strikes this week.
Thousands in the Bandarawela area staged a big protest this week as cracks on their walls and wells running dry further intensified leaving drinking water scarce. The cause being the construction of a tunnel underneath as part of the Uma Oya project to take water from the highlands to the south. Now, the highlands are without water and neither has the south got any of it. Coalition leaders blamed the entire mishandling of the project on the previous regime as they are wont to do. The fact that they have been in office for 30 months and done little or nothing to rectify the project gone horribly wrong was lost in the accusation. "It is because they said we had done so much wrong that people voted for this government. Blaming us will not absolve them. What did they do?" asked a leading 'Joint Opposition' personality who opted not to be named. Bus fares have been raised and LPG or cooking gas prices are to be increased. These developments come in the backdrop of a deteriorating law and order situation.
All this and more, one need hardly say, have been turning out to be extra bonus for the Opposition though it has been slow to exploit the issues politically. Added to that are state owned enterprises that are bleeding the country's economy dry. One such case is SriLankan Airlines which is swallowing up a substantial part of the country's financial resources. Details of how a termination of a lease to procure four Airbus A-350 900 aircraft cost US$ 124.5 million were revealed exclusively in these columns last week. Some selected parts of the reportage drew a response from SriLankan Chairman Ajit Dias. It appears on Page 16 together with a response from me.
More billions for SriLankan
SriLankan is in the news this week too. Public Enterprise Development Minister Kabir Hashim is seeking Letters of Comfort from the Bank of Ceylon and the People's Bank "in order to continue with the operation of SriLankan Airlines (SLA)." Earlier, then Finance Minister Ravi Karunanayake obtained ministerial approval for short term loan facilities from the two banks for Rs 12.90 billion (Bank of Ceylon) and Rs 13.35 billion (People's Bank) or a staggering Rs 1,525 billion. These facilities were secured by Letters of Comfort with an expiry date of December 31, 2016. This same facility was further extended by the Cabinet of Minister on December 20, 2016. Thus, it is clear the taxpayer's moneys amounting to Rs 1,525 billion will be paid out in twelve monthly instalments to keep the SriLankan Airlines operational. That is not only to pay high salaries but also to continue to compensate the losses suffered every month. Ironic enough.
The then Finance Minister Ravi Karunanayake also gave the same reason when he sought approval – that funds were necessary until a public-private partnership was completed.
According to Minister Hashim's latest request, at present "the Government of Sri Lanka (GOSL) is in the process of sourcing a strategic partner transaction for SLA. The funding requirements for the airline are expected to be finalised at the time this transaction is concluded." Therefore, Hashim has said, the facilities already granted need to be extended until a final decision is made on the "strategic partnership." Hence, Hashim has sought approval to re-issue two Letters of Comfort to the Bank of Ceylon for Rs 12.90 billion and People's Bank Rs 13.35 billion by the Treasury for one year from July 1, 2017. That means, the two state banks will pour in more billions of rupees for SriLankan until July next year. In the past year, a strategic partner could not be found. Thus, for one more year the tax payer will bear the burden whether or not a partner comes along.
Like the Sinhala adage, the situation appears to be similar to one being gored by a bull after a fall from a tree. A debt driven economy has been badly hit by the recent floods leading to landslides. Paradoxical enough, whilst pumping vast amount of money annually to a heavily loss making enterprise like SriLankan, the Government has been compelled to convene a 'Donor Conference' to raise funds for rehabilitation work. Colombo-based diplomats and international agencies are to be invited to hear details of the losses suffered and to make a plea for help.
Rubber shortage
An idea of the enormity of damage caused by the recent natural disaster played out at a recent Cabinet Committee on Economic Management (CCEM) meeting chaired by Prime Minister Ranil Wickremesinghe. It came to light that substantial extents of rubber trees have been damaged causing an acute shortage of natural rubber in the local market. This has badly affected the local industry, particularly tyre manufacture. It was decided to import 1000 metric tonnes of natural rubber. Imports will be made by the State Trading Corporation (STC) for three to four months on the recommendation of the Ministry of Plantation Industries. The STC is to release the imported rubber to the affected industries only on the recommendation of the Secretary to the Ministry of Plantation Industries. It has been decided that Customs duty for the imported natural rubber should be fixed by the Ministry of Finance in such a way that it will not be cheaper than the local price.
President Sirisena has assigned ministers to be in charge of different flood affected electorates to formulate rehabilitation programmes. Their reports will be merged into an overall document which will be placed before those attending the donor conference. Other than the rehabilitation work, which will require large amounts of money, a further financial commitment has been necessitated by a programme to construct permanent houses for people who reside in Landslide High Risk areas. The National Building Research Organisation (NBRO) has traced that a number of families are residing in landslide prone areas. According to NBRO statistics, there are 14,860 houses in nine districts. Funds are to be made available for these householders to obtain land and build new houses.
Notwithstanding Minister Senaratne's revelations last Tuesday, the Government will go ahead with the Gin-Nilwala Diversion project once a string of procedural formalities are completed. The Government is seeking a loan, possibly from China, for US$ 690 million to proceed with the work.
Thus, developments in the recent weeks make it abundantly clear that there is no government machinery at present to be worked assiduously to identify areas where there is colossal waste of public funds. If indeed such a mechanism existed, billions of rupees that are saved could have been used for development and even rehabilitation work after natural disasters without chasing foreign loan after foreign loan.
This is what is forcing the Government to go with the begging bowl to foreign donors when it is cash strapped. A good part of it could be saved if waste is stopped.
Last stages of the war: Blake discloses secret plan
Former US envoy optimistic about Lanka despite slow progress
The United States had "a detailed coordinated plan" with the Indian and Sri Lanka Governments for its Navy to rescue trapped displaced persons in Puthukudiyiruppu during the final stages of the separatist war, according to Ambassador Robert Blake, then Washington's envoy in Colombo.
However, the Sri Lankan Government killed the idea for fear that Erik Solheim (Norwegian peace broker) and I would be taken hostage by the Liberation Tigers of Tamil Eelam (LTTE), he said last week in Washington DC. Blake was speaking to the Serendipity Group, a body of US Ambassadors and diplomats who served in Sri Lanka and Sri Lankan Americans. Blake said he did not believe that Solheim and he would be taken hostage. He said there were also perceptions that it was an effort to rescue LTTE leader Velupillai Prabhakaran. "Every person would have been transferred by US Navy boats to Sri Lankan custody," he said.

Blake said another debate was whether the United States helped the Sri Lanka Navy to sink LTTE boats. "We did help them locate boats carrying arms for the LTTE. The Sri Lanka Navy actually sank them," he added.

The comments came after he remarked that he first wanted to clear "some misinformation that continues to circulate about somethings we worked on when I was Ambassador from 2006 to 2009."

"We never had the intention of helping the LTTE," Blake said adding that "the plan was to rescue as many IDPs whom the LTTE had refused to allow to move south through the lines of fighting and were in effect were human shields. "

Here are some highlights of his speech:
"Another decision for which I continue to receive critical emails was our decision to have the US support and lead efforts to pass a UN Human Rights Council (UNHRC) resolution in 2012.

I argued for the early part of the Administration that we should give the GSL (Government of Sri Lanka) a chance to work on reconciliation and accountability so they could own it and not have a solution imposed from outside. Domestic ownership is always preferable.
And indeed the GSL came up with the Lessons Learned and Reconciliation Commission (LLRC), which had many positive aspects.
But the LLRC did not address serious allegations of violations of international law, particularly at the end of the war. So we decided to support a landmark resolution that:
Welcomed the LLRC report; called for its implementation;
called on the GSL to take credible actions to ensure justice and accountability for all Sri Lankans;
requested the GSL to draft an action plan;
and called on the Office of the High Commissioner for Human Rights to report at next session what had been done. The January 2015 presidential elections represented a sea-change in Sri Lankan politics:
Maithripala Sirisena defected to lead an opposition coalition that defeated Mahinda Rajapaksa who was seeking a third term.
Suddenly we had a government in power that promised many of the political, economic and social reforms that Sri Lankan civil society and the international community had been seeking and chose a lot of reformers as Ministers to carry out those reforms.

The GSL almost immediately began work, culminating in a landmark speech to the UNHRC in June in which Foreign Minister Samaraweera marked a new era of cooperation with the Council and promised to achieve transitional justice by announcing, among other things:

A Task Force of civil society representatives to seek the views of the public in order to inform the design of the truth-seeking, justice, accountability and reparations mechanisms;
A draft Bill to establish a Permanent and Independent Office on Missing Persons;
A Bill to amend the Registration of Deaths (Temporary Provisions) Act No 19 of 2010 to enable the issuance of Certificates of Absence in respect of Missing Persons;
The ratification of the International Convention for the Protection of All Persons from Enforced Disappearance.
A new counter-terrorism law to replace the Prevention of Terrorism Act,
A National Human Rights Action Plan for 2017-2021; and
The return of lands to conflict displaced civilians, no later than 2018.

First 9-12 months saw impressive progress:

President Sirisena won the needed two-thirds parliamentary approval for a constitutional amendment to reduce the presidency's enormous powers and restore the independence of oversight commissions for the police, judiciary, and human rights.
The government ended censorship and intimidation of the media.
It reduced the military presence in Tamil-majority areas in the north and east and the military returned some of the private land it had seized during and after the war.
Parliament passed a Right to Information law, which is considered one of the strongest in Asia, and allows citizens to access information on government procedures, policies, and decisions.
But progress stalled in other areas:
The Office of Missing Persons was approved in August 2016, but has yet to be set up. This is really important on many levels due to the large number of "enforced disappearances", white van abductions and many people who went missing after the war.
Likewise the timetables for establishing a reparations office, a truth commission and a transitional justice mechanism have been repeatedly delayed.
Progress on a new constitution to strengthen devolution also slow. Civil society is pushing hard for a constitutional referendum but few politicians agree; the rest believe it is too risky and could well become a referendum on the Government. Economic growth slowed in 2016 to 4.4% with a marked fall in agricultural production because of bad weather, but growth is expected to rebound to about 5% this year. Tourism has been a particularly bright spot, growing 17% last year. The GSL would of course like to see higher growth but faces some obstacles:
Still burdened by high levels of public debt;
Ruinous floods this year will again hurt agricultural production; Sri Lanka has one of the region's lowest tax revenues as a percentage of GDP; so the idea of a VAT in 2016 has been introduced.
I'm told there is extensive new investment in real estate in Colombo, and the Chinese and Indians continue to provide infrastructure but not much new investment to diversify the economy from textiles and tea, which are still about 60% of exports.
Land and labor issues also remain obstacles. Job creation remains a challenge. So the good but not stellar growth is important because economic satisfaction impacts support for political reforms. US-Sri Lanka trade has progressed: SL exports to US increased from $1.59 billion in 2009 to $2.89 b in 2015 and then slight dip to $2.78 b last year. US exports to Sri Lanka are still small: $229 million in 2009 to $368 m today. Why has political progress stalled? Much ink has been spilled on the divisions in the unity government that often lead to focus more on political manoeuvring than forging coalitions on specific issues to get things done.

And indeed, the President and the Prime Minister have an uneasy coexistence. Old familiar divisions remain: the SLFP tends to be more nationalistic, populist and less business oriented; UNP more internationalist, and supportive of free trade. Looking Ahead The good news is that the GSL reaffirmed its ambitious plans in the most recent UNHRC resolution in March. And they still have about two and a half years before Presidential elections in 2020. Civil society, much of Colombo and of course the international community support reforms.

But Mahinda Rajapaksa continues to oppose efforts on reconciliation and transitional justice, casting them as capitulation to western interests.
But from what I can tell, President =Sirisena and PM Wickremesinghe still have the will to move forward.
The decision to have Mangala Samaraweera -Ravi Karunanayake switch portfolios may also provide new energy.
With already high public debt levels, Sri Lanaka and many other countries need to carefully evaluate future projects to be sure of good IRR and avoid higher debt burdens. The white elephant is of course Mattala Rajapaksa International Airport which according to some reports is currently a "daily flight or two away from being completely defunct:"
12,000 square meter terminal building,
A runway long enough to handle the largest commercial jets,
Capacity for one million passengers per year,
Built at a cost of $209 million, $190 million of which reportedly is coming in the form of loans from China.

That is top of $1 billion-plus multi-stage deep sea port at Hambantota, a large industrial zone, and several other expensive projects.
Conclusion: As friends of Sri Lanka, we all want to see a Sri Lanka that is democratic, prosperous, and at peace, with reconciliation proceeding. That is the Government's vision as well. We have a good US Embassy team led by Ambassador Atul Keshap who has a lot of experience in the region and is very active. We have restored very robust military cooperation. And we should remember the many advantages Sri Lanka always has enjoyed:

Strategic location astride the main Indo-Pacific sea lanes through which pass two-thirds of global oil supplies and half of the world's container cargo.
Colombo Port is already the busiest transhipment port in South Asia.
Free trade agreements already exist with India and Pakistan, while work is underway for agreements with China and Singapore. Politically, of course civil society and many others always want to see faster progress but let's not forget, democracy matters. Of course, public policy is always more complicated, but democracy opens avenues for constructive dissent, good ideas.