Spinner Anuka captures a match bag of 14 for 73
By Lakshman Ranasinghe
Sri Sumangala-Moratu Vidyalaya big match
View(s):
A fine exhibition of left-arm orthodox bowling by Anuka Jayasinghe (match bag of 14 wickets for 73 runs) and a fighting half century by Harith Lakshan highlighted the drawn 65th Battle of the Golds cricket encounter between Sri Sumangala College, Panadura and Moratu Vidyalaya at the De Soysa Stadium, Moratuwa yesterday.
Batting first Moratu Vidyalaya were dismissed for 121 with Anuka Jayasinghe (7 for 11) and paceman Nipuna Deshan (3 for 30) doing the damage.
Continuing from their overnight score of 124 for 6 wickets Sri Sumangala were aided by a 81-run seventh wicket partnership by deputy skipper Harith Lakshan (71) and Stephen Susa (36) scored 237 off 66.1 overs. Stylish Lakshan's innings was fashioned with five boundaries and one over the fence coming off in 109 deliveries.
Samith Yasantha (20), Pulitha Yasas (24) and Nipuna Deshan (23) were the other batsmen who contributed for Sri Sumangala total. Niraj Kavishka, Rashan Kavishka and Shehan Jeevantha were the most successful Moratu Vidyalaya bowlers to capture 2 for 48, 3 for 41 and 2 for 30 respectively.
Going into bat in the second innings at 11.25 a.m. Moratu Vidyalaya were given a sound start by openers Nishan Madusanka (28) and Dilshan Dulakshana (24) putting on 42 runs for the first wicket. Wickets started to fall at regular intervals as batsmen except Shehada Soysa (26) and Hashen Adithiya (27 off 128 deliveries) were mesmerised by Anuka Jayasinghe with a spell reading 36.1-14-62-7 supported by paceman Nipuna Deshan who captured 2 for 31.
Moratu Vidyalaya were 137 for 9 at the end of the last mandatory over with a lead of 21. The last pair of skipper Sineth Isuru and Rashan Kavishka spoilt the chances of a Sri Sumangala win by holding on bravely for 20 minutes to be separated with the score of 156 in the final over of the day.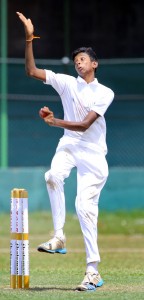 Moratu Vidyalaya 121 (47.3) (Anuka Jayasinghe 7/11, Nipuna Deshan 3/30) and 156 (42) (Nishan Madusanka 28, Dilshan Dulakshana 24, Shehada Soysa 26, Hashan Adithiya 27, Sineth Isuru 19, Nipuna Deshan 2/31, Anuka Jayasinghe 7/62)
Sri Sumangala 237 (66.1) (Samith Yasantha 20, Pulith Yasas 24, Nipuna Deshan 23, Harith Lakshan 71, Stephen Susa 36, Niraj Kavishka 2/48, Rashan Kavishka 3/41, Shehan Jeevantha 2/30)