Situation critical: One million cry for water to drink
By Anushiya Sathisraja
View(s):
An estimated one million Sri Lankans are staring in the face of disaster as once again drought threatens their lives across the island. Farmers are accusing irrigation and agriculture officials of being unprepared for what is an annual occurrence.
In some areas of the island, violence is being feared over access to drinking water.
Some rain is expected in March, but whole communities are helpless.
Communities in Monaragala, Kalutara, Ampara, Vavuniya, Batticaloa, Trincomalee, Puttalam, Anuradhapura, Jaffna, and Hambantota are facing severe shortages of water to drink.
In Polonnaruwa, officials have imposed restrictions on gatherings of more than 10 people at water tanks to prevent potential conflicts from boiling into violence.
Giritale farmer Prassanna Gamage in the Polonnaruwa district, laments: "This is what we go through, after flooding, there is drought. We are dying of thirst.''
He accuses officials of not taking advance measures to mitigate the effects of the drought and not being prepared.
He said the drought has continued to occur over the 30 years that he could recall and with varying intensity.
It is a daily struggle for his children. They wake up early to wash themselves at the tank before leaving for school, he says. "There is no water even for our basic sanitary needs.''
Temperatures in most areas in Batticaloa have risen to 38 degrees Celsius during the past week, Jaffna farmer, N Sivadas, points out.
Anthony Norbert, professor at the University of Colombo's Department of Geography, told the Sunday Times, that January and February were known to be the hottest months of the year and the current dry spell was a sign that the drought will continue in the future.
"Usually there are rains in November and December, sometimes even causing floods. But there has been no rain," he said.
Increases in temperatures, changes in the monsoon pattern, rising sea levels, increased intensity of extreme weather events including tropical cyclones and floods are some of the natural hazards that are expected. Sri Lanka could also experience heat waves and coastal erosion, he said.
"There is lack of awareness about climate change impacts on livelihood among farmers and local government, especially those who are engaged in water management and agriculture extension,'' Prof Norbet said.
The Disaster Management Center says 645,847 people in nine provinces of Sri Lanka are badly affected by the drought, but estimates are that nearly a million are suffering.
In the Eastern Province, Batticaloa district is struggling although scattered rains. More than 300,000 people are badly affected. In Kaththankudy, 69,530 people are affected, Manmunai south (43,125), Eravur (31,445) and in Manumunai west (24,550) people are in the grip of the drought.
Batticaloa District Secretary Mrs. P A S M Charles said a shortage of drinking water was the main problem. Water tankers are being used to provide water and 3,000-4,000-litre water tanks had been set up in public and religious places and replenished every three days, she said.
Mrs Charles said small tanks and irrigation canals in the area were being renovated and deepened so they could hold more rain water.
Dry rations are being distributed to the needy. Officials are estimating the damage to the crop to determine compensation.
DMC statistics reveal that, Jaffna district is the second worst hit with 95,000 people affected. In Chankanal, 31,300 people are affected, Sandilipay (17,514) and Karainagar (10,544).
Assistant Director of Jaffna DMC, S. Ravi, said 80 percent of the water is used for agriculture.
Government agencies must also be willing to work with civil society and local communities because there are competing demands for water.
In southern Hambantota, 14,000 people are suffering from the drought. Hambantota DMC team Assistant Director, K K M Ravindra, said although drinking water was being supplied every day, agricultural activities were badly hit.
Water levels in rivers and streams have fallen at an alarming rate.
Irrigation Department Director-General, S S L Weerasinghe said small-scale farmers were suffering as small tanks had dried up. He warns that if the rains do not fall in the next two weeks, the situation could worsen.
Reservoirs that will provide water for the next growing season beginning in March, need to be at least half filled by then.
"Mismanagement of water is a widespread problem across Asia and Pacific, exacerbated by rapid economic growth, industrialisation, and over exploitation of resources," he said.
Minor tanks have almost completely dried up while the water levels of major tanks are receding fast, said Irrigation Department Director (Water Management) Janaki Meegastenna.
In Ampara, where there are eight major reservoirs, water levels are critical.
The situation is the same in Hambantota, where there are 11 major tanks. In Badagiriya and Yodawewa in Hambantota water levels are down to 3 per cent of capacity.
In Nuwara Wewa in Anuradhapura the water levels have receded to 9 per cent of capacity, Tissa Wewa in Hambantota (1.03 per cent), Deberewewa (0.96 per cent), Deduru Oya (22 per cent) and Giants Tank Mannar (2.22 per cent).
The head of the Department of Meteorology, Lalith Chandrapala, said extreme weather had become more common in recent years.
There have been heavy downpours over brief periods and lengthy periods of drought.
"Although Sri Lanka will not suffer direct effects of El Nino there is a possibility of experiencing indirect effects such as heavy rains in the coming second inter-monsoon starting in March or severe drought from October next year," he said.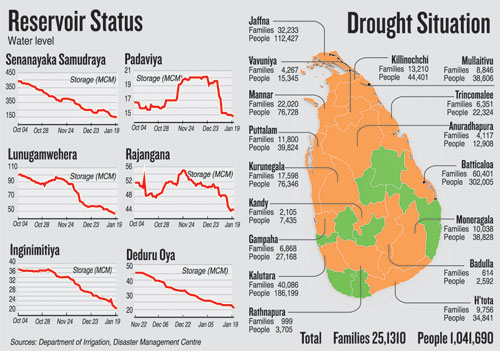 Drastic drop in Maha harvest in drought-hit Moneragala District
By Sumanasiri Gunathilaka – Moneragala Correspondent
Authorities concede that only 35% of the harvest targeted for the 2016/2017 Maha season has been achieved in the Moneragala District, due to the prevailing drought. Many tanks in the District have already run dry, while some 23,000 farmer families have been severely affected by crop failure. Adding to their woes is the shortage of drinking water in the region.
The water levels in most of the main rivers and waterways in the District have fallen by as much as 60%. While authorities had planned to cultivate 38,003 hectares of paddy during the 2016/17 Maha season, only 20,936 hectares have been cultivated due to the drought.
This year's expected paddy harvest is 87,933 metric tonnes. However, given the dry spell, the harvest may fall to as low as 41,854 metric tonnes.
Other crops including corn, chilli, big onions, red onions, green gram and fruits have all been badly hit as well, and may not even provide half the expected harvest, according to District officials.
Moneragala District Secretary Sriyani Padmakulasuriya informed the District Coordinating Committee Meeting on January 13 that, just 31% of the paddy cultivation target has been achieved this season. "Even then, a successful harvest cannot be expected from more than half of the cultivated lands," she conceded. "Meanwhile, 80 Grama Niladhari areas, of a total of 319 in the District, are severely hit by shortages in potable water, which continues to increase by the day," she added.
In view of this situation, authorities are taking steps to distribute drinking water through the National Water Supply and Drainage Board, with the assistance of Pradeshiya Sabhas.
Drinking water sources polluted by illegal sand mining at  MuruthanaIllegal sand mining on the banks of Ma Oya during the drought season at Muruthana, a village in Negombo is leading to a pollution of drinking water sources villagers in the area claim.As a result of excessive sand mining, and digging of clay for brick making at the village, a village located 100 metres away from the Ma Oya, wells in the area have been contaminated with muddy water. The situation is so bad residents have now to purchase bottled water for consumption.

"We have been making bricks for over a long period of time, but never faced a scarcity of water, villagers said. But certain businessmen have begun to use large backhoes. Some of them have dug pits which are nearly 55 feet deep.

Recently two school children died after falling into one of these pits.

"We filed a case which was taken up in Negombo. Court ordered the pits be refilled, but the order has not been complied with" said Mrs A.P.A. Fernando, a resident in the village.

"None of the officials from the Geological Department have taken any action either. It is alleged they have received bribes" she claimed.