'Facebook school' project: Youth go beyond mere 'likes'
View(s):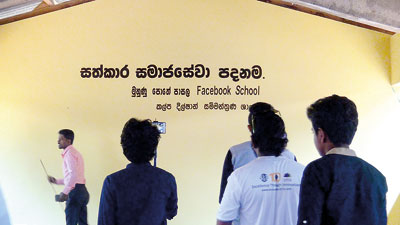 A group of youth from Moratuwa who communicated via Facebook collected funds and built a classroom for a rural school in Theladinnanwala, Dambulla. This positive story comes at a time when there are increasing complaints of Facebook misuse.
Chalana Kushan along with his friends who took the initiative, termed 'Facebook school' collected Rs.1.1 m. and completed the building all within eight months.
The youth who are proud of their initiative told the Sunday Times, "When other Facebook users hunt for "Likes" for their own posts we tapped humanity within people."
Chalana got the idea to construct a building after one of his friends heard about the plight of the schoolchildren who had no proper classrooms.
"We visited the school and saw youngsters following lessons under trees and in dilapidated sheds. We were determined to build at least one proper hall that could be used as a classroom.
In addition to collecting funds from across the world over Facebook, they held a car wash and collected around Rs. 300,000.
"There were about 60 of us involved in the school project from four leading schools in Moratuwa including my best friends Nilan, Ransika, Sampath, Ramesh, and Kalpa," said Chalana.
But unfortunately Kalpa, one of the key movers died after meeting with an accident just three days prior to opening the building.
Chalana and friends named the building Kalpa Dishan Hall in appreciation of their friend's commitment to the project.
This group of youngsters have been involved via Facebook in similar projects in rural areas of Ampara, and Kalutara.
Chalana who had a hard childhood said it was his grandmother who cared for him since he was nine months old. "My grandmother and I faced severe economic hardships. I don't want anyone to go through what I did," said Chalana adding that this was what drove him to help others.
He said if there is anyone who wishes to join them in their projects they could do so by searching for Sathkara Samaja Sewa Padanama on Facebook.