Are you also a victim of MSPs?
Following an insight report last week Namini Wijedasa delves further into the scam where it's a win-win for everyone but the inveigled mobile phone subscriber
View(s):
I got a text message to my mobile phone on September 11, stating: "Your auto-renewal is due in one day". It was from an application called DZone which I had not subscribed to.
This was not the first instance such a text had been received, followed by a notification that the renewal had automatically–and explicitly without request–been carried out. A call to the mobile company revealed that via the DZone application, I had been subscribed to a value-added service I had never heard of, called, 'South Beauties'.
The mobile service provider (MSP) took the complaint, unsubscribed me and refunded the money. It should have ended there. But it did not. On September 19, a second text message was received: "You have been subscribed to the South Beauties service. You will be charged LKR 35+tax weekly". Once again, a service I had never knowingly or willingly asked for. At least the charges were specified this time.
A complaint was lodged. MSP apologised, delved into the matter and blacklisted my number from the service. It should have ended there. But it did not. On September 21, a third text message was received: "You have been subscribed to the South Beauties service. You will be charged LKR 35+tax weekly. You are already subscribed to the service".
By now, I was feeling positively trolled. The previous week, I had written an article on "cramming" which is defined by the International Telecommunication Union (ITU) as the practice of placing unauthorised, misleading, or deceptive charges on the telephone bill, fraud, privacy infringement, lack of customer security and false and misleading advertisement. I was beginning to think those South Beauties were looking for the last laugh.
The MSP reassured me this was not the case. A spokesman said they were also stumped (which, admittedly, is the opposite of reassuring). The company momentarily suspended its download services countrywide and kicked off a proper investigation. It transpired that the third-party website with which it had partnered was afflicted by a bug that made it obsessively sign me up for South Beauties. With the necessary debugging done, the company promised me there would be no repeat.
My problem was solved. But who else is this happening to? How many others are falling victim to this scam and how long has it been going on for? MSPs are partnered with third parties who use their platforms to hawk services to mobile phone users. Some enrol willingly. Many more mistakenly join subscription services by simply clicking on an advertisement or web link.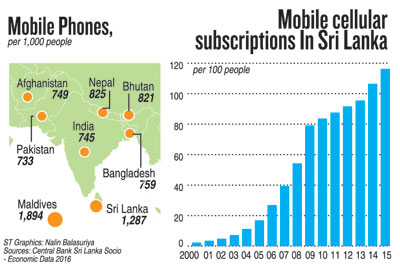 Registration takes place without the knowledge of the subscriber. Charges are automatically slapped on the bill, whether post or prepaid. And if customers do not inquire about the added fees, the MSPs continue levying them by default. The third parties collect their bounty via phone bills and the MSPs receive a share. It's a win-win for everyone but the inveigled mobile phone subscriber.
According to the 2015 Central Bank Annual report, mobile phone penetration is now a towering 116 percent. There are more mobile phones in Sri Lanka than there are people. A significant number of these are traditional instruments and not smart phones that enable internet access. But by the MSPs' own admission, the percentage of complaints about third-party billing has risen dramatically. Many mobile companies are aggressively promoting the sale of smart phones to increase internet penetration which, in turn, enables them to earn more on data.
After my article, I was sent more complaints from angry customers. Chathura Dissanayake said he had been signed on to the 'Games Club' service for Rs 20+tax daily without even sending a text message or clicking on any popup window. Asanka Sandaruwan said he was subscribed to 'Games Club' and a mobile television app despite not asking for them. Amee Jayasinghe said he was signed up for 'Coolclub' for Rs 30+tax daily. "I paid for this **** like 6 months," he revealed.
Amal Fernando was subscribed to 'ErosNowWeekly' and 'TZEros'. It was Rs 35+tax in the first month, and Rs 70+tax the second. Another said he was charged Rs. 89.30 a month for 'IdeaBiz'. All mobile phone companies in Sri Lanka were doing it, in varying degrees. The one that foresees "The Future Today", however, was the worst offender.
The US Federal Communications Commission says research suggests only one in 20 consumers affected by cramming are aware of the problem. There are no such studies done in Sri Lanka. Anecdotal evidence points to some third-party billing going back to at least 2011. MSPs claim they discovered it only this year which, by any stretch of the imagination, is a likely story.
Meanwhile, the Telecommunications Regulatory Commission of Sri Lanka (TRC) does seem to have stumbled upon this scam only this year. Its response was, at best, tepid. A former official claimed he had not received reports of cramming during his tenure. Sunil S Sirisena, the incumbent Director-General, said he had, "A few, no major complaints."
"When we get them, we inform the telcos to stop but they have their own explanation for these things," he said. "We must summon them and then-and-there sort out the problem. Sending letters is useless." There will be a meeting on September 27 at which this issue will be raised.
Mr Sirisena also revealed the TRC had no laws under which it could penalise the offenders. "I have already gone through this," he elaborated. "We have no provisions. We are amending the Act at the moment. It would be possible to take legal action after amending." He even wondered whether it would be possible to totally stop some of the complaints.
"They (MSPs) will have to have a system whereby, if you don't want the facility, you can stop it," Mr Sirisena said. Notwithstanding the non-availability of legal provisions, the TRC is empowered to issue directives. Even that has not been done. Neither has the public been advised to be vigilant. The regulator has completely failed in halting, slowing down or even identifying this fraudulent activity by MSPs. In short, it has not been regulating.
A leading private MSP said it was now in the process of self-regulating. It will introduce mechanisms by which double-clicks will be required to subscribe to these services. The Government-owned MSP was sent a list of questions about cramming but said it needed a week to reply. It is not known what measures they have planned, if any at all.
There are also serious questions about how effective self-regulation will be. The MSPs profited all these years from a patently unethical and fraudulent practice. They did not inform their customers about it and did not take any action until the complaints became too numerous to ignore. Telling their subscribers to now trust them to self-regulate is like asking a child to sit in front of a starving lion with the confidence that it will not devour it.
And what of the money these companies have earned up to now from cramming? Does it not make sense to push for a mass refund for those who did pay and not use these value-added services?
How MSPs are dealt with in other countries
In the United States, the robust Federal Communications Commission (FCC) has rolled out the penalties for cramming. A list published online shows that, starting in 2004, a series of consent decrees and forfeitures have either been proposed or imposed on phone companies. Last year, Verizon and Sprint had to pay a combined $158 million to settle charges that it charged customers millions of dollars for unauthorised third-party premium text messaging services.
The FCC says cramming most often occurs when telephone companies allow other providers of goods or services to place charges on their customers' telephone bills, enabling a telephone number to be used like a credit or debit card account number for vendors. Charges for specific services or products that a customer may not have authorised include ringtones, cell phone wallpaper or premium text messages about sports scores, celebrity gossip, flirting tips or daily horoscopes.
In 2014 and 2015, the FCC, together with the Consumer Financial Protection Bureau, the Federal Trade Commission, and States' Attorneys-General, agreed to major fines and settlements with the four largest wireless companies for billing customers millions of dollars in unauthorised third-party premium text messaging services.
Through these 'cramming' cases, the FCC and its partners brought a total of US$353 million in penalties and restitution against the US's four largest wireless carriers, structuring these settlements so that US$267.5 million of the total will be returned to affected customers, the Commission's website says.
In Singapore, operators are obliged to protect and restrict the use of any information they get about or from a customer while providing services or equipment. "Unless the customer gives prior authorization, the operator cannot use EUSI to market additional goods or services, or sell that information to third parties or affiliates," a case-study published online states.
In Canada, the Competition Bureau investigated into unwanted premium text messaging charges on customers' wireless phone bills by the MSP Bell. In May 2016, it ordered the company to issue rebates to current and former customers totalling up to 11.82 million Canadian dollars and donate approximately 800,000CAD to public interest advocacy groups. The Bureau reached similar agreements with both Rogers and Telus last year, bringing the total consumer refunds to over 24 million CADs and over 1 million CAD in donations to consumer groups supporting public interest litigation.
The Competition Bureau states the investigation was into whether the MSPs were, "making or permitting false or misleading representations to be made to customers in third party advertisements relating to premium text messaging services and placing charges for these services on wireless phone bills without prior authorisation from their customers." These services included trivia questions and ringtones. The representations appeared in popup ads, web pages and social media promoting premium text messaging services.
MSPs in Australia are also being investigated by the consumer watchdog, with concerns over the level of disclosure. A news report said Telstra, Optus and Vodafone had commercial agreements with subscription service providers and gave them customer's mobile numbers. They were then charged monthly for services which are embedded into their mobile bill.
"It is understood the telcos get about 30 per cent of the revenue, with insiders suggesting third-party billing generates tens of millions of dollars a year," the report said. It is not known what Sri Lankan MSPs have earned from this scam.
Shocking? It should be.