Where oh where is that code of conduct?
View(s):

It was meant to be a happy and festive occasion. It was the mid-April Sinhala and Tamil New Year this year. It could not have been entirely happy for some households which probably had to dig deep into their pockets and even savings to provide the traditional feast and new clothes for their families, so intrinsic to the annual celebrations.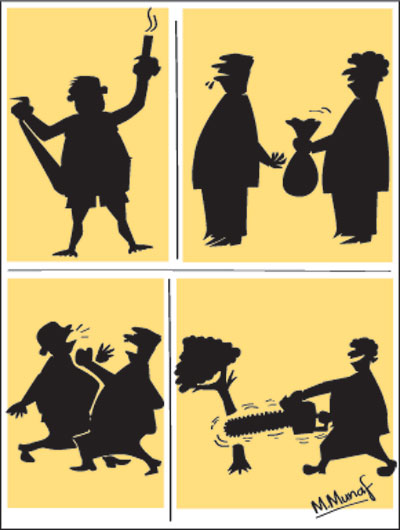 Shortly before parliament recessed for that extended holiday and the peoples' representatives went their separate ways to feast and feast on others, though none of them seemed particularly undernourished, the Hon Speaker, the guardian of the House, gave each of them a New Year gift as they set out on their journeys some for narcissistic glorification back in their very rotten 'boroughs.'
The gift was a copy of the newly-drafted Code of Conduct which our worthy representatives were to read and digest along with the kavun, kokis and kiributh. They were given two weeks to comment on this code intended to inject some morality and civilized conduct inside and outside their Diyawanna Oya abode and hope they tread the path of righteousness.
Since that April day when our elected and selected representatives dispersed in the hope they would peruse and ponder the code which would hopefully raise public faith in the behaviour and usefulness of their MPs, nothing has been heard about it, at least not in this neck of the woods.
No doubt little or nothing has been heard in the paradise isle either. From all that one can gather from the deafening silence the code appears to have gone into a period of extended hibernation. Whether this is temporary with the prospect of a Lazarus-like resurrection sometime or other or a state of permanence that would require the performance of the last rites only time will tell.
And time is not a commodity that the people of this Miracle of Asia have in abundance. They are quite accustomed to the numerous promises made by successive governments claiming to represent them, to fulfill their pledges. They cannot unlike Godot be permanently on the 'waiting' list. They are getting increasingly tired of prevarication and procrastination.
But if the subsequent events soon after that saw clashes and fisticuffs in the Well of the legislature sending a couple or more of our honourable MPs to seek running repairs to their mien if not their anatomy, it tended to buttress the widely-held public view that no code of conduct is going to alter the demeanour of some whether they had read the code or not.
Since the code suffered that initial bruising at the hands of pugilistic parliamentarians there have been other instances which seem to suggest that the time spent on trying to change for the better the country's political culture starting from the very place where laws are made and where the public expects sanctity is most likely to be an exercise in futility.
The chaos caused by remonstrating Joint Opposition MPs a few days back during the 'discussion' of the OMP Bill leaving much of what actually transpired in some doubt is a case in point.  If today the Sri Lankan public, like the British playwright John Osborne, look back in anger at being let down once more by political deception and hypocrisy there is no surprise in it at all.

A member "shall not assault, harass or intimidate another person," article 5.7 of the code states with magisterial portentousness.
Even if the code existed it is more likely to be observed in the breach by some unaccustomed to such moral protein and persuasion.
That is the question which will continue to haunt a concerned public who have witnessed the intimidation and harassment and even assault of ordinary people and of public officials performing their legitimate duties.
Talking of intimidation and harassment, just recently many members of COPE chastised a newly nominated participant from the UNP, Sujeeva Senasinghe, for his attempts to intimidate Central Bank officials summoned to an inquiry into the alleged Central Bank 'bond scam'. It was alleged that Senasinghe's abrasive approach was to frighten the officials and possibly thwart a quick resolution of the COPE inquiry.
What is worrying is that if the conduct of MPs within parliament continues to deteriorate as much as it has over the last 19 months when a new President and one year later a new National Unity Government for Good Governance headed by Prime Minister Ranil Wickremesinghe took office, would a Code of Conduct change our political culture for the better?
It is not as though the MPs were unaware that such a code was in the offing. This was a pledge made by the leaders of the present government at election time. But are the leaders themselves ready to chastise their recalcitrant members or do they look the other way, if they do not actually promote their political progress.
The other day a youth made a complaint to the police that he had been assaulted by the State Minister of Skills Development Range Bandara which Mr.Bandara denied making a counter complaint and eventually reaching an "amicable settlement". This of course is not the first time his name has cropped up over a fracas.
Readers would recall almost two years ago the Mayor of Hambantota Eraj Fernando was seen brandishing a pistol in a confrontation with some MPs, members of the UNP who went on a fact-finding mission to Mattala airport and the Hambantota port. Fernando claimed it was only a toy pistol and it was to frighten the MPs (boys will be boys I suppose).
But the irony of all this did not emerge till last week. Fernando claimed that he only intended to frighten the parliamentarians of the UNP which is today the largest party in the Unity Government. At the time the UNP protested outside the Hambantota police station demanding Fernando's arrest. Last week the pistol (toy) wielding Eraj Fernando was appointed an organizer of the SLFP which is the second biggest party in the same coalition.
If such unsavoury elements are being promoted to party positions with the prospect of their ending up as MPs and this is being done by leaders of this country it surely is no surprise the public is fast losing faith not only in their elected representatives but political leaders for not keeping to their vows to radically change political behaviour.
One problem however is that this code applies to members of parliament alone. It lets off the hook other elected representatives such as provincial and municipal councillors and members of the pradeshiya sabhas who are hardly paragons of political virtue.
Sri Lankans know only too well that some of those elected representatives have been involved in corruption, intimidation, harassment and even in some instances killings.
Politicians from those lower levels have been nominated by political parties to contest parliamentary elections and have been elected to parliament. Some bring with them behavioural 'traditions' and culture that have become ingrained in them.
Whether a code of conduct that is alien to many and is seen as an unnecessary shackle that imposes limitations on their actions and activities would succeed in restoring the dignity of parliament and its members will be seen in the days ahead.
One thing is certain. The clauses in the code that require MPs to declare their financial interests and those of their close family members in a register of interests and matters related to declaring their interest on issues before parliament, would very well run into some stormy weather when parliament comes to discuss – if at all – the code, particularly as such information would become public.
The code says that "members shall fulfill conscientiously the requirements of the House in respect of the registration of interests in the Register of MPs Financial Interests. Each shall disclose to Parliament all relevant interests that a reasonable person might think could give rise to the perception of influencing behaviour between the member's duties and responsibilities and his/her personal interests. These shall be disclosed immediately following election and continuously updated."
MPs are expected to provide "sufficient" information of their assets and business interests. Who decides what is sufficient? They are also expected to provide information about "close family members". Pray who are close family members and at what point do they stop being close, given that we live in a society where an extended family goes as far as Ozymandias that "King of Kings" could see?
Why cannot one's ill-gotten wealth be held in the name of an extended family member thus avoiding violating the code? Surely Sri Lanka has been practising such deviationary tactics long before Mossack Fonseca entered the scene. After all, MPs are expected to divulge only "sufficient information regarding their business relationships and financial interests."
If corruption, fraud and other financial crimes are to be eliminated surely these provisions should be more strictly defined and rigorous sanctions imposed rather than a tap on the knuckles by fellow MPs. It is not enough to permit public access to these declarations if MPs become the arbiters of the complaints and complainants are in danger of ending up in the courts on charges of false complaints.
More stringent rules and regulations should apply to declarations of assets by state officials as well. In recent years names of officials have surfaced ever so often as holders of politicians' money bags or depositors of fraudulently acquired wealth. The annual declarations lie in various ministries gathering dust and are hardly glanced at by anybody in authority.
Since corruption and fraud by state officials prevail not only at the top of the scale but lower down too there must be a system by which the public have access to them if false declarations are suspected and the public is armed with evidence.
Cleansing the country of fraud and corruption by law makers and state officials was a major issue at the last elections and several ministers and MPs connected with the Rajapaksa government are under investigation or have been hauled up before the courts.
If such a clean-up is seriously contemplated then the reformers might take a cue from Hong Kong's Independent Commission Against Corruption (ICAC) which has not hesitated to investigate and where necessary prosecute their own officers as well as high-ranking government officials.
Singapore's anti-corruption mechanisms could serve as a useful example of how independent bodies function, untrammelled by politicians trying to save their own skins or those of friends and relatives.