Ruling sans some Blues
View(s):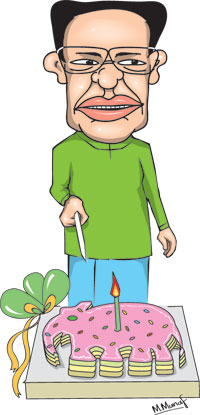 My dear Maithri,
I thought I must write to you to congratulate you on completing a one year 'yahapaalanaya' partnership with the Greens but then, you seem to have celebrated already in style – sacking a dozen or so Blue stalwarts from their organiser posts!
I know that you had a hard time during the past year. Even the election in August last year was very challenging. Why, you had to tell your Blue voters that even if they won the election, you wouldn't be appointing Mahinda maama as second in command. That was quite unprecedented, wasn't it?
Anyway, you must have been relieved that the greens won the election even though it was by a slender margin without a clear majority. That allowed you to invite the defeated Blues and form a 'unity' government, whatever that means. Some Blues, hungry for ministerial jobs, readily agreed.
Maithri, it was not quite the 'yahapaalanaya' that we were promised or expected. The same faces which governed us for almost two decades were still there, though the people had voted them out. Why, you even appointed the defeated 'paalas' and 'nayakas' and 'sinhas' through the National List!
That was disappointing. It went against what you promised in 'yahapaalanaya' such as getting rid of corrupt elements in power and respecting the peoples wishes. But then, though you were the leader of the country, the Blues were rebelling against you and you had to throw them some crumbs of comfort.
Of course, you had to manage a government where both sides were complaining. The Greens were saying that after winning the election, they were being forced to share the spoils with the Blues. The Blues were angry that although you were the boss, they had to play second fiddle to the Greens.
And then there is Mahinda maama and his Blue boys. Even though Mahinda maama promised us that when he ends his term, he would live in Medamulana and spend his days eating kurahan thalapa, he hasn't done so. Like Dilshan, he keeps returning when he should have retired a long time ago!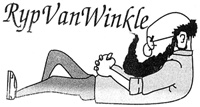 They keep annoying you, don't they, staging separate May Day rallies and 'paada yathras'? Worse still, you haven't been able to prosecute any one of them so far for the offences you claimed they committed. Why, they even seem to enjoy being taken away in handcuffs, holding them high like a badge of honour.
The Greens haven't been easy to deal with either. They too want super luxury cars and some of them – such as Justice Wije, Long John, that Thevarapperuma fellow and even young Hirunika- behave as if they are a law unto themselves. It seems as if the more they change, the more they stay the same!
Then, Ravi couldn't prepare a set of proper budget proposals. He didn't follow the proper procedure with the VAT either. It would be good if this year, budget proposals are like those sent to the third umpire in a test match: the number of decisions that can be overturned being limited to just two.
You also had to deal with the Green Man who wanted you-know-who as Governor of the big bank, no matter what. He even secretly followed you to the bank to make sure that you wouldn't appoint anyone else for the job. We are glad that at least in that instance, sanity and common sense prevailed.
Even so, the most surprising news came when you were celebrating your first anniversary – you sacked more than a dozen Blue stalwarts who continue to sing Mahinda maama's praises. That included some big names such as Pavithra and Keheliya. I suppose you wanted to send a warning to others.
Some say it was like Angelo's declaration on the last day of the test match – a little too late. You must be hoping that you can win the match and the series like Angelo did. Angelo however had got rid of the past captains and seniors and brought in young blood; you still rely on the same old faces.
Some of those you had appointed in place of those who were sacked also worry me. One was the mayor of Hambantota who brandished a pistol and threatened Green MPs when they visited the Mattala airport. We voted for you, Maithri, to get rid of those types and how wrong we were!
Maithri, we still believe you can do some good in the coming years. We know that you have already broken some of your promises but we hope you will at least keep the promise that you made to the nation on the day you assumed office: that you will not contest another presidential election.
Yours truly,
Punchi Putha
PS: Angelo has won the bigger battle, the test series. Now, all he has to do is win the one day matches. In your case, I think it is the other way around: you have won the lesser battles, the biggest challenges are yet to come. However, you need to be wary about that: there are plenty of 'Murali's in your camp who will reveal your secrets to Mahinda maama for just a few dollars more!