Sadique Saleem re-elected as All Ceylon YMMA national president
View(s):

Sadique M Saleem has been re-elected as the National President of the All Ceylon YMMA Conference for 2016/2017.
He is the 50th National President of the 67-year-old All Ceylon YMMA Conference.Mr. Saleem, a veteran banker, is hailing from Badulla and is the eldest son of the Late M.T.M. Saleem (Postmaster) and the Late Rahela Moomin Khan of Passara.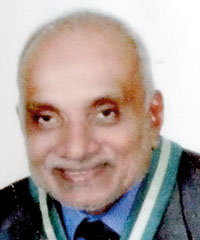 His social service career spans from 1982 when he became the General Secretary of Badulla YMMA. He, along with the late A.M.M. Rafeeq JP revived the Badulla YMMA which had remained defunct for a long period. He also served as the President of Rotary Club of Badulla during 1985/1986.
During his first term as All Ceylon YMMA Conference National President, Mr. Saleem spearheaded a project to set up a Drug Rehabilitation Centre at Minuwangoda in collaboration with the National Dangerous Drugs Control Board in a property donated to the YMMA Conference by Mr. and Mrs. Kemal Miskin of Melbourne, Australia.