View(s):

Arshad Farook, Chairman of Ibrahim Group of Companies was appointed a member of the board of directors of the Sri Lankan Foreign Employment by Foreign Employment Minister Thalatha Athukorale.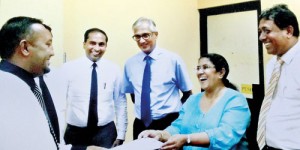 Mr. Farook is the vice President of the United National Organisation for Foreign Employment Agencies (UNOFEA) and an Ex-Co Member of the Saudi Card Holders Association. He is an old boy of Zahira College.
His company received the "3-star" excellence award twice for the contribution made to the nation's economy through foreign employment. Mr. Farook is the eldest son of the late Ibrahim Farook (former Treasurer of All Ceylon Jammiathul Ulama) and Hajani Razeena Salih Farook.