Tarindra leads Mobitel Eagles to first leg win
View(s):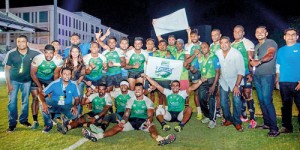 Sri Lanka Super Sevens
By Narendra Kulatunga
Tarindra Ratwatte, took the final showdown by thunder, scoring two scintillating tries to give Mobitel Eagles, the first taste of Sri Lanka Super Sevens title by beating Soft logic Warriors 21 points to 14.
Yet, at the break it was the Soft logic Warriors who had the proceedings into their favour by leading 14 points to 7.
Luke Masirewa, the New Zealander put the first finishing touches for Soft logic Warriors by running through the gaps to score. Ed Fidow, the Samoan made the conversion.
Both teams displayed their running skills at every opportunity finding the gaps and also put out a tremendous defense to stall their counter parts. Soft logic Warriors, then made a counter attack deep into their opponents territory. When Saliya Handapangoda was held by the opponents, with swift ball passing Jason Dissanayake grabbed the opportunity to cross over the white line.
Fidow made the conversion for the Soft Logic Warriors to take a stunning lead of 14-0 but it was short lived.
Mobitel Eagles scored their first try through Fijian Stefano Cakaunivalu, who dummied several defenders to run through unopposed. Cakaunivalu, is no stranger to Sri Lankan soil having represented Sri Lanka Navy Sports Club for three seasons. Dulaj Perera made the conversion correctly.
With the game turning into a very tight contest, Tarinda Ratwatte broke the defense to score after sending off many of his opponents on the wrong foot. Perera made the conversion to make it 14-all. Then with seconds away from the long whistle, Ratwatte caught their opponents by surprise to run unopposed to fall over. Perera did not missed the conversion. For Mobitel Eagles, it was a superb come back win.
In the Schools under 18 Sevens final, St. Peters College displaying superb rugby skills defeated St. Josephs by 31 points to 12 to grab the title. The Josephians made a giant killing performance in the semi-final by beating favourites Isipathana 22-17. At the break Peterites led 19-12. It was a tremendous Sevens victory for Peterites, even without their skipper cum play maker Diyath Fernando who did not play the final due to a hamstring injury suffered in the previous game against D.S.Senanayake College.
Danushka Ranjan of Walkers CML Vipers ended up as the highest try scorer in the tournament with 8 and Richard Darmapala of Cargills Gladiators finished second with 7.
Results
Schools Tournament Finals
Cup: St. Peter's beat St.J oseph's 31-12
Plate: Isipathana beat Wesley 29-0
Shield: S. Thomas' beat Prince of Wales 31-7
Bowl: Zahira beat D.S. Senanayake 24-21
Main Tournament Finals
Cup:
Mobitel Eagles beat Softlogic Warriors 21-14
Plate: Cargills Gladiators beat EYZ Wolves 28-7 Shield:
Walkers CML Vipers beat Access Kings 22-7
Bowl:
KBSL Dragons beat Etisalat Panthers 26-21