F. J. & G. de Saram mark 175 years with new Rs 5 stamp
View(s):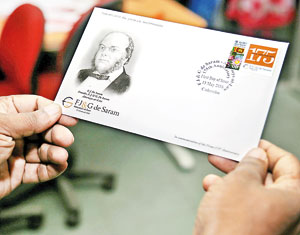 The Philatelic Bureau on Friday issued a new postage stamp in the denomination of Rs. 5 to mark the 175th Anniversary of F. J. & G. de Saram, Attorneys-at-Law.
F. J. & G. de Saram was founded by Fredrick John de Saram, who commenced his practice of law with his apprenticeship with Andries Martensz in 1841, making this the oldest law firm in Sri Lanka.
In later years, three of FJ's sons and one of his daughters joined his practice, including Frederick John de Saram (Jnr.) and George de Saram, who took over the practice on the death of their father in 1871 and lent their initials to the name of the firm.
While the family firm has evolved into one of the country's leading law firms, the values and ideals of the founders remain deeply embedded in the practice and live on through successive generations of lawyers, who embrace the essence of the firm and all it stands for.
F. J. & G. de Saram practices in all areas of corporate and commercial law and caters to a very wide clientele, ranging from individuals to start-up companies to multinational corporates and government and public bodies. It also provides its services pro bono for projects that benefit the community.
The firm continues to be recognised for its professionalism and particularly for its flexibility and ability to offer holistic and practical advice, considering not only the law but also the business, economic, social, political and ethical impacts of a given course of action. IFLR 1000, Financial and Corporate 2016, in its latest guide to the world's leading financial law firms, says of F. J. & G. de Saram, "the Firm
maintains its Tier 1 ranking across all practice areas and is often the go-to firm for high profile domestic and international clients."