Appreciations
View(s):

Chandra Ranaraja

She leaves behind footsteps in the sands of time

It is difficult to believe that Chandra Ranaraja is no more. She passed away as peacefully as she had lived, on March 3, 2016 after a brief illness. She leaves a void which is difficult to fill as people of her calibre are hard to come by, in the present era.

Chandra Ranaraja was perhaps the most well-known and highly respected female political figure in Kandy. Immaculately dressed in a Kandyan saree, with a string of beads or a chain around her neck and a 'konde,'one would meet her wending her way to Hillwood College, or striding energetically to the Municipality or to the market. I think she enjoyed walking because she could meet people and talk with people from different walks of life.

Her devotion and service to our beloved hill-capital are unsurpassable. Even when she left home to enter hospital on February 29, she was talking of plans regarding her pet project the 'Heritage City'. Like everything she undertook, for example the OGA of our alma-mater Hillwood College, Kandy, her involvement in this too was wholehearted and absolute. Another institution to which she devoted her energy was the Kandy Municipal Council of which she was a member, the Deputy Mayor and finally the Mayor.

Chandra Akka, the eldest in a family of seven children, hailed from the ancient capital of Sri Lanka, Anuradhapura. She took pride in the fact that she was from Rajarata. Her roots lay in the ancient village of Mahadiulwewa in the Medawachchiya electorate. Her grandfather, D. P.B. Mahadiulwewa, was Chairman of the Village Tribunals which functioned during British Colonial times. Her father was S.H. Mahadiulwewa, Kachcheri Mudliyar of Anuradhapura and the MP for Kalawewa in 1947 and 1952. Her mother too was an amazingly versatile lady of Rajarata who was deeply involved in religious and social activities, holding many responsible positions like being a member of the Mirisawetiya Restoration Committee, the founding president of the Dayaka Sabha of the Viharamahadevi Upasikaramaya of Anuradhapura to name but a few.

My cousin Chandra was one of the first women to enter the University of Peradeniya from the NCP. When she graduated in 1961, the whole family attended the convocation because we were so proud of her! To her great delight, her first teaching appointment was to a school in Anuradhapura, Holy Family Convent of Anuradhapura. It was a friend of mine who was amongst the first batch of students she taught who told me that Chandra Akka was one of the most popular teachers in school at the time. After her marriage to Shelton Ranaraja, who was then the MP for Senkadagala, she came to live in Kandy and taught at Girls' High School, Kandy where she was fondly called "Vishaka" (after the great Buddhist Upasika) because of her kindness, calm ways and sedate walk. She gave up teaching to look after her five children (Premila, Aruni, twins Siromi and Shamila and Anjali).

Although she gave up teaching, she continued to serve in the sphere of education in various capacities. When the Universities Act of 1978 came into effect, every University was required to have a Council where non university people of eminence who were appointed to the Council had a decisive voice. Chandra Ranaraja was thus appointed a member of the first Council of the University of Peradeniya, by the government of the time.

Chandra Akka rose to be a leading figure in the social and political life of Kandy. It was however, not merely because she was the wife of Shelton Ranaraja. She had a stature of her own, moulded by her selfless and dedicated work which was widely acknowledged.Even in her undergraduate days, she was thoroughly involved in politics as she came from a family tradition of politicians. During her time in the University of Peradeniya, she was an active member of the "Demsoc" (Democratic Society, the UNP sympathiser group) which had a difficult time in the face of opposition from the Marxist groups which dominated student politics at the time. Steadfast in the principles she believed in, she campaigned for the UNP candidates in the two general elections of 1960.

Her most active period in politics was in 1977 and after, when she worked beside her husband who became MP for Senkadagala and Deputy Minister of Justice in the J.R Jayawardene Government. She was also a member of the Working Committee of the UNP. Due to her popularity and proven efficiency, she was persuaded to enter local politics and was soon elected a Member of the Kandy Municipality. Because of the yeoman service she rendered during her tenure, she was elected the Deputy Mayor and later, the Mayor of Kandy.

Chandra Ranaraja made history by becoming the first and only lady mayor of the hill capital of Sri Lanka. As a political figure, she followed the high standards of honesty and integrity set by those honourable people she emulated like her own father, S.H. Mahadiulwewa, her husband Shelton Ranaraja and her uncles M.D. Banda and Asoka Mahadiulwewa.

She was a true democrat, ready to accommodate the just views of the opposition and accept constructive criticism. There are anecdotes about her integrity and sense of fair-play narrated to us by her political opponents that amply prove this point. This, coupled with her incredible store of knowledge and capacity for hard work, is perhaps why she was much sought after even after retiring from active politics. Until the very last, she was an active member of the Heritage group, a pillar of her old school and an Advisor of the Kandy Municipality amongst many other things.

She was a friend to the friendless, a benefactor to the needy and a tower of strength to one and all. Above all, she was a caring mother to her children and an unfailing source of support to everyone in the family circle.

Akka, you are one of the finest people I have known and I consider it a great honour to have been born your cousin.

May you attain the supreme bliss of nirvana.

- Sumangalika Dharmadasa  
---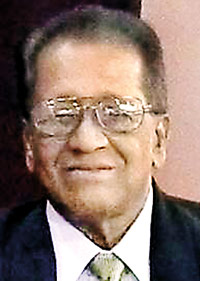 DILAWAR KHAN
My brother, my friend
It will be 40 days since the demise of my beloved brother and friend Dilawar. The news of his death was so sudden that it shocked and saddened everyone. He was a gem of a gentleman.
He was the third son of the late Mr. and Mrs. G.B. Khan. His older brother Haroun Rashid, and his older sister Zareena and Jezima predeceased him.
Dilawar's relatives and his large circle of friends admired him for his simplicity, kindness, humble and winning ways. His home was an "open-house" to his numerous friends and relatives, on his annual birthday get-together. It was a tradition, a meeting place for everyone, who gathered for "news and views" and to renew ties. His wife Rafia, a wonderful hostess, treated everyone to sumptuous meals and refreshments. Coincidentally his birthday is on the 23rd of this month. Sadly there won't be the joyous get-together.
Dilawar was a sportsman of a high calibre, and his forte was cricket. From his student days at Zahira College, Colombo, and from his formative years he was interested in cricket. He was captain of the college first-eleven cricket team. An all rounder, he shone as a fast-medium opening bowler and had wrecked many an opposing team, winning many accolades. In cricketing circles he was known as D.B. Khan. His cricketing prowess also contributed to his employment. He represented Forbes & Walker and eventually captained the champion team, in the mercantile sector. He also played for Nomads C.C. and Moors S.C.
Dilawar was my younger brother – there was a gap of many years between us, but our thoughts and ideas were almost on the same "wave-length". We had long conversations on the phone almost daily. We reminisced and also spoke of the turmoil of present day politics. Dilawar would always implore me to visit his home. He loved company and together with his gracious wife Rafia would not allow anyone to leave without a meal. Dilawar was a family man, and whenever his children who were living abroad came on holiday to their paternal home, he was agog with happiness. He would play with his grandchildren, and take them to snack bars and ice cream parlours. He and his wife also went to Australia occasionally to reunite with his children.
Happiness ends when the curtain of death engulfs one with sorrow. Dilawar leaves behind his wife Rafia, daughter Sharon and son Badshah and grandchildren. Farewell my dear brother. May almighty Allah grant you Jannatul Firdouse.
- Duleep   
---
CHANDRANANDA DE SILVA
An unknown warrior
The first death anniversary of Chandrananda de Silva fell this month. I write this remembrance as a southerner, Secretary to the Rahula OBA (Colombo Branch) as well as a democratic citizen of this country.
Chandrananda de Silva was a great human being and clever administrator who rendered yeoman service to this country.
I would like to quote the words of Lao Tzu: A leader is best when people barely know he exists, when his work is done, his aim fulfilled, they will say; we did it ourselves.
When Chandrananda de Silva was performing his duties, we did not know that it was his work. When he fulfilled his duty, people thought it was a success of theirs and the society as a whole. That was how the former Elections Commissioner Chandrananda de Silva delivered people's sovereignty through the 1978 constitution. He was a very good leader in the sense of Lao Tzu's definition.
Chandrananda de Silva administered Sri Lanka's elections for 14 years from 1982 to 1995. He was a distinguished administrator and scholar bureaucrat. These two words have been adopted from Chinese administration principles.
We perceive that civil administration was founded in Britain or Europe. But the truth is that it sprang from the Han Empire of China in the third century BC. They based their administration on meritocracy. They expected the role of a scholar bureaucrat from an administrator. The British civil service learned from China. But today we try to forget China and learn administration from Britain.
I prefer to divide the civil administration of this country into two sections. One is the Ceylon Civil Service formed by the British. The other is the Sri Lanka Administrative Service founded in the 1970s under the Republic of Sri Lanka. Chandrananda de Silva excelled in that second era.
The following special features are seen in the service he rendered as Election Commissioner.
He planted the electoral system introduced by 1978 Constitution on Sri Lankan ground solidly. The first Presidential election in 1982, the referendum and the first Provincial Council election in 1987 were remarkable. He was able to hold several types of elections impartially in a way that society was educated and their trust was built up.
Lastly he was bold to hold elections unwaveringly in the period between 1987 and 1989 when the democratic rule of Sri Lanka was challenged.
We did not speak of these facts then. But we know that they happened although we have forgotten that he delivered them to us. That is why I state that he was a leader in the sense of Lao Tzu.
I think his maturity in administration was a result of his education in Sri Lankan universities and schools. He never tried to serve politicians as the Election Commissioner. It can be a result of the economics he learnt at Peradeniya University. He also studied political science in Peradeniya. Therefore, he knew that what is not said and not seen matters in politics.
I think he was able to manage experienced leaders like J.R. Jayewardene, R. Premadasa and Chandrika Kumaratunga. The administrators who hailed from the Ceylon Civil Service did not care for politicians. Chandrananda de Silva admitted the importance of the role of politicians in governance.
He was able to teach the politician that the administrator has an independent role of coordination. He was able to hold the positions of Secretary, Defence Ministry for seven years and Election Commissioner for 14 years due to this vision.
Mr. Chandrananda de Silva, you were a gem to Sri Lanka and a diamond to Rahula College. We cherish the memories of your great personality with utmost respect.
May you attain nibbana.  
-Shiral Lakthilaka
---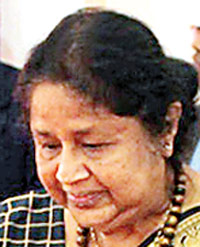 Suranganie Ellawala
She was most of all a good human being
Suranganie Ellawala was a great lady – cultured, gentle and sweet. I got to know Auntie as I became friends with Visaka her daughter. Whenever I went to Ratnapura I would always drop in even for a cup to tea to her place, because I enjoyed her company so much.
She and I would chat for long hours on my pet subject- politics, of which she had a vast knowledge.
I have known her to be a poet (she has shown me her poetry), as a lady with artistic skills, a good cook, a perfect hostess, but most of all a very good human being.
- Nilanthi Pieris