McLarens Group take on Pan Asia Bank in MCA Division 'C' finale
By Lakshman Ranasinghe
View(s):
McLarens Group and Pan Asia Bank maintained their supremacy and unbeaten status in the 5th Prestige Automobile (Pvt) Ltd., sponsored, 'BMW-Hyundai' Cup, MCA 'C' division 50-Over League Tournament 2016, as they entered the final with cake-walk wins over Std. Chartered Bank and Nations Trust Bank 'A' respectively in the semi-finals concluded last weekend.
Three hurricane half centuries by P. Sanjeewa (76 in 53 balls with a half a dozen sixes and eight fours), B. Basheer (77 in 63 balls with four sixes and eight fours) and S. Hettiarachchi (78 in 84 balls with two sixes and eight fours) propelled McLarens to amass 356 for 8 in 50 overs to put Std. Chartered Bank on the wrong side of the ledger, beating them by a massive deficit of 130 runs.
The Bankers were saved from further humiliation by A. Henrickson, who played lone ranger, bagging 10-1-78-4 and followed up with a valiant century (105 in 91 balls with three sixes and 15 fours.
PABC went home to tea, beating Nations Trust Bank 'A' by eight wickets; The match winners for PABC were Haritha Maduwantha who finished with impressive figures of 7.3-1-21-4; and Chamika Sansaka (54 not out in 74 balls with eight fours) and Mahesh Kumara (37 not out), who were associated in an unbroken 115 runs stand for the 3rd wicket.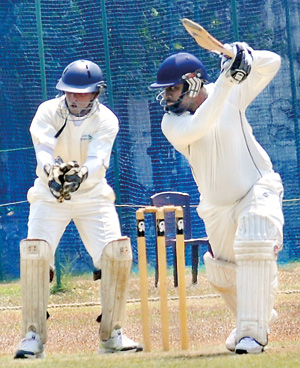 Semi-final match results:
At Braybrooke Place: McLarens Group beat Std. Chartered by 130 runs
McLarens-356/8 (50) (P. Sanjeewa 76, B. Basheer 77, S. Hettiarachchi 78, S. Fernando 36, T. Rukshan 28, A. Henrickson 4/78, T. Fernando 2/54, B. Adeesha 2/53)
SCB -226 (36.2) (A. Henrickson 105, B. Adeesha 25, T. Rukshan 4/52 , P. Dissanayake 2/32)
At Katunayake:PABC beat NTB 'A' by eight wickets
NTB 'A'-129 (38.3) (A. Liyanage 26, T. Lakshan 25, S. Fernando 21, H. Maduwantha 4/21)
PABC -130/2 (29.5) (Chamika Sansaka 54 not out, Mahesh Kumara 37 not out)
The Final between McLarens Group and PABC Bank will take place this weekend at the MCA Grounds commencing 10:00 am