Talks with Iran for cheaper oil, but process may take time: Minister
By Chrishanthi Christopher
View(s):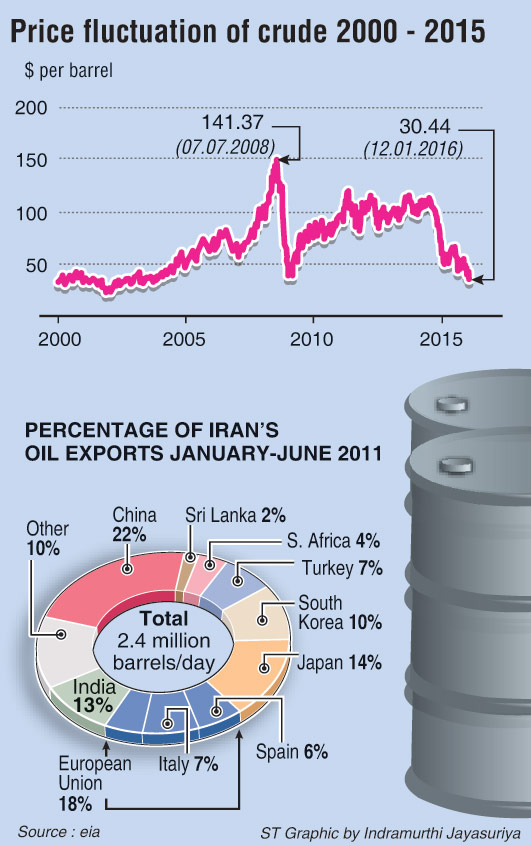 Sri Lanka on Friday held talks with Iran to buy crude oil at lower prices but the process might take upto four months, Petroleum Resources Minister Chandima Weerakkody said yesterday.
The possibility of Sri Lanka obtaining oil at lower prices from Iran, following the lifting of the international sanctions, may take three to four months in view of the increased competition in the world market for Iran's oil, the minister said.
He said there was much world market competition to buy Iranian oil and pointed out that there were as many as 14 bidders, including Lanka IOC, for an international tender that closed last Tuesday. The bids were placed via the web.
The minister said the competition for Iranian oil was severe and a lower price could not be expected despite the oil glut in the world market.
"The Lanka Indian Oil Company also was unsuccessful on the bidding that closed on Tuesday. This means the IOC too has not benefited from the bidding. Though we expected the prices to come down, there has been no immediate change," he said.
Meanwhile, Iran in an attempt to boost its oil sales is holding talks with its traditional customers. Iran has decided to release 500,000 barrels a day to the world market and hopes to double it soon.
Prior to the imposition of the sanctions in 2012, Iran supplied more than 90 per cent of Sri Lanka's crude oil requirements.
In a related development, the UNP-controlled Jathika Sevaka Sangamaya said the Government should upgrade the Sapugaskanda refinery to process crude oil imported from Iran.
JSS General Secretary Ananda Palitha said Sri Lanka at present was importing refined oil from Saudi Arabia and Oman to meet 80 percent of its demand, while the refinery was used largely for kerosene. He called on the Government to build a state-of-the art refinery.
The minister said Sri Lanka would enter into an agreement with Iran to buy crude oil at low prices.
Talks were held on Friday between Minister Weerakkody and Iran's Ambassador Mohammed Zaeri Amirani. An Iranian trade delegation is also expected in the country soon and a Sri Lankan delegation will be visiting Iran soon. The Iranian government has also proposed the setting up of an oil refinery in Hambantota.
Ceylon Petroleum Corporation Chairman C.P. Jayasinghe said a financial assessment regarding fuel purchases was being done and this would be taken into consideration when a final agreement is reached with Iran on crude oil purchases.
Meanwhile, the ministry, in response to questions as to why oil prices could not be reduced when world prices had tumbled from $ 100 a barrel to less than US$ 26 this week, said the ministry had worked out a new pricing formula for fuel but was still awaiting Cabinet approval.