Decision on plantation companies only after January reports, says top official
View(s):

A solution to the crisis besetting Sri Lanka's plantations sector could come only after the three committees which are studying the problems in detail submit their reports, Plantation Ministry Secretary Upali Marasinghe said.

He said there was no easy way to solve the problem of the ailing plantations sector but the Government was determined to revive the industry instead of taking over the management from Regional Plantations Companies (RPCs).

His remarks came in response to a question on a recent statement made by Highways and Higher Education Minister and House Leader Lakshman Kiriella.

Addressing a District Coordinating Committee meeting in Kandy last week, Mr. Kiriella said that the RPCs which could not increase the daily wages of workers should hand back the estates to the Government.

Twenty-three RPCs set up in 1992 manage some 20,000 hectares of tea, rubber and coconut estates owned by the state.

Mr. Marasinghe said the Government was looking at engaging the RPCs and trying to improve the 'product and productivity' of the industry.

To rejuvenate the ailing industry and to solve the crisis, the Government had set up three committees and asked them to come up with recommendations by next month.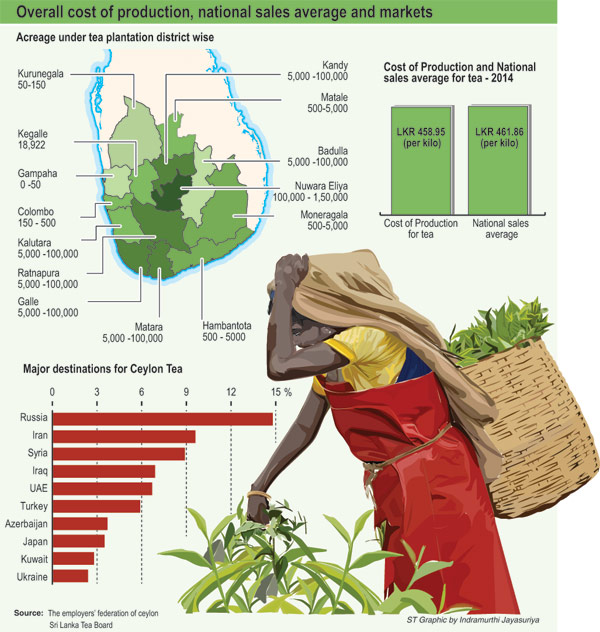 The Secretary said one of the proposals being discussed was to do away with the colonial style of management and another was to change the employee's attitude towards work.
He said both the management and workers should become more efficient if they want to reap the benefits.
The three committees appointed to look into the problems of the 23 RPCs, the Janatha Estate Development Board (JEDB) and the State Plantations Corporation (SPC), have called on the RPCS and other stakeholders to submit proposals on developing the land to generate profit.
The RPCs which are suffering losses due to a plunge in global tea and rubber prices and high production costs are reluctant to inject fresh investments unless the lease period is extended to 99 years.
The present lease period is for 53 years. It is learnt that the committees are looking into the possibility of extending the lease period to 99 years, as requested by the RPCs.