Looking back and into the future
With a legacy of providing sight to the people, George Gooneratne & Co. continues its pioneering work at its state- of-the-art factory. Kumudini Hettiarachchi reports
View(s):
'Kannadi' has been the business of their family, a legacy passed down from father to sons and now grandsons, with a clear focus on taking it to different heights.
The highpoint at the moment is the production right here in Sri Lanka of UV+420cut lenses, which successfully ward off ultraviolet rays without absorbing them, in a home-grown factory in Polgasowita, an achievement which probably is limited only to Japan, Korea and China.
It was on humble beginnings, a small sappuwa (shop) in Maradana selling imported lenses, that with innovative thinking, hard work and dedication the thriving, state-of-the-art factory has been built.
Here at Highray Optical Industries, evolving from George Gooneratne & Co., the new and the old stand side by side, but with many firsts within its vision.
And it is 69-year-old D.J.W. Abeygooneratne who details the pioneering efforts of the company which has a passion "to help people see better" before we are taken on a mind-boggling tour of the factory.
The firsts include fusing of bifocal glass lenses in 1973; being the largest wholesaler and manufacturer of optical products in Sri Lanka since 1973; setting up an Rx laboratory in 1980 and launching the plastic lens surfacing industry the same year; having the largest optical dispensing chain with 14 branches since 1986; manufacturing soft contact lenses in 2002; manufacturing metal frames since 2002; manufacturing optical and metal cases and also cleaning cloths in 2002; launching CR-39 (plastic lens) casting, including finished ophthalmic lenses and semi-finished blanks for the optical industry and plastic lens hard-coating industry in 2008; this year the production of UV +420cut lenses and much more.
Before we are introduced to the fascinating art of making spectacles in all its facets, Mr. Abeygooneratne leads us back in time to when his father set up the first sappuwa at 519, Maradana Road, opposite the then well-known textile merchants John Brothers.
His father, George, was from Matara but had relocated to Colombo seeking greener pastures during World War II, settled in Maradana and founded a business based on the importation of watches and spare-parts for the Government Stores.
Later he would enter politics, contesting the Maradana ward of the Colombo Municipal Council on the United National Party ticket, at the time when the Prime Minister was Dudley Senanayake, beating advocate G.D. Weerasinghe by four votes.
"There were eight recounts at the Counting Centre located at Zahira College," says Mr. Abeygooneratne digressing from the optical path for a short while to give a glimpse of his Thaththa's political forays.
It was as a five-year-old that he began frequenting the Maradana spectacle shop set up by Thaththa and run mainly by Loku Aiyya, Lionel. "I think he would have ventured into the kannadi business because the optical industry was not developed.
No demand for  local products
There is a tinge of sadness and regret as Mr. Abeygooneratne says that though his factory can manufacture 3,000 pairs of lenses per day, the local market is being flooded with cheap imported products under negligible import taxes.
"This has become a bane to the local industry," laments this pioneering optician, wondering whether his sons, Hiran, Diluk and Raveen, would be compelled to close down the business that they have inherited from their grandfather.
It may have been triggered by optometrists from England visiting this country to help set up the Ceylon Optometrists' Association," he says, recalling a photograph seared into his memory.
Around 10 people had been captured in a sepia-toned photo of a group following optometry classes.
Among them were those who would become heavyweights in this industry such as his Thaththa, Albert Edirisinghe, Eric Rajapakse and D.H. Jayasinghe.
Soon after lessons at Ananda College, Mr. Abeygooneratne would go to the sappuwa and his destiny was mapped out after he passed the Advanced Level (AL) when Lionel requested him to "help out in the shop".
It was a career to which he took to naturally because he had mastered Physics and Mathematics in the AL classes.
Those were the early days when there were no lens implantations after cataract operations. The patients had to make do with cataract spectacles which had thick powerful lenses, provided free of charge by the Eye Hospital.
"Bothal adi, they were called," chips in Diluk, Mr. Abeygooneratne's son, who is now very much a part of the business.
Whoever was involved in the optical industry then, would carry out eye-tests on equipment imported from the United Kingdom (UK) and then fit their clients with the necessary spectacles.
Both the lenses and frames were imported from the UK and what the local optometrists did was fit the lenses to the frames.
"The grinding of the lens was carried out at a special laboratory down Main Street, Pettah, owned by Mohanlal C. Waza," recalls Mr. Abeygooneratne, who wanting to experiment suggested that they should grind their own lenses without contracting it to someone else.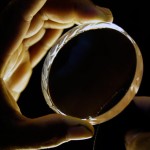 Importing a basic machine and the raw material, young Abeygooneratne became Waza's student, an apprenticeship which lasted a mere four days, with him mastering the art due to his knowledge of the sciences.
He put his knowledge to use in the rear of the Maradana shop back in 1967 but due to space constraints moved the workshop to "ape gama" which was Polgasowita, the following year where it has been since then.
Around this time was floated the tender to provide 15,000 cataract spectacles to the Eye Hospital with the single condition being that they should be produced locally. Although Mr. Abeygooneratne wanted to compete, they had no facilities for such large production.
The tender was for 5,000 pairs each of +10 lenses, +11 lenses and +12 lenses and "athin hadamu" decided Mr. Abeygooneratne, who explains that he decided to make them manually.
Their bid was Rs. 9, Rs. 10 and Rs. 11 for each type of spectacles respectively inclusive of the case.
With their bid being the lowest, the tender they secured and then began the challenge of manufacturing the spectacles within the stipulated three short months.
The material from which the frames were cut, cellulose acitate and cellulose nitrate sheets, were brought from Germany, the glass from India and the saraneru (spectacle hinges) from Switzerland.
Meticulously drawing what these spectacles, now long discarded, looked like, Mr. Abeygooneratne flips back the pages of time to 1969.
To cut up the sheets of cellulose into circular shapes, an engineer-friend of his father's made a cutter which could be fixed to a high-speed drill machine.
Having studied how the frames were made in a factory in Galle, one of their basunnehes attended to that work while Mr. Abeygooneratne's Ammi Alice bought cloth and stitched the cases herself on a Pfaff foot-machine.
With everyone putting their shoulder to the wheel, Mr. Abeygooneratne was able to produce the required 15,000 cataract spectacles.
The next hurdle the company wanted to overcome was to produce bi-focal spectacles locally. What was happening was that rough 'blanks' were being fitted with 'bi-focal buttons' and then imported from Madras, India.
The Indian businessman who was enjoying such a monopoly would visit Sri Lanka often and host lavish parties for his optical industry clients.
Once when he was in town, in the early 1970s, as his Loku Aiyya was abroad, Mr. Abeygooneratne was the invitee to a party at Taprobane Hotel in Fort.
Saved from the jaws of death
There is another side to the colourful life of Mr. Abeygoonerate far removed from spectacles. He has been saved from the jaws of a crocodile and lived to tell the tale.
A lover of nature, Mr. Abeygoonerate had been enjoying the wilds with his family at the Yala National Park 25 years ago when the attack occurred. A leisurely swim in the Menik Ganga had lured the crocodile which grabbed him by the chest, dragging him down to the murky depths to drown him.
Fighting off the creature with all his might, he had been rescued by the others who sensing the danger he was in had got into the water to save him and then rushed him to hospital.
Boldly, he had asked the businessman how bi-focals were made, eliciting the evasive answer that a furnace was needed and the "rest was a secret", with his own quick repartee being, "I will find that secret".
Turning and twisting the bi-focals in his hand, Mr. Abeygooneratne had realized that the "power" variation lay in the different curves.
Pointing out that for every discovery there has to be a time, he reminisces how one of the boxes of bi-focal lenses sent by the businessman had an address.
Seizing the opportunity, he had written a letter to 'Chance Pilkington, Glass Court Road, St. Asaph, Flintshire, UK', that he would like to venture into the manufacture of bi-focals. Promptly had come a reply by air-parcel post along with free samples of 100 pairs of blanks and buttons.
These had been the first pairs that Mr. Abeygooneratne experimented with to match the buttons, subjecting them to red-hot heat in a small poranuwa (furnace) and studying the curvature.
"Of course, about 10 pairs exploded," he laughs, reminiscing that he was able to fuse the buttons to 13 pairs which fell into the 'A' grade (best) category.
It was armed with this practical knowledge that Mr. Abeygooneratne went to Madras but the businessman was not contactable.
Another company along Mount Road though, welcomed him into their workshop to take a look at the technology. Next it was a journey to Bombay and Calcutta to buy the required machines.
There has been no turning back since then and as the trends in the top centres of optometry worldwide moved from glass to plastic, so did Highray Optical Industries move with the times.
With the company's gradual ascent to a top notch in the optical industry in Sri Lanka, the benefits have spread to the humble villagers, both male and female, who live around the factory.
For H. Gunawardene, this has been his first and only job. Joining the company in 1973, when there were only two other workers, he is still around when the company employs 80 at the factory and more than 250 in 23 shops across the country.
"Aluth deval hoya gaththa," says Gunawardene, explaining that they found new things, while demonstrating to us the important work that he is engaged in.
Now the company has the capacity to produce plastic lenses of all varieties from simple white to photo-chrome, including progressive, bi-focal and vari-focal and distance and reading glasses.
The latest technology is free-form, says Mr. Abeygooneratne, adding that they are custom-made specially designed lenses.