Disability is not inability
By Adilah Ismail
Often abandoned by their families, residents of the CFS Prithipura Home are treated with love, care and kindness despite limited resources and dire lack of awareness
View(s):
The Activity Centre in the CFS Prithipura Home is humming with chatter and bustle as its staff and residents prepare for their Christmas sale and fundraiser this week.
In one corner, Styrofoam balls are being transformed into serene-looking, long lashed snowmen with scarves and colourful winter hats.
While some residents are busy with the preparations, others occupy themselves with building blocks or educational toys. Ruwan* has pushed aside the decorations he has been working on and devotes his attention to drawing a grinning octopus instead, dotting its tentacles with minute details.
Green wreaths, shiny bells and deep red poinsettia are pinned to form festive candleholders and coloured strips of cloth are strewn on tables, waiting to be cut, pleated and sewn to make carpets in various shapes.
Ramani's* brow is knitted in concentration and her salt and pepper head is bent over her ribbon embroidery (bunches of light pink tulips) but puts aside her work to greet Indrani de Silva, President of the CFS Prithipura Home enthusiastically.
Some residents remember our photographer, Amila who visited the Home a few months ago, and hail him with excitement.
The CFS Prithipura Home is a three-acre property located in Hendala, Wattala which is home to 73 differently -abled residents ranging from young children to adults in their late fifties.
The CFS Prithipura Home differs from a similarly named infants' home also located in close proximity and operates on a mini home-within-a-home concept with residents being housed in six cottages within the premises.
The cottages operate as a microcosm of a household, complete with living, sanitation and dining facilities, plots of gardens to tend and two 'house mothers' caring for the residents.
The Home offers recreational activities and physiotherapy for its residents while a handful attend the Bethel Special Care School which is located close by.
"They need love, care and kindness," emphasises Indrani de Silva, President of the CFS Prithipura Home about the Home's approach to its residents.
Sri Lankan society is still not accepting of people with different needs and the lack of awareness about how to deal with the differently-abled and the erasure of the taboo which stigmatizes the differently-abled is one of the more daunting tasks the Home and its residents have to face. Disability after all, is not equated with inability.
While walking through the property, Indrani worries about its upkeep and the challenges ahead. "We want to improve their standards of living and encourage the residents to be more active," she says, mindful of the needs of the residents and the care and resources they require.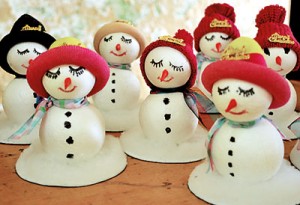 The CFS Prithipura Home completed 50 years last year and it hasn't been an easy path. An approved charitable institution and an NGO, the Home battles escalating living costs, limited resources and facilities, exacerbated by a waiting list for future residents of the Home and the dire lack of awareness and stigma surrounding disability in Sri Lankan society.
In terms of funding, the Home receives Rs. 270, 000 annually from the Department of Social Services – a drop in the bucket as the Home's monthly expenses are Rs. 600, 000 (exclusive of any maintenance and capital expenditure).
Funding therefore is largely supported through contributions by well-wishers and organisations and the annual Christmas sale is a crucial part of their fundraising activities.
The Home's residents are admitted with varying degrees of physical and mental frailties at a young age and stay on for their entire lives at the Home, often abandoned by their families.
As a result, every nook and corner of the Home is filled with stories. 14-year-old Sunethra*, can only move her hands and gets around in a custom-made wheelchair.
She has a cheerful demeanour and a strong sartorial sense – firmly indicating which colours and clothes she would like to wear every day.
Rejected by her birth mother for being differently-abled, Sunethra has now adapted to life at the Home and has formed a firm friendship with another resident who steps into the shoes of a surrogate mother.
Eight-year-old Rajitha has a beautifully curious mind which is complemented with a penchant for experimentation.
You're likely to find him constantly dismantling things (including a key water pipe at the Home which he then tried to patch with gum and paper) and trying to fix or reassemble them.
The CFS Prithipura Home is many things and its residents assure that there's never a dull moment, smiles soft-spoken Emeline Wijeratne who has been a part of the home for the past 30 years and serves as its matron.
*Names changed
Exhibition and sale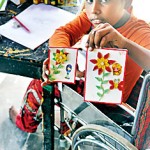 The Ceylon Fellowship of Service Prithipura Home's annual fundraiser exhibition and sale will be held on Wednesday, November 18 at the Lionel Wendt Gallery, Colombo 7 from 11 a.m. to 6 p.m.
Handicrafts and art by the residents will be on sale as well as household goods and miscellaneous items to raise funds for the maintenance of the home located at Hendala, Wattala.
For more information, ways to contribute or details about volunteering, please see their website: www.cfsprithipurahome.com